BEER... PUBS...

Welcome to beerintheevening.com
Officially the UK's biggest and busiest pub and bar guide!
Now listing over 44,500 venues, it's the perfect place to look for somewhere to eat, drink and socialise!
Looking for somewhere to go?
Get started here...
Licensee or venue operator? Your venue not listed or want to manage your listing?
Click here...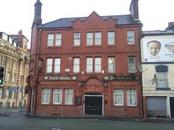 Random pub of the day for 5-7-2015:
Ducie Bridge, Manchester
152 Corporation Street, Manchester, Manchester, M4 4DU
Latest comment about the Ducie Bridge:
Definitely selling real ale now, 2 on one from holts and a guest beer. Last time I spoke to the landlord he said this place was moving nearer to Victoria station as the Co - op are planning to redevelop the land. £3.50 a pint probably a bit expensive for this area.
What you've been saying about pubs:
Name: Ye Olde Spa Inne
Location: Derby

Went back here on Saturday, this time with the intention of sampling the food. The menu is pretty much standard "pub grub", but at very ...more


Name: The Peacock Inn
Location: Derby

Supposedly a Marstons pub, but far removed from their typical offering. A long low stone-built building, looking a bit incongruous in a brick ...more


Name: Dee Hotel
Location: West Kirkby

A tremendous selection of 7 or 8 ales plus a cider available last night. Everything from IPA to stout. Many were £1:99 a pint. ...more


Name: The Westport Inn
Location: Kentish Town

Returned to its original name of The Gipsy Queen (after about 25 years) in June 2015 following a serious makeover. This is no longer the scary ...more


Name: The Lamplighter
Location: St Helier

I took my family into the lamplighter in Jersey for a drink where we found the staff was very pleasant, and excellent landlord (Sean) I have given ...more


Name: The Green Man
Location: Lidlington

I found it to be quite a dirty, dingy pub. We are not local and found the landlord to be quite unwelcoming. The locals in there were quite rowdy ...more


Name: Tipperary Inn
Location: Honiley

I did indeed complete a circular walk from here. Nice looking pub - has connections to the song "Long way to Tipperary". Got back ...more


Name: The Rupert Brooke
Location: Grantchester

First pub that I came to on entering Grantchester on foot. Liked the look of the Balcony, so made my way in. Its really more of a restaurant ...more


Name: The Thatched House
Location: Exwick

Recently had a complete refurbishment and now has 8 handpumps, 7 real ales and 1 (sometimes 2) real ciders. 3 craft keg beers and 5 more lagers. ...more


Name: The Egremont Hotel
Location: Worthing

Now reopened - after a major and tasteful refurbishment. Fixtures and fittings are good quality, with an extensive beer and wine selection; but, ...more

As rated by beerintheevening.com users:
1
Name: The Rose and Crown - Location: Huish Episcopi
Address: Huish Episcopi, Langport, Somerset, TA10 9QT
Rating:
7.9/10
2
Name: The Lamplighter - Location: St Helier
Address: 9 Mulcaster Street, St Helier, Jersey, JE2 3NJ
Rating:
7.8/10
3
Name: The Old Poet's Corner - Location: Ashover
Address: Butts Rd, Ashover, Chesterfield, Derbyshire, S45 0EW
Rating:
7.8/10
4
Name: The Blythe Hill Tavern - Location: Forest Hill
Address: 319 Stanstead Road, London, SE23 1JB
Rating:
7.8/10
5
Name: The Narrow Boat - Location: Skipton
Address: 38, Victoria St, Skipton, North Yorkshire, BD23 1JE
Rating:
7.8/10
6
Name: The Halfway House - Location: Pitney
Address: Pitney Hill, Langport, Somerset, TA10 9AB
Rating:
7.8/10
7
Name: The Cardinals Hat - Location: Worcester
Address: 31, Friar St, Worcester, Worcestershire, WR1 2NA
Rating:
7.7/10
8
Name: The Cherub Inn - Location: Dartmouth
Address: 13 Higher Street, Dartmouth, Devon, TQ6 9RB
Rating:
7.7/10
9
Name: The Kings Arms - Location: Tring
Address: King St, Tring, Hertfordshire, HP23 6BE
Rating:
7.7/10
10
Name: The Station Inn - Location: Whitby
Address: New Quay Road, Whitby, North Yorkshire, YO21 1DH
Rating:
7.7/10
11
Name: Sheffield Tap - Location: Sheffield
Address: Platform 1, Sheffield Station, Sheaf Street, Sheffield, South Yorkshire, S1 2BP
Rating:
7.7/10
12
Name: The Castle Inn - Location: West Lulworth
Address: Main Road, West Lulworth, Wareham, Dorset, BH20 5RN
Rating:
7.7/10
13
Name: The Orchard Inn - Location: Bristol
Address: 12 Hanover Place, Bristol, Bristol, BS1 6XT
Rating:
7.7/10
14
Name: The Coopers Tavern - Location: Burton-Upon-Trent
Address: 43 Cross Street, Burton-Upon-Trent, Staffordshire, DE14 1EG
Rating:
7.7/10
15
Name: Anvil - Location: Wigan
Address: Dorning Street, Wigan, Lancashire, WN1 1ND
Rating:
7.6/10
16
Name: The Half Moon - Location: Hitchin
Address: 57, Queen St, Hitchin, Hertfordshire, SG4 9TZ
Rating:
7.6/10
17
Name: The Golden Rule - Location: Ambleside
Address: Smithy Brow, Ambleside, Cumbria, LA22 9AS
Rating:
7.6/10
18
Name: The Kings Head - Location: Norwich
Address: 42, Magdalen St, Norwich, Norfolk, NR3 1JE
Rating:
7.6/10
19
Name: Cloisters Bar - Location: Edinburgh
Address: 26, Brougham St, Edinburgh, Midlothian, EH3 9JH
Rating:
7.6/10
20
Name: The Rat and Ratchet - Location: Huddersfield
Address: 40 Chapel Hill, Huddersfield, West Yorkshire, HD1 3EB
Rating:
7.6/10
Recently added
The latest new pubs added by the BITE team:
Name: The Elephant - Location: Shavington
Address: 289 Newcastle Road, Shavington, Cheshire, CW2 5DZ
Rating:
no rating
Name: Graveney and Meadow - Location: Tooting
Address: 40 Mitcham Road, Tooting, London, SW17 9NA
Rating:
no rating
Name: The Vaults - Location: Tenbury Wells
Address: 11 Teme Street, Tenbury Wells, Worcestershire, WR15 8BB
Rating:
no rating
Name: The Saxon - Location: Bicester
Address: 59-61 Sheep Street, Bicester, Oxfordshire, OX26 6LG
Rating:
no rating
Name: The North Western - Location: Liverpool
Address: 7 Lime Street, Liverpool, Merseyside, L1 1RJ
Rating:
no rating
Name: Elephant and Castle - Location: Warwick
Address: 105 Emscote Road, Warwick, Warwickshire, CV34 5QY
Rating:
no rating
Name: BamBoo - Location: Bridgnorth
Address: 15 Bridge Street, Bridgnorth, Shropshire, WV16 4BE
Rating:
no rating
Name: Crate and Apple - Location: Chichester
Address: 12-14 Westgate, Chichester, West Sussex, PO19 3EU
Rating:
no rating
Name: Imp - Location: Crewe
Address: 183 Edleston Road, Crewe, Cheshire, CW2 7HR
Rating:
no rating
Name: The McOrville Inn - Location: Elwick
Address: 34 The Green, Elwick, County Durham, TS27 3EF
Rating:
no rating