BEER... PUBS...

Welcome to beerintheevening.com
Officially the UK's biggest and busiest pub and bar guide!
Now listing over 45,000 venues, it's the perfect place to look for somewhere to eat, drink and socialise! Looking for somewhere to go?
Get started here...
Licensee or venue operator? Your venue not listed or want to manage your listing?
Click here...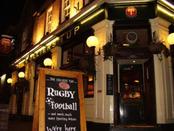 Random pub of the day for 10-2-2016:
Charles Holden, Colliers Wood
198 High St, Colliers Wood, London, SW19 2BH
Latest comment about Charles Holden:
Nice building, except for the very dirty toilets. However, the beer is excessively overpriced for a very mediocre pint - I tried three different beers including the Holden, each was a bad as the other and all wsere well over £4 a pint. As for the bar staff...I've never seen a more disinterested bunch than those who were on duty last Saturday night. I'm told the pub is popular for it's garden and outside area...it certainly doesn't deserve to be popular for it's beer or its service.
What you've been saying about pubs:
Good location, this place could be great....trying to think of more positive points, however the people running it don't provide a very good ...more


Name: The Queens Arms
Location: Brixham

Decent corner backstreet boozer (hard to find!) A few ales on and one was on for £2.60 a pint and was very good. This is a proper pub way ...more


Name: The Crown Inn
Location: Ironbridge

Converted to housing.


Name: The Severn Gorge
Location: Telford

Toby Carvery, been there a fair bit because a colleague like roast dinners. Good value food, but the beer is pretty ordinary and it does seem to attract some noisy types.


Name: The Thomas Botfield
Location: Telford

It is a Wetherspoon's with all the usual pluses and minuses. I did pop in there for breakfast once and was a bit surprised to see quite a few blokes supping lager at 8.30am, but this is Telford.


Name: The Lion Inn
Location: Telford

Best pub near the Telford mall, and just far enough away to still have a village atmosphere. Always good beer, and coming from the South East I ...more


Name: White Hart
Location: Southwark

One of the best pubs in this area. Great Victorian corner pub in a street of otherwise bland or ugly modern buildings. Space inside is limited due ...more

Very popular and busy pub opposite Southwark station. Great range of real ales.


Name: The Blue Posts
Location: St James's

The old Blue Posts was demolished along with the whole block. Happily the block has been rebuilt and a new Blue Posts has arisen. It looks bright ...more


Name: The Idle Hour
Location: Barnes

Closed down on 1 Feb. Ironically the problem seems to have been Barnes going upmarket -- so more gastro-pubs and restaurants opening in the area.

As rated by beerintheevening.com users:
1
Name: The Old Poet's Corner - Location: Ashover
Address: Butts Rd, Ashover, Chesterfield, Derbyshire, S45 0EW
Rating:
7.8/10
2
Name: The Lamplighter - Location: St Helier
Address: 9 Mulcaster Street, St Helier, Jersey, JE2 3NJ
Rating:
7.8/10
3
Name: The Blythe Hill Tavern - Location: Forest Hill
Address: 319 Stanstead Road, London, SE23 1JB
Rating:
7.8/10
4
Name: The Golden Rule - Location: Ambleside
Address: Smithy Brow, Ambleside, Cumbria, LA22 9AS
Rating:
7.8/10
5
Name: The Narrow Boat - Location: Skipton
Address: 38, Victoria St, Skipton, North Yorkshire, BD23 1JE
Rating:
7.8/10
6
Name: The Fernandes Brewery Tap and Bier Keller - Location: Wakefield
Address: The Old Malthouse, Avison Yard, Wakefield, West Yorkshire, WF1 1UA
Rating:
7.8/10
7
Name: The Rose and Crown - Location: Huish Episcopi
Address: Huish Episcopi, Langport, Somerset, TA10 9QT
Rating:
7.8/10
8
Name: The Cherub Inn - Location: Dartmouth
Address: 13 Higher Street, Dartmouth, Devon, TQ6 9RB
Rating:
7.7/10
9
Name: The Coopers Tavern - Location: Burton-Upon-Trent
Address: 43 Cross Street, Burton-Upon-Trent, Staffordshire, DE14 1EG
Rating:
7.7/10
10
Name: The Kings Arms - Location: Tring
Address: King St, Tring, Hertfordshire, HP23 6BE
Rating:
7.7/10
11
Name: The Station Inn - Location: Whitby
Address: New Quay Road, Whitby, North Yorkshire, YO21 1DH
Rating:
7.7/10
12
Name: Sheffield Tap - Location: Sheffield
Address: Platform 1, Sheffield Station, Sheaf Street, Sheffield, South Yorkshire, S1 2BP
Rating:
7.7/10
13
Name: The Orchard Inn - Location: Bristol
Address: 12 Hanover Place, Bristol, Bristol, BS1 6XT
Rating:
7.7/10
14
Name: The Castle Inn - Location: West Lulworth
Address: Main Road, West Lulworth, Wareham, Dorset, BH20 5RN
Rating:
7.7/10
15
Name: The Halfway House - Location: Pitney
Address: Pitney Hill, Langport, Somerset, TA10 9AB
Rating:
7.7/10
16
Name: The Rat and Ratchet - Location: Huddersfield
Address: 40 Chapel Hill, Huddersfield, West Yorkshire, HD1 3EB
Rating:
7.6/10
17
Name: The Kings Head - Location: Norwich
Address: 42, Magdalen St, Norwich, Norfolk, NR3 1JE
Rating:
7.6/10
18
Name: Cloisters Bar - Location: Edinburgh
Address: 26, Brougham St, Edinburgh, Midlothian, EH3 9JH
Rating:
7.6/10
19
Name: The Brewery Tap - Location: Chester
Address: 52-54 Lower Bridge Street, Chester, Cheshire, CH1 1RU
Rating:
7.6/10
20
Name: The Black Horse Hotel - Location: Preston
Address: 166 Friargate, Preston, Lancashire, PR1 2EJ
Rating:
7.6/10
Recently added
The latest new pubs added by the BITE team:
Name: The Sitwell Arms - Location: Bucknell
Address: Old Bedstone Road, Bucknell, Shropshire, SY7 0AA
Rating:
no rating
Name: The Bull Inn - Location: Clifton upon Dunsmore
Address: 33-35 Main Street, Clifton upon Dunsmore, Warwickshire, CV23 0BH
Rating:
no rating
Name: Beer Shack - Location: Mansfield
Address: 46 White Hart Street, Mansfield, Nottinghamshire, NG18 1DG
Rating:
no rating
Name: Turl Street Kitchen - Location: Oxford
Address: 16-17 Turl Street, Oxford, Oxfordshire, OX1 3DH
Rating:
no rating
Name: Ten Green Bottles - Location: Newcastle under Lyme
Address: 46 Merrial Street, Newcastle under Lyme, Staffordshire, ST5 2AW
Rating:
no rating
Name: Carters Tap - Location: Edinburgh
Address: 185 Morrison Street, Edinburgh, Midlothian, EH3 8DZ
Rating:
no rating
Name: York Chambers - Location: Long Eaton
Address: 40 Market Place, Long Eaton, Nottinghamshire, NG10 1LT
Rating:
no rating
Name: Copper Pottle - Location: Beltinge
Address: 844 Reculver Road, Beltinge, Kent, CT6 6ND
Rating:
no rating
Name: Route 69 Bar - Location: Stirchley
Address: Lifford Lane, Stirchley, West Midlands, B30 3DZ
Rating:
no rating
Name: The Stag and Pheasant - Location: Newton
Address: 27 Main Street, Newton, Warwickshire, CV32 0DY
Rating:
no rating