BEER... PUBS...

Welcome to beerintheevening.com
Officially the UK's biggest and busiest pub and bar guide!
Now listing over 45,000 venues, it's the perfect place to look for somewhere to eat, drink and socialise! Looking for somewhere to go?
Get started here...
Licensee or venue operator? Your venue not listed or want to manage your listing?
Click here...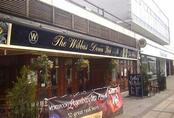 Random pub of the day for 6-2-2016:
Wibbas Down Inn, Wimbledon
6 12 Gladstone Road, London, SW19 1QT
Latest comment about the Wibbas Down Inn:
My last visit here was Easter 2014 when I was part of a group on my way to football and got hideously drunk in several hours of hard drinking! Not so on this visit as it was a quick pint while as I was early for lunch at a nearby restaurant. A quarter full but still it took a little too long to be served, however I was kept occupied by deciding which beer I wanted from the large amount of pumps. I opted for a pint of Ascot Ales Single Hop @ 4.6% and I got to use my 50p off camra voucher, a decent ale and a result all at once! This is a decent 'spoons that is worth a visit
What you've been saying about pubs:
Name: The White Hart Inn
Location: Colyford

Large multi section pub. The Branoc was lovely and the food good. Large portions as well. Quite busy at lunch time with the ladies football team ...more


Name: The Dog and Donkey
Location: Knowle

Returned to try the food. Found to very good, large portions at a reasonable price. The Snowy owl was fine this time, as was the Teignworthy Gundog.


Name: The Wibbas Down Inn
Location: Wimbledon

Ah the wibbly wobbly!! Quite often the first stop in a Wimbledon crawl as it is is a good place to shovel a few decentl and cheap ales down ...more

Has now become a craft beer type of place. I was quite looking forward to having this new addition to the towns beer scene, but it's a bit crap to ...more


Name: The Volunteer Riflemans Arms
Location: Bath

Loved the atmosphere, great place.


Name: The Queens Vaults
Location: Cardiff

The Queens wasn't my first choice for a beer while I had an hour to kill before meeting a pal in the City Arms but apart from the 'spoons was the ...more

Attractive looking Nicholson's pub tucked away off the main drag but within spitting distance of Bank and Cannon Street stations. As with most ...more


Name: The Dukes Head
Location: Walthamstow

Recently re-furbed and re-opened as The Duke. Cannot rate yet as not visited.


Name: The Hung, Drawn and Quartered
Location: Tower Hill

After a couple of pints in the Draft House we moved on to this large Fuller's pub which sits in a prominent position on a busy junction between ...more


Name: The Cotton Tree
Location: Droylsden

Going to be an Indian restaurant no alcohol served.

As rated by beerintheevening.com users:
1
Name: The Old Poet's Corner - Location: Ashover
Address: Butts Rd, Ashover, Chesterfield, Derbyshire, S45 0EW
Rating:
7.8/10
2
Name: The Lamplighter - Location: St Helier
Address: 9 Mulcaster Street, St Helier, Jersey, JE2 3NJ
Rating:
7.8/10
3
Name: The Blythe Hill Tavern - Location: Forest Hill
Address: 319 Stanstead Road, London, SE23 1JB
Rating:
7.8/10
4
Name: The Golden Rule - Location: Ambleside
Address: Smithy Brow, Ambleside, Cumbria, LA22 9AS
Rating:
7.8/10
5
Name: The Narrow Boat - Location: Skipton
Address: 38, Victoria St, Skipton, North Yorkshire, BD23 1JE
Rating:
7.8/10
6
Name: The Fernandes Brewery Tap and Bier Keller - Location: Wakefield
Address: The Old Malthouse, Avison Yard, Wakefield, West Yorkshire, WF1 1UA
Rating:
7.8/10
7
Name: The Rose and Crown - Location: Huish Episcopi
Address: Huish Episcopi, Langport, Somerset, TA10 9QT
Rating:
7.8/10
8
Name: The Cherub Inn - Location: Dartmouth
Address: 13 Higher Street, Dartmouth, Devon, TQ6 9RB
Rating:
7.7/10
9
Name: The Coopers Tavern - Location: Burton-Upon-Trent
Address: 43 Cross Street, Burton-Upon-Trent, Staffordshire, DE14 1EG
Rating:
7.7/10
10
Name: The Kings Arms - Location: Tring
Address: King St, Tring, Hertfordshire, HP23 6BE
Rating:
7.7/10
11
Name: The Station Inn - Location: Whitby
Address: New Quay Road, Whitby, North Yorkshire, YO21 1DH
Rating:
7.7/10
12
Name: Sheffield Tap - Location: Sheffield
Address: Platform 1, Sheffield Station, Sheaf Street, Sheffield, South Yorkshire, S1 2BP
Rating:
7.7/10
13
Name: The Orchard Inn - Location: Bristol
Address: 12 Hanover Place, Bristol, Bristol, BS1 6XT
Rating:
7.7/10
14
Name: The Castle Inn - Location: West Lulworth
Address: Main Road, West Lulworth, Wareham, Dorset, BH20 5RN
Rating:
7.7/10
15
Name: The Halfway House - Location: Pitney
Address: Pitney Hill, Langport, Somerset, TA10 9AB
Rating:
7.7/10
16
Name: The Rat and Ratchet - Location: Huddersfield
Address: 40 Chapel Hill, Huddersfield, West Yorkshire, HD1 3EB
Rating:
7.6/10
17
Name: The Kings Head - Location: Norwich
Address: 42, Magdalen St, Norwich, Norfolk, NR3 1JE
Rating:
7.6/10
18
Name: Cloisters Bar - Location: Edinburgh
Address: 26, Brougham St, Edinburgh, Midlothian, EH3 9JH
Rating:
7.6/10
19
Name: The Brewery Tap - Location: Chester
Address: 52-54 Lower Bridge Street, Chester, Cheshire, CH1 1RU
Rating:
7.6/10
20
Name: The Black Horse Hotel - Location: Preston
Address: 166 Friargate, Preston, Lancashire, PR1 2EJ
Rating:
7.6/10
Recently added
The latest new pubs added by the BITE team:
Name: The Sitwell Arms - Location: Bucknell
Address: Old Bedstone Road, Bucknell, Shropshire, SY7 0AA
Rating:
no rating
Name: The Bull Inn - Location: Clifton upon Dunsmore
Address: 33-35 Main Street, Clifton upon Dunsmore, Warwickshire, CV23 0BH
Rating:
no rating
Name: Beer Shack - Location: Mansfield
Address: 46 White Hart Street, Mansfield, Nottinghamshire, NG18 1DG
Rating:
no rating
Name: Turl Street Kitchen - Location: Oxford
Address: 16-17 Turl Street, Oxford, Oxfordshire, OX1 3DH
Rating:
no rating
Name: Ten Green Bottles - Location: Newcastle under Lyme
Address: 46 Merrial Street, Newcastle under Lyme, Staffordshire, ST5 2AW
Rating:
no rating
Name: Carters Tap - Location: Edinburgh
Address: 185 Morrison Street, Edinburgh, Midlothian, EH3 8DZ
Rating:
no rating
Name: York Chambers - Location: Long Eaton
Address: 40 Market Place, Long Eaton, Nottinghamshire, NG10 1LT
Rating:
no rating
Name: Copper Pottle - Location: Beltinge
Address: 844 Reculver Road, Beltinge, Kent, CT6 6ND
Rating:
no rating
Name: Route 69 Bar - Location: Stirchley
Address: Lifford Lane, Stirchley, West Midlands, B30 3DZ
Rating:
no rating
Name: The Stag and Pheasant - Location: Newton
Address: 27 Main Street, Newton, Warwickshire, CV32 0DY
Rating:
no rating