BEER... PUBS...

Welcome to beerintheevening.com
Officially the UK's biggest and busiest pub and bar guide!
Now listing over 43,500 venues, it's the perfect place to look for somewhere to eat, drink and socialise!
Looking for somewhere to go?
Get started here...
Licensee or venue operator? Your venue not listed or want to manage your listing?
Click here...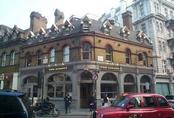 Random pub of the day for 19-12-2014:
Albany, Great Portland Street
240, Great Portland St, London, W1W 5QU
Latest comment about the Albany:
Came in for a beer just before closing time on Tuesday evening. Choice of 5 ales, with regulars like Doom Bar & Pride I went for a pint of Hopdaemon's Skrinshander IPA @ 4.5%. A decent enough pint. Earlier on (9.30pm) the place was mobbed but after 11pm it had almost emptied. 2 efficient bar staff. A decent pub with good beer choice.
What you've been saying about pubs:
Name: The Stone Jug
Location: Clophill

Five ales on tap when I visited. Went for a seasonal offering from Mauldon which was £3.10 a pint and very well kept. Busy even late lunchtime, suspect in the evenings it gets rammed.


Name: The Barley Mow
Location: Cox Green

Expensive poorly managed pub, it has an absentee Landlord who on his fleeting visits has never got behind the bar to serve his paying customers. What a way to run a pub.


Name: Thatched Cottage
Location: Maidenhead

You are right Ben Shockley I've always found the care in the community brigade who block front access a nuisance. It's been a problem here for ...more


Name: The Holly Bush
Location: Alcester

Reopened yesterday and now managed by Everards.


Name: The Fox and Goose
Location: Hebden Bridge

The beer is Sublime. 5 perfectly kept guest ales plus a well chosen house beer "Goose Juice" from BRidestones Brewery at £2.70. Very Drinkable.


brisk

- 18 Dec 2014 18:08

Name: Royal George
Location: Todmorden

The rear entrance from Water Street over the river looks promising past the original windows but once inside the pub has lost any character due to ...more


brisk

- 18 Dec 2014 18:02

Name: The Golden Lion
Location: Todmorden

Re-opened by the Mood pub company. Copper Dragon was okay and the surrounding were okay. Typical refurbished pub which was...well...okay!


brisk

- 18 Dec 2014 17:56

Name: The Masons Arms
Location: Todmorden

The Pub is top drawer in every way. Roaring Fire. Friendly people. Great Home made food at weekends. Graze on Homemade mini pies at £1 to leave ...more


brisk

- 18 Dec 2014 17:54

my wife and i went here for lunch yesterday the place was clean and the barman polite my wifes meal was fine,mine was not and had they did a ...more


Name: The Moon and Spoon
Location: Slough

Today Thursday 18th December after i had Finish Work i walked to the Moon and Spoon and when i got to the Moon and Spoon i went up to the Bar and ...more

As rated by beerintheevening.com users:
1
Name: The Blythe Hill Tavern - Location: Forest Hill
Address: 319 Stanstead Road, London, SE23 1JB
Rating:
8.1/10
2
Name: The Station Inn - Location: Whitby
Address: New Quay Road, Whitby, North Yorkshire, YO21 1DH
Rating:
8.0/10
3
Name: The Old Poet's Corner - Location: Ashover
Address: Butts Rd, Ashover, Chesterfield, Derbyshire, S45 0EW
Rating:
8.0/10
4
Name: The Nags Head - Location: Great Malvern
Address: 21, Bank Street, Great Malvern, Worcestershire, WR14 2JG
Rating:
7.9/10
5
Name: The Narrow Boat - Location: Skipton
Address: 38, Victoria St, Skipton, North Yorkshire, BD23 1JE
Rating:
7.9/10
6
Name: The Rose and Crown - Location: Huish Episcopi
Address: Huish Episcopi, Langport, Somerset, TA10 9QT
Rating:
7.8/10
7
Name: The Golden Rule - Location: Ambleside
Address: Smithy Brow, Ambleside, Cumbria, LA22 9AS
Rating:
7.8/10
8
Name: The Fernandes Brewery Tap and Bier Keller - Location: Wakefield
Address: The Old Malthouse, Avison Yard, Wakefield, West Yorkshire, WF1 1UA
Rating:
7.8/10
9
Name: The Halfway House - Location: Pitney
Address: Pitney Hill, Langport, Somerset, TA10 9AB
Rating:
7.8/10
10
Name: The Coopers Tavern - Location: Burton-Upon-Trent
Address: 43 Cross Street, Burton-Upon-Trent, Staffordshire, DE14 1EG
Rating:
7.8/10
11
Name: Our Mutual Friend - Location: Stevenage
Address: Broadwater Crescent, Stevenage, Hertfordshire, SG2 8EH
Rating:
7.7/10
12
Name: The Cherub Inn - Location: Dartmouth
Address: 13 Higher Street, Dartmouth, Devon, TQ6 9RB
Rating:
7.7/10
13
Name: The Kings Arms - Location: Tring
Address: King St, Tring, Hertfordshire, HP23 6BE
Rating:
7.7/10
14
Name: The Sussex Arms - Location: Twickenham
Address: 15 Staines Road, Twickenham, Middlesex, TW2 5BG
Rating:
7.7/10
15
Name: Ye Olde Black Boy - Location: Hull
Address: 150, High Street, Hull, East Yorkshire, HU1 1PS
Rating:
7.7/10
16
Name: The Birkbeck Tavern - Location: Leyton
Address: 45, Langthorne Rd, London, E11 4HL
Rating:
7.7/10
17
Name: The Lamplighter - Location: St Helier
Address: 9 Mulcaster Street, St Helier, Jersey, JE2 3NJ
Rating:
7.7/10
18
Name: The Orchard Inn - Location: Bristol
Address: 12 Hanover Place, Bristol, Bristol, BS1 6XT
Rating:
7.7/10
19
Name: The Hope - Location: Carshalton
Address: 48 West St, Carshalton, Surrey, SM5 2PR
Rating:
7.6/10
20
Name: Cloisters Bar - Location: Edinburgh
Address: 26, Brougham St, Edinburgh, Midlothian, EH3 9JH
Rating:
7.6/10
Recently added
The latest new pubs added by the BITE team:
Name: The Old Fountain - Location: Old Street
Address: 3 Baldwin Street, Old Street, London, EC1V 9NU
Rating:
7.5/10
Name: Foundry 34 - Location: Penrith
Address: 34 Burrowgate, Penrith, Cumbria, CA11 7TA
Rating:
no rating
Name: The Robin Hood Inn - Location: Penrith
Address: 51 King Street, Penrith, Cumbria, CA11 7AY
Rating:
no rating
Name: The Cosy Club - Location: Bath
Address: 20 Southgate Place, Bath, Somerset, BA1 1AP
Rating:
no rating
Name: Bowling Green - Location: Nantwich
Address: The Gullet, Nantwich, Cheshire, CW5 6DN
Rating:
5.0/10
Name: Yard of Ale - Location: Broadstairs
Address: 61 Church Street, Broadstairs, Kent, CT10 2TU
Rating:
5.0/10
Name: Badger - Location: Church Minshull
Address: Cross Lane, Church Minshull, Cheshire, CW5 6DY
Rating:
7.0/10
Name: The Waterloo Tavern - Location: Ashton under Lyne
Address: 490-492 Oldham Road, Ashton under Lyne, Lancashire, OL7 9QH
Rating:
3.5/10
Name: The Dog Beck - Location: Penrith
Address: 21-22 Southend Road, Penrith, Cumbria, CA11 8JH
Rating:
no rating
Name: The New Inns - Location: Brewood
Address: Kiddemore Green Road, Kiddemore Green, Brewood, Staffordshire, ST19 9BH
Rating:
5.6/10