BEER... PUBS...

Welcome to beerintheevening.com
Officially the UK's biggest and busiest pub and bar guide!
Now listing over 44,500 venues, it's the perfect place to look for somewhere to eat, drink and socialise!
Looking for somewhere to go?
Get started here...
Licensee or venue operator? Your venue not listed or want to manage your listing?
Click here...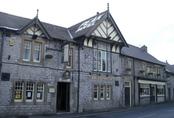 Random pub of the day for 4-9-2015:
Peaks Inn, Castleton
How Lane, Castleton, Hope Valley, Derbyshire, S33 8WJ
Latest comment about the Peaks Inn:
Now called The Peak Hotel.
What you've been saying about pubs:
Name: The Post Office Vaults
Location: Birmingham

Previous visits to this pub have left me undecided, as its size & popularity make it an uncomfortable body contact drinking den, not my ...more


Name: Cricketers
Location: Worcester

Visiting Worcester for the first time, amongst the things I wished to see was a memorial to the Australian cricketer Phillip Hughes, tragically ...more


Name: King Charles 11
Location: Worcester

Although I came to Worcester seeking the Cardinal's Hat, sadly dark & deserted, luckily for me Worcester has many fine alternatives. This pub, ...more


Name: The Hain Line
Location: St Ives

Another Wetherspoons worth another visit, ales and food to the usual standard with a good atmosphere

Visited in late August to find the pub/hotel was closed, a local said it had been closed since January when it became insolvent, but ...more


Name: The Anchor
Location: Alresford

Since my last visit, it has been refurbished and appeared to be OK, but now closed up


Name: The Man in the Wall
Location: Wimborne

Another good Wetherspoons, curry Thursday with a pint of real ale for less than £7. Will return when next in Wimborne


Name: The Bridge Tavern
Location: Holbury

Closed, boarded up and surrounded by wired panels, looks like the end of another pub


Name: The Crown Hotel
Location: Blandford Forum

Probably the best pub in Blandford although it's a hotel, but the prices reflect this, although not excessively. Real ale on the handles and good ...more


Name: The Mill Arms
Location: Dunbridge

Refurbished since I last visited years ago, has barstools and 3 real ales and 1 cider on the handles. Open all day, sofas or chairs available too ...more

As rated by beerintheevening.com users:
1
Name: The Rose and Crown - Location: Huish Episcopi
Address: Huish Episcopi, Langport, Somerset, TA10 9QT
Rating:
7.9/10
2
Name: The Lamplighter - Location: St Helier
Address: 9 Mulcaster Street, St Helier, Jersey, JE2 3NJ
Rating:
7.9/10
3
Name: The Strathmore Arms - Location: St Pauls Walden
Address: London Rd, St Pauls Walden, Hitchin, Hertfordshire, SG4 8BT
Rating:
7.8/10
4
Name: The Old Poet's Corner - Location: Ashover
Address: Butts Rd, Ashover, Chesterfield, Derbyshire, S45 0EW
Rating:
7.8/10
5
Name: The Blythe Hill Tavern - Location: Forest Hill
Address: 319 Stanstead Road, London, SE23 1JB
Rating:
7.8/10
6
Name: The Narrow Boat - Location: Skipton
Address: 38, Victoria St, Skipton, North Yorkshire, BD23 1JE
Rating:
7.8/10
7
Name: The Cardinals Hat - Location: Worcester
Address: 31, Friar St, Worcester, Worcestershire, WR1 2NA
Rating:
7.8/10
8
Name: The Fernandes Brewery Tap and Bier Keller - Location: Wakefield
Address: The Old Malthouse, Avison Yard, Wakefield, West Yorkshire, WF1 1UA
Rating:
7.8/10
9
Name: The Halfway House - Location: Pitney
Address: Pitney Hill, Langport, Somerset, TA10 9AB
Rating:
7.8/10
10
Name: The Cherub Inn - Location: Dartmouth
Address: 13 Higher Street, Dartmouth, Devon, TQ6 9RB
Rating:
7.7/10
11
Name: The Kings Arms - Location: Tring
Address: King St, Tring, Hertfordshire, HP23 6BE
Rating:
7.7/10
12
Name: The Station Inn - Location: Whitby
Address: New Quay Road, Whitby, North Yorkshire, YO21 1DH
Rating:
7.7/10
13
Name: The Castle Inn - Location: West Lulworth
Address: Main Road, West Lulworth, Wareham, Dorset, BH20 5RN
Rating:
7.7/10
14
Name: Sheffield Tap - Location: Sheffield
Address: Platform 1, Sheffield Station, Sheaf Street, Sheffield, South Yorkshire, S1 2BP
Rating:
7.7/10
15
Name: The Golden Rule - Location: Ambleside
Address: Smithy Brow, Ambleside, Cumbria, LA22 9AS
Rating:
7.7/10
16
Name: The Orchard Inn - Location: Bristol
Address: 12 Hanover Place, Bristol, Bristol, BS1 6XT
Rating:
7.7/10
17
Name: The Coopers Tavern - Location: Burton-Upon-Trent
Address: 43 Cross Street, Burton-Upon-Trent, Staffordshire, DE14 1EG
Rating:
7.7/10
18
Name: Cloisters Bar - Location: Edinburgh
Address: 26, Brougham St, Edinburgh, Midlothian, EH3 9JH
Rating:
7.6/10
19
Name: The Kings Head - Location: Norwich
Address: 42, Magdalen St, Norwich, Norfolk, NR3 1JE
Rating:
7.6/10
20
Name: The Black Horse Hotel - Location: Preston
Address: 166 Friargate, Preston, Lancashire, PR1 2EJ
Rating:
7.6/10
Recently added
The latest new pubs added by the BITE team:
Name: The Inn of Court - Location: Holborn
Address: 18 Holborn, Holborn, London, EC1N 2LE
Rating:
no rating
Name: The Gipsy Queen - Location: Kentish Town
Address: 166 Maiden Road, Kentish Town, London, NW5 4BS
Rating:
no rating
Name: The Balnoon Inn - Location: Balnoon
Address: Old Coach Road, Balnoon, St Ives, Cornwall, TR26 3JB
Rating:
9.0/10
Name: The White Horse - Location: Barnstaple
Address: 29 Boutport Street, Barnstaple, Devon, EX31 1RP
Rating:
no rating
Name: The Lounge Bar - Location: Tipton
Address: 4 Market Place, Tipton, West Midlands, DY4 7EJ
Rating:
no rating
Name: The Top Star - Location: Tipton
Address: 178 Horseley Heath, Great Bridge, Tipton, West Midlands, DY4 7DS
Rating:
2.0/10
Name: The Olde Jack - Location: Calverhall
Address: Bletchley Road, Calverhall, Cheshire, SY13 4PA
Rating:
no rating
Name: Brewery House - Location: Harrington
Address: Main Road, Harrington, Cumbria, CA14 5PF
Rating:
no rating
Name: The Purple Pig - Location: Hull
Address: 10 King Street, Hull, East Yorkshire, HU1 2JJ
Rating:
no rating
Name: Crossways Micropub - Location: Blythe Bridge
Address: 246 Uttoxeter Road, Blythe Bridge, Staffordshire, ST11 9LY
Rating:
5.5/10