BEER... PUBS...

Welcome to beerintheevening.com
Officially the UK's biggest and busiest pub and bar guide!
Now listing over 45,000 venues, it's the perfect place to look for somewhere to eat, drink and socialise! Looking for somewhere to go?
Get started here...
Licensee or venue operator? Your venue not listed or want to manage your listing?
Click here...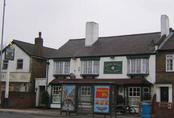 Random pub of the day for 20-5-2018:
Lucky Rover, Hook
312 Hook Road, Hook, Surrey, KT9 1NY
Latest comment about the Lucky Rover:
Finally got around to trying this pub following a visit to Chessington World of Adventures in September. There are no real ales served - just Guinness, Strongbow, Fosters, Carling, Coors Light, Kronenbourg, Heineken & Hop House Lager. It was a cold day and the fire was on. The customers all seemed to be local.
What you've been saying about pubs:
Name: The Live and Let Live
Location: Whitbourne

It's been a few years since I visited this pub's namesake nearby but I think that the Live and Let Live at Whitbourne is the slightly shabbier of ...more


Name: The Foresters
Location: Horley

May have changed hands. Unfriendly, unhelpful, poor food. Cheap. Used to be really nice pub. Shame.


Name: Castle
Location: Farringdon

Pretty decent; decent rather than exceptional.


Name: The Three Compasses
Location: Farringdon

Easily missed. Depends what you want. More of a pub than a bar which is unusual for the area. Good place for watching sport/football - rarely ...more


Name: The Old Swan
Location: Netherton

Superb pub. Tope quality home-brewed ales. The Original (3.5% abv) was refreshing and very tasty - and just £2.40 a pint. The food was also ...more


Name: The Beaten Docket
Location: Cricklewood

Generally a Spoons fan and my football team played their home games at Wembley for the season just gone. As I live on the Thameslink corridor, so ...more


R3NW5

- 17 May 2018 14:22

Name: The Moon Under Water
Location: Colindale

Does anyone care what name is on your glass - it's the drink quality that counts!?


Name: The Moon Under Water
Location: Colindale

we are not offered carlsberg glasses any more so are given ale glasses instead.I heard one customer being told by Sxx ...more


Name: The Red Cross Inn
Location: Reigate

Shows TV sport - and now does food (and music) at weekends. Friendly staff and pleasant atmosphere.


Name: The Five Bells
Location: New Cross

A great mix of local boozer and comedy hipster den that was a hugely enjoyable place to see Scottish band Sweaty Palms one May weekday evening in ...more

As rated by beerintheevening.com users:
1
Name: The Cuckoo Inn - Location: Hamptworth
Address: Hamptworth, Salisbury, Wiltshire, SP5 2DU
Rating:
8.4/10
2
Name: The Fleece Inn - Location: Bretforton
Address: The Cross, Bretforton, Evesham, Worcestershire, WR11 7JE
Rating:
8.4/10
3
Name: The Jolly Angler - Location: Manchester
Address: 47 Ducie Street, Ancoats, Manchester, M1 2JW
Rating:
8.1/10
4
Name: The Old Poet's Corner - Location: Ashover
Address: Butts Rd, Ashover, Chesterfield, Derbyshire, S45 0EW
Rating:
8.1/10
5
Name: The Stanley Arms - Location: Portslade
Address: 47 Wolseley Rd, Portslade, Brighton, East Sussex, BN41 1SS
Rating:
8.1/10
6
Name: The Old Fire House - Location: Exeter
Address: 50 New North Road, Exeter, Devon, EX4 4EP
Rating:
8.0/10
7
Name: The Admiral Benbow - Location: Penzance
Address: 46, Chapel St, Penzance, Cornwall, TR18 4AF
Rating:
8.0/10
8
Name: The Blythe Hill Tavern - Location: Forest Hill
Address: 319 Stanstead Road, London, SE23 1JB
Rating:
7.8/10
9
Name: The Snickleway Inn - Location: York
Address: 47, Goodramgate, York, North Yorkshire, YO1 7LS
Rating:
7.8/10
10
Name: The Fox and Goose - Location: Hebden Bridge
Address: 9 Heptonstall Road, Hebden Bridge, West Yorkshire, HX7 6AZ
Rating:
7.8/10
11
Name: The Lamplighter - Location: St Helier
Address: 9 Mulcaster Street, St Helier, Jersey, JE2 3NJ
Rating:
7.8/10
12
Name: The Rose and Crown - Location: Huish Episcopi
Address: Huish Episcopi, Langport, Somerset, TA10 9QT
Rating:
7.7/10
13
Name: Sheffield Tap - Location: Sheffield
Address: Platform 1, Sheffield Station, Sheaf Street, Sheffield, South Yorkshire, S1 2BP
Rating:
7.7/10
14
Name: The Rat and Ratchet - Location: Huddersfield
Address: 40 Chapel Hill, Huddersfield, West Yorkshire, HD1 3EB
Rating:
7.7/10
15
Name: The Golden Rule - Location: Ambleside
Address: Smithy Brow, Ambleside, Cumbria, LA22 9AS
Rating:
7.7/10
16
Name: The Great Western - Location: Wolverhampton
Address: Sun Street, Wolverhampton, West Midlands, WV10 0DJ
Rating:
7.7/10
17
Name: The Narrow Boat - Location: Skipton
Address: 38, Victoria St, Skipton, North Yorkshire, BD23 1JE
Rating:
7.7/10
18
Name: The Kings Head - Location: Norwich
Address: 42, Magdalen St, Norwich, Norfolk, NR3 1JE
Rating:
7.6/10
19
Name: The Coopers Tavern - Location: Burton-Upon-Trent
Address: 43 Cross Street, Burton-Upon-Trent, Staffordshire, DE14 1EG
Rating:
7.6/10
20
Name: The Fernandes Brewery Tap and Bier Keller - Location: Wakefield
Address: The Old Malthouse, Avison Yard, Wakefield, West Yorkshire, WF1 1UA
Rating:
7.6/10
Recently added
The latest new pubs added by the BITE team:
Name: The Paul Pry - Location: Worcester
Address: 6 The Butts, Worcester, Worcestershire, WR1 3PA
Rating:
5.8/10
Name: The Talbot Inn - Location: Welshpool
Address: 16 High Street, Welshpool, Powys, SY21 7JP
Rating:
4.8/10
Name: Love and Rockets - Location: Aigburth
Address: 52 Lark Lane, Aigburth, Liverpool, Merseyside, L17 8UU
Rating:
no rating
Name: The Brook - Location: Worcester Park
Address: 181 Central Road, Worcester Park, Surrey, KT4 8DR
Rating:
no rating
Name: Towcester Mill Brewery Tap Room - Location: Towcester
Address: Chantry Lane, Towcester, Northamptonshire, NN12 6AD
Rating:
no rating
Name: Blackfriars - Location: Edinburgh
Address: 57-61 Blackfriars Street, Edinburgh, Midlothian, EH1 1NB
Rating:
no rating
Name: The Meridian Bier Cafe - Location: Ayr
Address: 2 Killoch Place, Ayr, Ayrshire, KA7 2EA
Rating:
no rating
Name: The Turks Head - Location: Leeds
Address: Turks Head Yard, Leeds, West Yorkshire, LS1 6HB
Rating:
no rating
Name: Black Swan - Location: Alnwick
Address: 26 Narrowgate, Alnwick, Northumberland, NE66 1JG
Rating:
no rating
Name: The Milk House - Location: Sissinghurst
Address: The Street, Sissinghurst, Kent, TN17 2JG
Rating:
no rating