BEER... PUBS...

Welcome to beerintheevening.com
Officially the UK's biggest and busiest pub, bar and club guide!
Now listing over 43,500 venues, growing daily with over 1.5 million visitors on average each month* looking for somewhere to eat, drink and socialise! Looking for somewhere to go?
Get started here...
Licensee or venue operator? Your venue not listed or want to manage your listing?
Click here...
*According to Google Analytics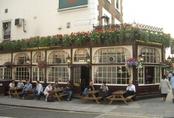 Random pub of the day for 18-4-2014:
Chelsea Potter, Chelsea
119, Kings Road, Chelsea, London, SW3 4PL
Latest comment about the Chelsea Potter:
My perennial favourite pub in Chelsea because of its perfect balance of Kings Road vibe and traditional English pub decor and drinks menu. Service is brisk, professional and unpretentious from the mainly Australian bar staff. I like it. So, I suspect, will you.
What you've been saying about pubs:
Name: The Hand and Flowers
Location: Maidenhead

A tiny pub, about the size of a normal shop. A Brakspear place, selling on our visit Oxford Gold, Brakspear Bitter and Jennings Cumberland Ale. I ...more


Name: The Trout Inn
Location: Wolvercote

Awesome location. Beer choice is limited: Brakspear Bitter and Doom Bar, but the setting is simply wonderful - just on the edge of Oxford's water ...more


Name: Walnut Tree
Location: Great Waltham

A good local's pub. Three casks on offer. Morland Bitter, Leeds Best, and Greene King IPA. The Morland was nice. The pub was OK. very friendly, ...more


Name: The Oakhill Tavern
Location: Beckenham

The owner of the Jolly Woodman in Chancery Lane, next to the Oakhill has bought the Oakhill. It is being refurbed, with a new name and should open sometime this year..


Name: Leather Bottle
Location: Pleshey

Very quiet. The landlord was on his own reading the newspaper, and he said he'd had few customers all day. He had the best beer selection of the ...more


Name: Rose and Crown
Location: Great Waltham

Roadside pub. Three casks. Nice. Loads of old people. Food all day. OK place. More popular and ever so slightly better than the Beehive, but only just.


Name: The Old Shades
Location: Whitehall

How is £3.90 expensive for a pint in London? Maybe if the only other pubs you go to are Spoons.


Name: The Grapes
Location: Sutton

Tried the grapes twice during recent festival,beer I had was fair.Seems to have slipped a little behind the moon in quality.Food still good ...more


Name: The Moon on the Hill
Location: Sutton

Excellent beer and service.The moons beer during beer festival been spot on.


Name: The Travellers Friend
Location: Woodford Green

Oh dear, how sad. What a pair of moaning minnies Roger and Danny are. The irony is that they are the ones doing all the moaning. They are happy to ...more

As rated by beerintheevening.com users:
1
Name: The Fernandes Brewery Tap and Bier Keller - Location: Wakefield
Address: The Old Malthouse, Avison Yard, Wakefield, West Yorkshire, WF1 1UA
Rating:
8.4/10
2
Name: The Coopers Tavern - Location: Burton-Upon-Trent
Address: 43 Cross Street, Burton-Upon-Trent, Staffordshire, DE14 1EG
Rating:
8.4/10
3
Name: The Old Poet's Corner - Location: Ashover
Address: Butts Rd, Ashover, Chesterfield, Derbyshire, S45 0EW
Rating:
8.3/10
4
Name: The Station Inn - Location: Whitby
Address: New Quay Road, Whitby, North Yorkshire, YO21 1DH
Rating:
8.0/10
5
Name: The Blythe Hill Tavern - Location: Forest Hill
Address: 319 Stanstead Road, London, SE23 1JB
Rating:
7.8/10
6
Name: The Narrow Boat - Location: Skipton
Address: 38, Victoria St, Skipton, North Yorkshire, BD23 1JE
Rating:
7.8/10
7
Name: The Rose and Crown - Location: Huish Episcopi
Address: Huish Episcopi, Langport, Somerset, TA10 9QT
Rating:
7.8/10
8
Name: The Rifleman - Location: Twickenham
Address: Fourth Cross Rd, Twickenham, Middlesex, TW2 5EL
Rating:
7.8/10
9
Name: The Golden Rule - Location: Ambleside
Address: Smithy Brow, Ambleside, Cumbria, LA22 9AS
Rating:
7.8/10
10
Name: The Kings Arms - Location: Tring
Address: King St, Tring, Hertfordshire, HP23 6BE
Rating:
7.7/10
11
Name: Ye Olde Black Boy - Location: Hull
Address: 150, High Street, Hull, East Yorkshire, HU1 1PS
Rating:
7.7/10
12
Name: The Halfway House - Location: Pitney
Address: Pitney Hill, Langport, Somerset, TA10 9AB
Rating:
7.7/10
13
Name: The Sussex Arms - Location: Twickenham
Address: 15 Staines Road, Twickenham, Middlesex, TW2 5BG
Rating:
7.7/10
14
Name: The Cherub Inn - Location: Dartmouth
Address: 13 Higher Street, Dartmouth, Devon, TQ6 9RB
Rating:
7.7/10
15
Name: Plough - Location: Worcester
Address: 23 Fish Street, Worcester, Worcestershire, WR1 2HN
Rating:
7.7/10
16
Name: The Hope - Location: Carshalton
Address: 48 West St, Carshalton, Surrey, SM5 2PR
Rating:
7.7/10
17
Name: The Orchard Inn - Location: Bristol
Address: 12 Hanover Place, Bristol, Bristol, BS1 6XT
Rating:
7.7/10
18
Name: The Admiral Benbow - Location: Shrewsbury
Address: 24 Swanhill, Shrewsbury, Shropshire, SY1 1NF
Rating:
7.7/10
19
Name: Fanny's Ale And Cider House - Location: Saltaire
Address: 63, Saltaire Rd, Saltaire, Shipley, West Yorkshire, BD18 3JN
Rating:
7.7/10
20
Name: Leopold Tavern - Location: Southsea
Address: 154 Albert Road, Southsea, Portsmouth, Hampshire, PO4 0JT
Rating:
7.6/10
Recently added
The latest new pubs added by the BITE team:
Name: Royal British Legion - Location: Stratford Upon Avon
Address: 29 Bull Street, Stratford Upon Avon, Warwickshire, CV37 6DT
Rating:
5.0/10
Name: GNH Bar - Location: Kings Cross
Address: Pancras Road, Kings Cross, London, N1C 4TB
Rating:
no rating
Name: The Old Sessions House - Location: Knutsford
Address: 43 Princess Street, Knutsford, Cheshire, WA16 6BW
Rating:
no rating
Name: Beef and Pudding - Location: Manchester
Address: 37 Booth Street, Manchester, Manchester, M2 4AA
Rating:
no rating
Name: The Parcel Yard - Location: Kings Cross
Address: Unit 8 Shared Service Yard, Goods Way, Kings Cross, London, N1C 4AH
Rating:
no rating
Name: WM Hawkes - Location: Hull
Address: 32 Scale Lane, Hull, East Yorkshire, HU1 1LF
Rating:
no rating
Name: Royal British Legion - Location: Castleford
Address: 117 Powell Street, Castleford, West Yorkshire, WF10 1EL
Rating:
6.0/10
Name: The Pack Horse - Location: Leeds
Address: Packhorse Yard, Leeds, West Yorkshire, LS1 6AT
Rating:
no rating
Name: The Junction - Location: Castleford
Address: 109 Carlton Street, Castleford, West Yorkshire, WF10 1EE
Rating:
8.0/10
Name: Station Cafe Bar - Location: Dorridge
Address: 2 Station Road, Dorridge, West Midlands, B93 8JF
Rating:
no rating