BEER... PUBS...

Welcome to beerintheevening.com
Officially the UK's biggest and busiest pub and bar guide!
Now listing over 45,000 venues, it's the perfect place to look for somewhere to eat, drink and socialise! Looking for somewhere to go?
Get started here...
Licensee or venue operator? Your venue not listed or want to manage your listing?
Click here...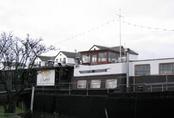 Random pub of the day for 1-9-2016:
Charters Bar, Peterborough
Town Bridge, Peterborough, Cambridgeshire, PE1 1EH
Latest comment about Charters Bar:
Probably one of the best pre-football drinking venues in the country, this is characterful indeed and provides a winning combination of Oakham ales and Thai food. JHB and Citra went down well and there was also a great range of guest ales. The barge on which the pub resides is over a hundred years old.
What you've been saying about pubs:
Name: Ye Olde Starre Inn
Location: York

I have visited York a couple of times before but this place was always too busy when I passed. Just the sort of pub you expect to see in central ...more


Name: The Golden Fleece
Location: York

Atmospheric old pub that plays up its supposed ghostly connections. Not many in the front bar around noon on a Thursday, though there were many ...more


Name: The Prince of Wales
Location: St Helier

Ditto from Raj's comment really. Came here as I know they have a good well kept beer selection, without too many of the golden beers that I ...more


Name: The Waggoners
Location: Ayot Green

Call here now and again for a few beers. Condition of the London Pride varies and a bit gassy so maybe not for the ...more


Name: Rose and Crown
Location: Tewin

Glad you survived fugglehops. Can be a bit Jeremy Kyle Show on account of the regulars. Visited for the first time in ages at the weekend for a ...more


Name: The Windmill
Location: Stratford Upon Avon

Now run by a retarded couple from the Black Country AKA Birmingham. Towing the Greene King company line is obviously one of their few achievements ...more


Name: The Rose And Crown
Location: Stratford Upon Avon

This pub went up in my estimations since the Greene King take over of the Spirit Group. but since legal highs have been criminalised we're back to ...more


Name: The Manchester
Location: Beswick

Closed boarded up. Was a bit crap anyway.


Name: The Sanctuary House
Location: Westminster

I have passed this pub several times in the past when doing the tourist rounds but have always made my pit stops at the Westminster Arms & ...more


Name: The Euston Flyer
Location: Euston

Just like deja vu all over again. Me, Eurostar & the Euston Flyer. Weather this time brilliant on both sides of the channel, & the Pride ...more

As rated by beerintheevening.com users:
1
Name: The Fleece Inn - Location: Bretforton
Address: The Cross, Bretforton, Evesham, Worcestershire, WR11 7JE
Rating:
8.8/10
2
Name: Golden Lion - Location: Rochford
Address: 35 North Street, Rochford, Essex, SS4 1AB
Rating:
8.4/10
3
Name: The Old Fire House - Location: Exeter
Address: 50 New North Road, Exeter, Devon, EX4 4EP
Rating:
8.2/10
4
Name: Trafford Arms - Location: Norwich
Address: 61 Grove Road, Norwich, Norfolk, NR1 3RL
Rating:
8.1/10
5
Name: The Old Poet's Corner - Location: Ashover
Address: Butts Rd, Ashover, Chesterfield, Derbyshire, S45 0EW
Rating:
8.0/10
6
Name: The Admiral Benbow - Location: Penzance
Address: 46, Chapel St, Penzance, Cornwall, TR18 4AF
Rating:
8.0/10
7
Name: The Hop Blossom - Location: Farnham
Address: Long Garden Walk, Farnham, Surrey, GU9 7HX
Rating:
8.0/10
8
Name: The Lamplighter - Location: St Helier
Address: 9 Mulcaster Street, St Helier, Jersey, JE2 3NJ
Rating:
8.0/10
9
Name: The Narrow Boat - Location: Skipton
Address: 38, Victoria St, Skipton, North Yorkshire, BD23 1JE
Rating:
7.9/10
10
Name: The Cherub Inn - Location: Dartmouth
Address: 13 Higher Street, Dartmouth, Devon, TQ6 9RB
Rating:
7.9/10
11
Name: The Blythe Hill Tavern - Location: Forest Hill
Address: 319 Stanstead Road, London, SE23 1JB
Rating:
7.8/10
12
Name: The Rose and Crown - Location: Huish Episcopi
Address: Huish Episcopi, Langport, Somerset, TA10 9QT
Rating:
7.8/10
13
Name: The Golden Rule - Location: Ambleside
Address: Smithy Brow, Ambleside, Cumbria, LA22 9AS
Rating:
7.8/10
14
Name: The Fox and Goose - Location: Hebden Bridge
Address: 9 Heptonstall Road, Hebden Bridge, West Yorkshire, HX7 6AZ
Rating:
7.8/10
15
Name: The Coopers Tavern - Location: Burton-Upon-Trent
Address: 43 Cross Street, Burton-Upon-Trent, Staffordshire, DE14 1EG
Rating:
7.8/10
16
Name: The Fernandes Brewery Tap and Bier Keller - Location: Wakefield
Address: The Old Malthouse, Avison Yard, Wakefield, West Yorkshire, WF1 1UA
Rating:
7.8/10
17
Name: The Station Inn - Location: Whitby
Address: New Quay Road, Whitby, North Yorkshire, YO21 1DH
Rating:
7.7/10
18
Name: The Kings Arms - Location: Tring
Address: King St, Tring, Hertfordshire, HP23 6BE
Rating:
7.7/10
19
Name: The Orchard Inn - Location: Bristol
Address: 12 Hanover Place, Bristol, Bristol, BS1 6XT
Rating:
7.7/10
20
Name: Sheffield Tap - Location: Sheffield
Address: Platform 1, Sheffield Station, Sheaf Street, Sheffield, South Yorkshire, S1 2BP
Rating:
7.7/10
Recently added
The latest new pubs added by the BITE team:
Name: The Bishops - Location: St Davids
Address: 22-23 Cross Square, St Davids, Dyfed, SA62 6SL
Rating:
6.0/10
Name: Black Lodge Brewing - Location: Liverpool
Address: 4 Kitchen Street, Liverpool, Merseyside, L1 0AN
Rating:
no rating
Name: Bell Inn - Location: Haughton
Address: Newport Road, Haughton, Staffordshire, ST18 9EX
Rating:
no rating
Name: Block and Gasket - Location: Sale
Address: 11-13 School Road, Sale, Cheshire, M33 7XY
Rating:
9.0/10
Name: Fox - Location: Shadingfield
Address: London Road, Shadingfield, Suffolk, NR34 8DD
Rating:
no rating
Name: Merchant - Location: Liverpool
Address: 40 Slater Street, Liverpool, Merseyside, L1 4BX
Rating:
no rating
Name: Tavern Bar - Location: Alltami
Address: Mold Road, Alltami, Clwyd, CH7 6LG
Rating:
5.0/10
Name: Rivelyn Hotel - Location: Scarborough
Address: 1-4 Crown Crescent, Scarborough, North Yorkshire, YO11 2BJ
Rating:
no rating
Name: Pommel Horse - Location: Hemel Hempstead
Address: Unit 2, Jarman Square, Jarman Park, Hemel Hempstead, Hertfordshire, HP2 4JW
Rating:
6.0/10
Name: Running Horses - Location: St Helens
Address: Water Street, St Helens, Merseyside, WA10 1PY
Rating:
8.0/10