BEER... PUBS...

Welcome to beerintheevening.com
Officially the UK's biggest and busiest pub and bar guide!
Now listing over 45,000 venues, it's the perfect place to look for somewhere to eat, drink and socialise! Looking for somewhere to go?
Get started here...
Licensee or venue operator? Your venue not listed or want to manage your listing?
Click here...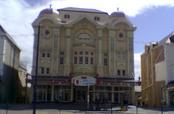 Random pub of the day for 23-1-2018:
Palladium, Llandudno
7 Gladdaeth Road, Llandudno, Gwynedd, LL30 2DD
Latest comment about The Palladium:
I have to agree with most other reviews here on tables not being cleaned or floors around where children have been(parents ?) food regulary bieng taken back cold,however i have never had any issues with quality of ale in spoons for 15 years, until now FLAT/CLOUDY/HAZY every day for 3 days even house beer abbot ale was cloudy. Have they a trained cellarperson here ?
What you've been saying about pubs:
Name: The Bear Hotel
Location: Sparkhill

Visited late 2017, felt like a pub in retreat (only one bar opened, rest of the rooms locked closed), unfortunately closed for good ...more


Name: Number 22 Alehouse and Canteen
Location: Darlington

I do have to agree with some of the views. It can get conjested and often with people i'd usually cross the road to avoid. The beer is good but ...more


Name: Hope Inn
Location: Darlington

Good beer in quite a small pub. It's rough and ready so don't go thinking this is a romantic pub. It's a basic boozer with good beer. The landlord ...more


Name: Brewbot Belfast
Location: Belfast

Now re-opened by Galway Bay brewery as the Northern Lights. One cask ale and several keg available on my last visit. ...more


Name: The Ale House
Location: Chelmsford

Excellent bar under the railway station. A wide selection of cask and keg beers on offer.


Name: The Bell Inn
Location: Coleshill

Nice looking spacious pub, polite barman, covered smoking area at the rear. Only one ale on when we visited, St. Austell 'Tribute', not a bad pint.


Name: The Rams Head
Location: Disley

Vast, rather beautiful establishment in this alluring village. A warm welcome, good beer and comfort is to be found here..


Name: The Coppermill Tavern
Location: Walthamstow

Nice traditional local with a warm welcome and good beer. The pub seems very much part of the local community and is ...more


Name: King William
Location: Wilmslow

Cosy, warm and inviting with very good beer. A pub with character in soulless Wilmslow. Has to be the best pub in the area.


Name: The Crown Inn
Location: Stockport

Much more of an older feeling pub than the hope or the magnet. It's also reasonably spacious but the bar is in a cramped area next to the door. ...more

As rated by beerintheevening.com users:
1
Name: The Cuckoo Inn - Location: Hamptworth
Address: Hamptworth, Salisbury, Wiltshire, SP5 2DU
Rating:
8.4/10
2
Name: The Fleece Inn - Location: Bretforton
Address: The Cross, Bretforton, Evesham, Worcestershire, WR11 7JE
Rating:
8.4/10
3
Name: The Jolly Angler - Location: Manchester
Address: 47 Ducie Street, Ancoats, Manchester, M1 2JW
Rating:
8.1/10
4
Name: The Old Poet's Corner - Location: Ashover
Address: Butts Rd, Ashover, Chesterfield, Derbyshire, S45 0EW
Rating:
8.1/10
5
Name: The Old Fire House - Location: Exeter
Address: 50 New North Road, Exeter, Devon, EX4 4EP
Rating:
8.0/10
6
Name: The Admiral Benbow - Location: Penzance
Address: 46, Chapel St, Penzance, Cornwall, TR18 4AF
Rating:
8.0/10
7
Name: The Blythe Hill Tavern - Location: Forest Hill
Address: 319 Stanstead Road, London, SE23 1JB
Rating:
7.8/10
8
Name: The Snickleway Inn - Location: York
Address: 47, Goodramgate, York, North Yorkshire, YO1 7LS
Rating:
7.8/10
9
Name: The Fox and Goose - Location: Hebden Bridge
Address: 9 Heptonstall Road, Hebden Bridge, West Yorkshire, HX7 6AZ
Rating:
7.8/10
10
Name: The Lamplighter - Location: St Helier
Address: 9 Mulcaster Street, St Helier, Jersey, JE2 3NJ
Rating:
7.8/10
11
Name: The Rose and Crown - Location: Huish Episcopi
Address: Huish Episcopi, Langport, Somerset, TA10 9QT
Rating:
7.7/10
12
Name: Sheffield Tap - Location: Sheffield
Address: Platform 1, Sheffield Station, Sheaf Street, Sheffield, South Yorkshire, S1 2BP
Rating:
7.7/10
13
Name: The Station Inn - Location: Whitby
Address: New Quay Road, Whitby, North Yorkshire, YO21 1DH
Rating:
7.7/10
14
Name: The Golden Rule - Location: Ambleside
Address: Smithy Brow, Ambleside, Cumbria, LA22 9AS
Rating:
7.7/10
15
Name: The Rat and Ratchet - Location: Huddersfield
Address: 40 Chapel Hill, Huddersfield, West Yorkshire, HD1 3EB
Rating:
7.7/10
16
Name: The Narrow Boat - Location: Skipton
Address: 38, Victoria St, Skipton, North Yorkshire, BD23 1JE
Rating:
7.7/10
17
Name: The Great Western - Location: Wolverhampton
Address: Sun Street, Wolverhampton, West Midlands, WV10 0DJ
Rating:
7.7/10
18
Name: The Kings Head - Location: Norwich
Address: 42, Magdalen St, Norwich, Norfolk, NR3 1JE
Rating:
7.6/10
19
Name: The Coopers Tavern - Location: Burton-Upon-Trent
Address: 43 Cross Street, Burton-Upon-Trent, Staffordshire, DE14 1EG
Rating:
7.6/10
20
Name: The Fernandes Brewery Tap and Bier Keller - Location: Wakefield
Address: The Old Malthouse, Avison Yard, Wakefield, West Yorkshire, WF1 1UA
Rating:
7.6/10
Recently added
The latest new pubs added by the BITE team:
Name: The Paul Pry - Location: Worcester
Address: 6 The Butts, Worcester, Worcestershire, WR1 3PA
Rating:
5.8/10
Name: The Talbot Inn - Location: Welshpool
Address: 16 High Street, Welshpool, Powys, SY21 7JP
Rating:
4.8/10
Name: The Durham Ox - Location: Northallerton
Address: 102 High Street, Northallerton, North Yorkshire, DL7 8JX
Rating:
no rating
Name: The Draft House - Location: Milton Keynes
Address: 316 Midsummer Boulevard, Milton Keynes, Buckinghamshire, MK9 2EA
Rating:
no rating
Name: The Dukes Head - Location: Hythe
Address: 9 Dymchurch Road, Hythe, Kent, CT21 6JB
Rating:
1.0/10
Name: The Hope - Location: Hythe
Address: 82 Stade Street, Hythe, Kent, CT21 6DA
Rating:
no rating
Name: The Harewood End Inn - Location: Harewood End
Address: A49, Harewood End, Herefordshire, HR2 8JT
Rating:
no rating
Name: The Hop - Location: Saltaire
Address: 199 Bingley Road, Saltaire, Shipley, West Yorkshire, BD18 4DH
Rating:
no rating
Name: Mr Foggs Tavern - Location: Leicester Square
Address: 58 St. Martins Lane, Leicester Square, London, WC2N 4EA
Rating:
no rating
Name: Forty Eight - Location: Bristol
Address: 48 Park Street, Bristol, Bristol, BS1 5JG
Rating:
4.0/10