BEER... PUBS...

Welcome to beerintheevening.com
Officially the UK's biggest and busiest pub and bar guide!
Now listing over 45,000 venues, it's the perfect place to look for somewhere to eat, drink and socialise! Looking for somewhere to go?
Get started here...
Licensee or venue operator? Your venue not listed or want to manage your listing?
Click here...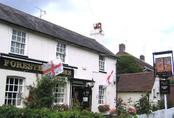 Random pub of the day for 2-12-2015:
Foresters Arms, Horsham
43 St Leonards Road, Horsham, West Sussex, RH13 6EH
Latest comment about the Foresters Arms:
Cracking little pub, serving doom bar & hobgoblin gold. I had the latter and it was good. A nice beer garden and dog friendly too. Away from the town centre and so avoids the town crowd. Recommended.
What you've been saying about pubs:
It has now been turned into a private house!


Name: Number 22 Alehouse and Canteen
Location: Darlington

We have been visiting No 22 for many years usually on a lunchtime but never seem to have posted a review. I have always found the beers to be good ...more


Name: The Crown Inn
Location: Manfield

The previous landlords of the Crown have recently retired and new tenants have been running the pub for a little over a week now. First ...more


Name: The Hunting Lodge
Location: Monkseaton

Went back to see if things had improved. My wife had cheesey garlic bread (black at the edges) and chips (overdone and dry). Looks like it hasn't then!


Name: Monkseaton Arms
Location: Monkseaton

35 years I've lived in Monkseaton and I still can't get served at the bar, walked out again for the umpteenth time without being served


Name: White Hart
Location: Mansfield

Looks like the building is to be let as offices. I did get to the difficult to find but unlisted Ye Olde White Lion further down Church Street ...more


Name: The Vat and Fiddle
Location: Nottingham

Still your best option if you want a decent ale before catching a train. All current Castle Rock brews were on offer and about 7 or 8 others.


Name: The Saracens Head
Location: Southwell

Hotel bar which only had Old Speckled Hen and Abbot on. The Old Speckled hen was good though and shows it can be a nice pint if well kept and served.


Name: The Newcastle Arms
Location: Southwell

Now called the Final Whistle (a railway as opposed to a football reference apparently). Decent pub with plenty of ales on worth the short trek from the town.


Name: The Railway Inn
Location: Mansfield

Still a decent enough alehouse - had a pleasant quiet afternoon pint here.

As rated by beerintheevening.com users:
1
Name: The Old Poet's Corner - Location: Ashover
Address: Butts Rd, Ashover, Chesterfield, Derbyshire, S45 0EW
Rating:
7.8/10
2
Name: The Blythe Hill Tavern - Location: Forest Hill
Address: 319 Stanstead Road, London, SE23 1JB
Rating:
7.8/10
3
Name: The Lamplighter - Location: St Helier
Address: 9 Mulcaster Street, St Helier, Jersey, JE2 3NJ
Rating:
7.8/10
4
Name: The Golden Rule - Location: Ambleside
Address: Smithy Brow, Ambleside, Cumbria, LA22 9AS
Rating:
7.8/10
5
Name: The Narrow Boat - Location: Skipton
Address: 38, Victoria St, Skipton, North Yorkshire, BD23 1JE
Rating:
7.8/10
6
Name: The Fernandes Brewery Tap and Bier Keller - Location: Wakefield
Address: The Old Malthouse, Avison Yard, Wakefield, West Yorkshire, WF1 1UA
Rating:
7.8/10
7
Name: The Rose and Crown - Location: Huish Episcopi
Address: Huish Episcopi, Langport, Somerset, TA10 9QT
Rating:
7.8/10
8
Name: The Cherub Inn - Location: Dartmouth
Address: 13 Higher Street, Dartmouth, Devon, TQ6 9RB
Rating:
7.7/10
9
Name: The Kings Arms - Location: Tring
Address: King St, Tring, Hertfordshire, HP23 6BE
Rating:
7.7/10
10
Name: The Station Inn - Location: Whitby
Address: New Quay Road, Whitby, North Yorkshire, YO21 1DH
Rating:
7.7/10
11
Name: The Castle Inn - Location: West Lulworth
Address: Main Road, West Lulworth, Wareham, Dorset, BH20 5RN
Rating:
7.7/10
12
Name: Sheffield Tap - Location: Sheffield
Address: Platform 1, Sheffield Station, Sheaf Street, Sheffield, South Yorkshire, S1 2BP
Rating:
7.7/10
13
Name: The Coopers Tavern - Location: Burton-Upon-Trent
Address: 43 Cross Street, Burton-Upon-Trent, Staffordshire, DE14 1EG
Rating:
7.7/10
14
Name: The Orchard Inn - Location: Bristol
Address: 12 Hanover Place, Bristol, Bristol, BS1 6XT
Rating:
7.7/10
15
Name: The Rat and Ratchet - Location: Huddersfield
Address: 40 Chapel Hill, Huddersfield, West Yorkshire, HD1 3EB
Rating:
7.6/10
16
Name: Cloisters Bar - Location: Edinburgh
Address: 26, Brougham St, Edinburgh, Midlothian, EH3 9JH
Rating:
7.6/10
17
Name: The Halfway House - Location: Pitney
Address: Pitney Hill, Langport, Somerset, TA10 9AB
Rating:
7.6/10
18
Name: The Brewery Tap - Location: Chester
Address: 52-54 Lower Bridge Street, Chester, Cheshire, CH1 1RU
Rating:
7.6/10
19
Name: The Kings Head - Location: Norwich
Address: 42, Magdalen St, Norwich, Norfolk, NR3 1JE
Rating:
7.6/10
20
Name: The Black Horse Hotel - Location: Preston
Address: 166 Friargate, Preston, Lancashire, PR1 2EJ
Rating:
7.6/10
Recently added
The latest new pubs added by the BITE team:
Name: Nelson Inn - Location: Brown Lees
Address: 118 Brown Lees Road, Brown Lees, Staffordshire, ST8 6PW
Rating:
no rating
Name: The Watch Maker - Location: Prescot
Address: 60-62 Eccleston Street, Prescot, Merseyside, L34 5QL
Rating:
no rating
Name: The Junction - Location: Sutton in Ashfield
Address: 2 Newark Road, Sutton in Ashfield, Nottinghamshire, NG17 5JP
Rating:
no rating
Name: The Ram - Location: Newark
Address: 19 Castle Gate, Newark, Nottinghamshire, NG24 1AZ
Rating:
no rating
Name: Sutlers - Location: York
Address: 54-56 Fossgate, York, North Yorkshire, YO1 9TF
Rating:
no rating
Name: Duke of York - Location: York
Address: Kings Square, York, North Yorkshire, YO1 8BH
Rating:
no rating
Name: Grain Loft - Location: Manchester Airport
Address: Terminal 1 Departures, Manchester Airport, Manchester, M90 1QX
Rating:
no rating
Name: Beer House - Location: Bradford
Address: 22-24 North Parade, Bradford, West Yorkshire, BD1 3HT
Rating:
no rating
Name: The Sandgrounder - Location: Southport
Address: 137-141 Lord Street, Southport, Merseyside, PR8 1PU
Rating:
no rating
Name: Joseph Morton - Location: Louth
Address: Pawnshop Passage, Louth, Lincolnshire, LN11 9EZ
Rating:
no rating