BEER... PUBS...

Welcome to beerintheevening.com
Officially the UK's biggest and busiest pub and bar guide!
Now listing over 45,000 venues, it's the perfect place to look for somewhere to eat, drink and socialise! Looking for somewhere to go?
Get started here...
Licensee or venue operator? Your venue not listed or want to manage your listing?
Click here...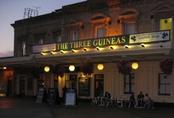 Random pub of the day for 17-8-2017:
Three Guineas, Reading
Station Approach, Reading, Berkshire, RG1 1LY
Latest comment about the Three Guineas:
Looking good after refurb. Good range of ales (mostly Fuller/Gale but a couple of guests). Seating inside and out. Train departure screen within pub.
What you've been saying about pubs:
Name: The Smithfield
Location: Derby

Hmm, just discovered this review on my PC, which I wrote back in March, but don''t seem to have uploaded ... There has been a change of ...more

The final old review of pubs recently added to BITE ... This Pub occupies what is obviously an old building on the main street, but inside it ...more


Name: Kraftworks
Location: Alsager

Wrote this after my first visit back in January. Been here a few times since - and it''s about time I went again ! As the name implies this is ...more


Name: Bank Corner
Location: Alsager

Another old review - been here a few times though I have to admit that on previous visits to Alsager, I had ignored this continental style ...more


Name: The Alsager arms
Location: Alsager

now demolished

A review from my last visit here in February 2017 This canalside establishment describes itself as a "cafe bar / bistro", which is probably ...more


Name: Prince of Wales
Location: Congleton

Another review from my Congleton trip back in January Formerly the Phoenix Tap, this has been taken over by Joules, and renamed back to its ...more


Name: Olde King Arms
Location: Congleton

Review from a visit in January 2017 Ancient town centre pub, that has recently been taken over and refurbished by Titanic. Unlike joules, ...more


Name: The Tides Inn
Location: Woolacombe

Probably the best pub we went to all day. Place was smart inside and outside has a very commanding view over Woolacombe and out to ...more


Name: The Garibaldi
Location: Redhill

Reopening tomorrow - 7pm...

As rated by beerintheevening.com users:
1
Name: The Cuckoo Inn - Location: Hamptworth
Address: Hamptworth, Salisbury, Wiltshire, SP5 2DU
Rating:
8.4/10
2
Name: The Fleece Inn - Location: Bretforton
Address: The Cross, Bretforton, Evesham, Worcestershire, WR11 7JE
Rating:
8.4/10
3
Name: The Jolly Angler - Location: Manchester
Address: 47 Ducie Street, Ancoats, Manchester, M1 2JW
Rating:
8.1/10
4
Name: The Old Poet's Corner - Location: Ashover
Address: Butts Rd, Ashover, Chesterfield, Derbyshire, S45 0EW
Rating:
8.1/10
5
Name: The Old Fire House - Location: Exeter
Address: 50 New North Road, Exeter, Devon, EX4 4EP
Rating:
8.0/10
6
Name: The Admiral Benbow - Location: Penzance
Address: 46, Chapel St, Penzance, Cornwall, TR18 4AF
Rating:
8.0/10
7
Name: The Blythe Hill Tavern - Location: Forest Hill
Address: 319 Stanstead Road, London, SE23 1JB
Rating:
7.8/10
8
Name: The Lamplighter - Location: St Helier
Address: 9 Mulcaster Street, St Helier, Jersey, JE2 3NJ
Rating:
7.8/10
9
Name: The Snickleway Inn - Location: York
Address: 47, Goodramgate, York, North Yorkshire, YO1 7LS
Rating:
7.8/10
10
Name: The Rose and Crown - Location: Huish Episcopi
Address: Huish Episcopi, Langport, Somerset, TA10 9QT
Rating:
7.7/10
11
Name: The Cherub Inn - Location: Dartmouth
Address: 13 Higher Street, Dartmouth, Devon, TQ6 9RB
Rating:
7.7/10
12
Name: Sheffield Tap - Location: Sheffield
Address: Platform 1, Sheffield Station, Sheaf Street, Sheffield, South Yorkshire, S1 2BP
Rating:
7.7/10
13
Name: The Kings Arms - Location: Tring
Address: King St, Tring, Hertfordshire, HP23 6BE
Rating:
7.7/10
14
Name: The Fox and Goose - Location: Hebden Bridge
Address: 9 Heptonstall Road, Hebden Bridge, West Yorkshire, HX7 6AZ
Rating:
7.7/10
15
Name: The Station Inn - Location: Whitby
Address: New Quay Road, Whitby, North Yorkshire, YO21 1DH
Rating:
7.7/10
16
Name: The Castle Inn - Location: West Lulworth
Address: Main Road, West Lulworth, Wareham, Dorset, BH20 5RN
Rating:
7.7/10
17
Name: Trafford Arms - Location: Norwich
Address: 61 Grove Road, Norwich, Norfolk, NR1 3RL
Rating:
7.7/10
18
Name: The Golden Rule - Location: Ambleside
Address: Smithy Brow, Ambleside, Cumbria, LA22 9AS
Rating:
7.7/10
19
Name: The Narrow Boat - Location: Skipton
Address: 38, Victoria St, Skipton, North Yorkshire, BD23 1JE
Rating:
7.7/10
20
Name: The Brewery Tap - Location: Chester
Address: 52-54 Lower Bridge Street, Chester, Cheshire, CH1 1RU
Rating:
7.7/10
Recently added
The latest new pubs added by the BITE team:
Name: Kings Head - Location: Stamford
Address: 19 Maiden Lane, Stamford, Lincolnshire, PE9 2AZ
Rating:
no rating
Name: Little Man - Location: Wettenhall
Address: Winsford Road, Wittenhall, Cheshire, CW7 4DL
Rating:
no rating
Name: Walton Dam Nation - Location: Walton
Address: 5 Breckland Road, Walton, Chesterfield, Derbyshire, S40 3LJ
Rating:
no rating
Name: Robin Hood - Location: Castlemorton
Address: B4208, Castlemorton, Worcestershire, WR13 6BS
Rating:
no rating
Name: The Hop and Barley - Location: Lincoln
Address: 417 High Street, Lincoln, Lincolnshire, LN5 8HX
Rating:
no rating
Name: The Hunters Inn - Location: Buckbury
Address: B4211, Buckbury, Gloucestershire, GL20 6AR
Rating:
no rating
Name: The Tap and Barrel - Location: Wigston
Address: 58 Leicester Road, Wigston, Leicestershire, LE18 1DR
Rating:
no rating
Name: Little Bare - Location: Bare
Address: 23 Princes Crescent, Bare, Morecambe, Lancashire, LA4 6BY
Rating:
no rating
Name: Broood - Location: Leicester
Address: 24 King Street, Leicester, Leicestershire, LE1 6RL
Rating:
no rating
Name: The Old Mill - Location: Ossaborough
Address: Ossaborough Lane, Ossaborough, Devon, EX34 7HJ
Rating:
no rating