BEER... PUBS...

Welcome to beerintheevening.com
Officially the UK's biggest and busiest pub and bar guide!
Now listing over 45,000 venues, it's the perfect place to look for somewhere to eat, drink and socialise! Looking for somewhere to go?
Get started here...
Licensee or venue operator? Your venue not listed or want to manage your listing?
Click here...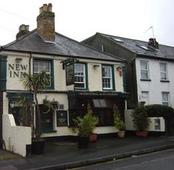 Random pub of the day for 1-10-2016:
New Inn, Sutton
16-18 Myrtle Road, Sutton, Surrey, SM1 4BX
Latest comment about the New Inn:
I had not been in here for several years and won't be again. served a warm flat beer by a Vicky Pollard clone who had no conversation. Only one other person in the pub. This one wont last much longer.
What you've been saying about pubs:
Name: The Swan
Location: Edenbridge

I went to this pub last night as I had just moved into the area. It is difficult to describe how grubby and old fashioned this place is. There are ...more


Name: Masonic Arms
Location: Shrewsbury

Another difficult pub to rate. Owned by a big "cheese" but run by a succession of tenants this is not a bad pub - if you like ...more


Name: The Cross Foxes
Location: Shrewsbury

Nice pub shame about the welcome - or lack of it. Small single bar pub which is nicely kept and some good real ales which are also kept well. ...more


Name: The Nag's Head
Location: Shrewsbury

Old style "proper" pub that looks like a pub and attracts a lot of locals and travelling gangs of CAMRA wannabes. Propensity to deal in ...more


Name: The Royal Oak
Location: Guildford

As it was a miserable old day I treated myself to another pub this Saturday afternoon. The Royal Oak, which has been refurbished and sits ...more


Name: The Three Pigeons
Location: Guildford

The barman looks like a Mexican gangster. Perhaps he is really Mexican, he seems like a nice but weird chap. The trouble is i've no idea of most ...more


Name: The Ship Inn
Location: Rye

there is a price list on the wall behind the bar so you know you are about to pay top wack prices this is more of a bar than a pub, and the cheapest draught beer is £3-90.


Name: The Sole Bay Inn
Location: Southwold

nice pub, nice fish and chips , nice staff however not long to go before they start selling a pint for a fiver !!


Name: The Lord Nelson
Location: Southwold

nice pub , and at £4 for broadside, it should be.


Name: Queen of the Iceni
Location: Norwich

ok WSP, nice beer , nice prices, teenage staff in la la land ( plus ca change )

As rated by beerintheevening.com users:
1
Name: The Fleece Inn - Location: Bretforton
Address: The Cross, Bretforton, Evesham, Worcestershire, WR11 7JE
Rating:
8.8/10
2
Name: Golden Lion - Location: Rochford
Address: 35 North Street, Rochford, Essex, SS4 1AB
Rating:
8.4/10
3
Name: The Old Fire House - Location: Exeter
Address: 50 New North Road, Exeter, Devon, EX4 4EP
Rating:
8.2/10
4
Name: Trafford Arms - Location: Norwich
Address: 61 Grove Road, Norwich, Norfolk, NR1 3RL
Rating:
8.1/10
5
Name: The Old Poet's Corner - Location: Ashover
Address: Butts Rd, Ashover, Chesterfield, Derbyshire, S45 0EW
Rating:
8.0/10
6
Name: The Admiral Benbow - Location: Penzance
Address: 46, Chapel St, Penzance, Cornwall, TR18 4AF
Rating:
8.0/10
7
Name: The Hop Blossom - Location: Farnham
Address: Long Garden Walk, Farnham, Surrey, GU9 7HX
Rating:
8.0/10
8
Name: The Lamplighter - Location: St Helier
Address: 9 Mulcaster Street, St Helier, Jersey, JE2 3NJ
Rating:
8.0/10
9
Name: The Narrow Boat - Location: Skipton
Address: 38, Victoria St, Skipton, North Yorkshire, BD23 1JE
Rating:
7.9/10
10
Name: The Blythe Hill Tavern - Location: Forest Hill
Address: 319 Stanstead Road, London, SE23 1JB
Rating:
7.8/10
11
Name: The Rose and Crown - Location: Huish Episcopi
Address: Huish Episcopi, Langport, Somerset, TA10 9QT
Rating:
7.8/10
12
Name: The Cherub Inn - Location: Dartmouth
Address: 13 Higher Street, Dartmouth, Devon, TQ6 9RB
Rating:
7.8/10
13
Name: The Golden Rule - Location: Ambleside
Address: Smithy Brow, Ambleside, Cumbria, LA22 9AS
Rating:
7.8/10
14
Name: The Fox and Goose - Location: Hebden Bridge
Address: 9 Heptonstall Road, Hebden Bridge, West Yorkshire, HX7 6AZ
Rating:
7.8/10
15
Name: The Snickleway Inn - Location: York
Address: 47, Goodramgate, York, North Yorkshire, YO1 7LS
Rating:
7.8/10
16
Name: The Coopers Tavern - Location: Burton-Upon-Trent
Address: 43 Cross Street, Burton-Upon-Trent, Staffordshire, DE14 1EG
Rating:
7.8/10
17
Name: The Fernandes Brewery Tap and Bier Keller - Location: Wakefield
Address: The Old Malthouse, Avison Yard, Wakefield, West Yorkshire, WF1 1UA
Rating:
7.8/10
18
Name: The Station Inn - Location: Whitby
Address: New Quay Road, Whitby, North Yorkshire, YO21 1DH
Rating:
7.7/10
19
Name: The Kings Arms - Location: Tring
Address: King St, Tring, Hertfordshire, HP23 6BE
Rating:
7.7/10
20
Name: The Orchard Inn - Location: Bristol
Address: 12 Hanover Place, Bristol, Bristol, BS1 6XT
Rating:
7.7/10
Recently added
The latest new pubs added by the BITE team:
Name: The Bridge Inn - Location: Rotherham
Address: 1 Greasborough Road, Rotherham, South Yorkshire, S60 1RB
Rating:
no rating
Name: Needham House Hotel - Location: Little Wymondeley
Address: Blakemore End Road, Little Wymondeley, Hertfordshire, SG4 7JJ
Rating:
no rating
Name: Black Swan - Location: Asselby
Address: Main Street, Asselby, East Yorkshire, DN14 7HE
Rating:
no rating
Name: The Penny Black - Location: Tamworth
Address: 2 Lower Gungate, Tamworth, Staffordshire, B79 7AE
Rating:
no rating
Name: Pi - Location: Mossley Hill
Address: 106 Rose Lane, Mossley Hill, Merseyside, L18 8AG
Rating:
no rating
Name: The Huxley - Location: Edinburgh
Address: Rutland Street, Edinburgh, Midlothian, EH1 2AE
Rating:
no rating
Name: The Boat Inn - Location: Potters Green
Address: 31 Shilton Lane, Potters Green, Coventry, West Midlands, CV2 2AB
Rating:
no rating
Name: Brindley's Lock - Location: Packmoor
Address: Silverstone Crescent, Packmoor, Staffordshire, ST6 6XP
Rating:
no rating
Name: The Old Ale House - Location: Woburn
Address: 11 Market Place, Woburn, Buckinghamshire, MK17 9PZ
Rating:
no rating
Name: Gordon Bennett's - Location: Hereford
Address: 8 St Peters Street, Hereford, Herefordshire, HR1 2LE
Rating:
no rating