BEER... PUBS...

Welcome to beerintheevening.com
Officially the UK's biggest and busiest pub and bar guide!
Now listing over 45,000 venues, it's the perfect place to look for somewhere to eat, drink and socialise! Looking for somewhere to go?
Get started here...
Licensee or venue operator? Your venue not listed or want to manage your listing?
Click here...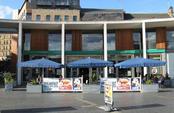 Random pub of the day for 24-10-2016:
Turls Green, Bradford
Centenery Square, Bradford, West Yorkshire, BD1 1HY
Latest comment about the Turls Green:
Visited last week on a weekday afternoon. 6 pumps, all of which were on, including some festival ales. Greene King IPA and Abbot Ale also available. Went for a pint of Plum Porter, which was very pleasant. Have had it before and it lived up to expectation. I sat inside on this occasion but on glancing outside noticed that they appear to have given up with the segregated smoking and non smoking areas outside - most of the tables had ashtrays on. Paid a vist to the gents (upstairs) and noticed the upstairs seating area seems much smarter than downstairs - will have to remember that for my next visit.
What you've been saying about pubs:
Name: Cabbage Hall
Location: Anfield

Seemed to be open when I passed today. Now called the Cabbage Hall Restaurant & Bar.


Name: Golden Lion
Location: Whitby

It's a small, friendly cosy place, and I'd say the better of the cluster in the immediate locality. Unfortunately it was a bit too ...more

I can only repeat Thelittleman's observations.

There was a sign outside saying "dog and children friendly". We entered, and were nearly bowled over by some rampaging, shrieking ...more


Name: Goat and Tricycle
Location: Bournemouth

Great pub with a great selection of mainly Wadworth ales. Horizon was excellent. Pool table too. Quiet early doors on a Monday (unsurprisingly) ...more


Name: The Arkle Manor
Location: Betchworth

Closed until 2nd November - for refurbishment.


Name: The St. John's Head
Location: Great Yarmouth

Excellent pub - one of my favourite places to enjoy a nice pint or two when in Yarmouth. The prices are very gentle on the wallet and, as another ...more


Name: The Opera House
Location: Tunbridge Wells

Wetherspoon's finest. Impressive building, opened 1902 as an opera house - and later a cinema and bingo hall. Periodically, operas are still ...more


Name: The George Inn
Location: Littlehampton

Had some time to spare before catching the train late on Sunday evening. Ordered a pint of Stongbow and a glass of Pinot Grigio. This was the ...more


Name: The Royal Oak
Location: Tunbridge Wells

Popped into the Royal Oak on my way back from a trip to the High Street after a recommendation from a friend and was delighted I did. It may look ...more

As rated by beerintheevening.com users:
1
Name: The Fleece Inn - Location: Bretforton
Address: The Cross, Bretforton, Evesham, Worcestershire, WR11 7JE
Rating:
8.8/10
2
Name: Golden Lion - Location: Rochford
Address: 35 North Street, Rochford, Essex, SS4 1AB
Rating:
8.4/10
3
Name: The Old Fire House - Location: Exeter
Address: 50 New North Road, Exeter, Devon, EX4 4EP
Rating:
8.2/10
4
Name: Trafford Arms - Location: Norwich
Address: 61 Grove Road, Norwich, Norfolk, NR1 3RL
Rating:
8.1/10
5
Name: The Old Poet's Corner - Location: Ashover
Address: Butts Rd, Ashover, Chesterfield, Derbyshire, S45 0EW
Rating:
8.0/10
6
Name: The Admiral Benbow - Location: Penzance
Address: 46, Chapel St, Penzance, Cornwall, TR18 4AF
Rating:
8.0/10
7
Name: The Hop Blossom - Location: Farnham
Address: Long Garden Walk, Farnham, Surrey, GU9 7HX
Rating:
8.0/10
8
Name: The Lamplighter - Location: St Helier
Address: 9 Mulcaster Street, St Helier, Jersey, JE2 3NJ
Rating:
8.0/10
9
Name: The Narrow Boat - Location: Skipton
Address: 38, Victoria St, Skipton, North Yorkshire, BD23 1JE
Rating:
7.9/10
10
Name: The Blythe Hill Tavern - Location: Forest Hill
Address: 319 Stanstead Road, London, SE23 1JB
Rating:
7.9/10
11
Name: The Rose and Crown - Location: Huish Episcopi
Address: Huish Episcopi, Langport, Somerset, TA10 9QT
Rating:
7.8/10
12
Name: The Cherub Inn - Location: Dartmouth
Address: 13 Higher Street, Dartmouth, Devon, TQ6 9RB
Rating:
7.8/10
13
Name: The Golden Rule - Location: Ambleside
Address: Smithy Brow, Ambleside, Cumbria, LA22 9AS
Rating:
7.8/10
14
Name: The Fox and Goose - Location: Hebden Bridge
Address: 9 Heptonstall Road, Hebden Bridge, West Yorkshire, HX7 6AZ
Rating:
7.8/10
15
Name: The Snickleway Inn - Location: York
Address: 47, Goodramgate, York, North Yorkshire, YO1 7LS
Rating:
7.8/10
16
Name: The Coopers Tavern - Location: Burton-Upon-Trent
Address: 43 Cross Street, Burton-Upon-Trent, Staffordshire, DE14 1EG
Rating:
7.8/10
17
Name: The Fernandes Brewery Tap and Bier Keller - Location: Wakefield
Address: The Old Malthouse, Avison Yard, Wakefield, West Yorkshire, WF1 1UA
Rating:
7.8/10
18
Name: The Station Inn - Location: Whitby
Address: New Quay Road, Whitby, North Yorkshire, YO21 1DH
Rating:
7.7/10
19
Name: The Kings Arms - Location: Tring
Address: King St, Tring, Hertfordshire, HP23 6BE
Rating:
7.7/10
20
Name: The Orchard Inn - Location: Bristol
Address: 12 Hanover Place, Bristol, Bristol, BS1 6XT
Rating:
7.7/10
Recently added
The latest new pubs added by the BITE team:
Name: The Bridge Inn - Location: Rotherham
Address: 1 Greasborough Road, Rotherham, South Yorkshire, S60 1RB
Rating:
no rating
Name: Needham House Hotel - Location: Little Wymondeley
Address: Blakemore End Road, Little Wymondeley, Hertfordshire, SG4 7JJ
Rating:
4.0/10
Name: Black Swan - Location: Asselby
Address: Main Street, Asselby, East Yorkshire, DN14 7HE
Rating:
no rating
Name: The Penny Black - Location: Tamworth
Address: 2 Lower Gungate, Tamworth, Staffordshire, B79 7AE
Rating:
no rating
Name: Pi - Location: Mossley Hill
Address: 106 Rose Lane, Mossley Hill, Merseyside, L18 8AG
Rating:
no rating
Name: The Huxley - Location: Edinburgh
Address: Rutland Street, Edinburgh, Midlothian, EH1 2AE
Rating:
no rating
Name: The Boat Inn - Location: Potters Green
Address: 31 Shilton Lane, Potters Green, Coventry, West Midlands, CV2 2AB
Rating:
no rating
Name: Brindley's Lock - Location: Packmoor
Address: Silverstone Crescent, Packmoor, Staffordshire, ST6 6XP
Rating:
no rating
Name: The Old Ale House - Location: Woburn
Address: 11 Market Place, Woburn, Buckinghamshire, MK17 9PZ
Rating:
no rating
Name: Gordon Bennett's - Location: Hereford
Address: 8 St Peters Street, Hereford, Herefordshire, HR1 2LE
Rating:
no rating