BEER... PUBS...

Welcome to beerintheevening.com
Officially the UK's biggest and busiest pub, bar and club guide!
Now listing over 42,500 venues, growing daily with over 1.5 million visitors on average each month* looking for somewhere to eat, drink and socialise! Looking for somewhere to go?
Get started here...
Licensee or venue operator? Your venue not listed or want to manage your listing?
Click here...
*According to Google Analytics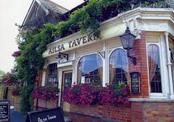 Random pub of the day for 11-12-2013:
Ailsa Tavern, Twickenham
263 St Margarets Road, St Margarets, Twickenham, Middlesex, TW1 1NJ
Latest comment about the Ailsa Tavern:
The pub I regard as my Local despite having a number of closer establishments in Isleworth. The Shepherds Neame is always the best I've had outside of Kent and there's a beautiful collection of malts behind the bar. The food has improved considerably in the last few weeks - I think they have a new chef on.
What you've been saying about pubs:
Name: The Dispensary
Location: Liverpool

As is our custom when visiting Liverpool we made for The Dispensary as soon as we were in the town centre but unfortunately it was, being Friday ...more


Name: The Anchor
Location: Knaphill

If you want a pint of vinger this is a place to go!

White Witch and Green King IPA had to suffice this time round but no complaints whatsoever.


Name: The Robin Hood Inn
Location: Knaphill

Now offering 3 real ales, seems to off changed in the last 18months refurblished and new mangers in place, now owned by Hill Top Leisure. Large beer garden


Name: The Royal Oak
Location: Knaphill

Nicely decorated for Xmas, nice cottage style pub. Youngs Orginal plus 2 guests. Food avaialbe


Name: The Crown Inn
Location: Knaphill

This pub is going from strength to strength. 3 Guest Ales which are every changing, always different on each visit. Real Cider of Old Rosie is a ...more


Name: The Red Lion
Location: Sturminster Marshall

Popped in for lunch today. Beers the usual H and W offering. Pleasant village pub with attentive staff. Quite a tempting looking menu slightly ...more


Name: The Grapes
Location: Sutton

I always thought wetherspoons had at least 20 mins drinking up time.1 member of staff seems to want to give us 5 to 15 mins max.which pisses off ...more


Name: The Crown and Anchor
Location: Covent Garden

Was in the area last night, poped into the C & A for what was going to be a pint but what ended up 4 glasses on mulled wine (the smell gets ...more


Name: All Bar One
Location: Sutton

now open after a refit.more expensive than other places in Sutton,but worth the extra as service and atmosphere super.

As rated by beerintheevening.com users:
1
Name: The Cherub Inn - Location: Dartmouth
Address: 13 Higher Street, Dartmouth, Devon, TQ6 9RB
Rating:
8.1/10
2
Name: The Narrow Boat - Location: Skipton
Address: 38, Victoria St, Skipton, North Yorkshire, BD23 1JE
Rating:
8.0/10
3
Name: Plough - Location: Worcester
Address: 23 Fish Street, Worcester, Worcestershire, WR1 2HN
Rating:
8.0/10
4
Name: Ye Olde Black Boy - Location: Hull
Address: 150, High Street, Hull, East Yorkshire, HU1 1PS
Rating:
7.9/10
5
Name: The Rifleman - Location: Twickenham
Address: Fourth Cross Rd, Twickenham, Middlesex, TW2 5EL
Rating:
7.9/10
6
Name: The Station Inn - Location: Whitby
Address: New Quay Road, Whitby, North Yorkshire, YO21 1DH
Rating:
7.9/10
7
Name: The Blythe Hill Tavern - Location: Forest Hill
Address: 319 Stanstead Road, London, SE23 1JB
Rating:
7.8/10
8
Name: Fanny's Ale And Cider House - Location: Saltaire
Address: 63, Saltaire Rd, Saltaire, Shipley, West Yorkshire, BD18 3JN
Rating:
7.8/10
9
Name: The Cock Inn - Location: Halstead
Address: Shoreham Lane, Halstead, Sevenoaks, Kent, TN14 7DD
Rating:
7.8/10
10
Name: The Kings Arms - Location: Tring
Address: King St, Tring, Hertfordshire, HP23 6BE
Rating:
7.7/10
11
Name: The Rose and Crown - Location: Huish Episcopi
Address: Huish Episcopi, Langport, Somerset, TA10 9QT
Rating:
7.7/10
12
Name: The Halfway House - Location: Pitney
Address: Pitney Hill, Langport, Somerset, TA10 9AB
Rating:
7.7/10
13
Name: The Hope - Location: Carshalton
Address: 48 West St, Carshalton, Surrey, SM5 2PR
Rating:
7.7/10
14
Name: Ye Olde White Harte - Location: Hull
Address: 25 Silver Street, Hull, East Yorkshire, HU1 1JG
Rating:
7.7/10
15
Name: The Sussex Arms - Location: Twickenham
Address: 15 Staines Road, Twickenham, Middlesex, TW2 5BG
Rating:
7.7/10
16
Name: The Admiral Benbow - Location: Shrewsbury
Address: 24 Swanhill, Shrewsbury, Shropshire, SY1 1NF
Rating:
7.7/10
17
Name: The Orchard Inn - Location: Bristol
Address: 12 Hanover Place, Bristol, Bristol, BS1 6XT
Rating:
7.6/10
18
Name: The City Arms - Location: Manchester
Address: 48 Kennedy Street, Manchester, M2 4BQ
Rating:
7.6/10
19
Name: The Grove Inn - Location: Huddersfield
Address: 2 Spring Grove Street, Huddersfield, West Yorkshire, HD1 4BP
Rating:
7.6/10
20
Name: Anvil - Location: Wigan
Address: Dorning Street, Wigan, Lancashire, WN1 1ND
Rating:
7.6/10
Recently added
The latest new pubs added by the BITE team:
Name: Talbot Inn - Location: Newnham Bridge
Address: Worcester Road, Newnham Bridge, Worcs, WR15 8JF
Rating:
7.0/10
Name: White Swan - Location: Chesterfield
Address: St Marys Gate, Chesterfield, Derbyshire, S41 7TJ
Rating:
7.3/10
Name: Beerwolf Books - Location: Falmouth
Address: 3 Bells Court, Falmouth, Cornwall, TR11 3AZ
Rating:
6.5/10
Name: The Blacks Head - Location: Bletchingdon
Address: The Green, Bletchingdon, Kidlington, Oxfordshire, OX5 3DA
Rating:
4.9/10
Name: The Green Man Inn - Location: Little Snoring
Address: Holt Road, Little Snoring, Fakenham, Norfolk, NR21 0AY
Rating:
5.0/10
Name: Stanley Hotel - Location: Eastham
Address: 47 Stanley Lane, Eastham, Wirral, Merseyside, CH62 0AG
Rating:
7.0/10
Name: Bankfoot Inn - Location: Bankfoot
Address: Main Street, Bankfoot, Perthshire, PH1 4AB
Rating:
5.5/10
Name: Red Lion Inn - Location: Exbourne
Address: High Street, Exbourne, Devon, EX20 3RY
Rating:
5.0/10
Name: Calcot Community Association Family and Social Club - Location: Calcot
Address: Highview, Calcot, Reading, Berkshire, RG31 4XD
Rating:
3.6/10
Name: Steamers Bar - Location: Minehead
Address: The Avenue, Minehead, Somerset, TA24 5AP
Rating:
6.5/10