BEER... PUBS...

Welcome to beerintheevening.com
Officially the UK's biggest and busiest pub and bar guide!
Now listing over 45,000 venues, it's the perfect place to look for somewhere to eat, drink and socialise! Looking for somewhere to go?
Get started here...
Licensee or venue operator? Your venue not listed or want to manage your listing?
Click here...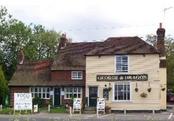 Random pub of the day for 25-7-2017:
George and Dragon, Tudeley
Five Oak Green Road, Tudeley, Tonbridge, Kent, TN11 0PW
Latest comment about George and Dragon:
Thank you.
What you've been saying about pubs:
Name: The Freed Man
Location: Walmer

Very nice small bar next to a fish and chip shop. It looks like you can go get your fish and chips and bring them into the bar too. There were ...more


Name: Bruce Arms
Location: Ripon

Seemed to be a more gastro-style menu than the pub opposite (where we went next) but there were a few people just drinking including us (although ...more


Name: The Hope
Location: Carshalton

Fozzy and slerpy, please be constructive - it's bad enough having to put up with the gibberish computer geeks put on - let's try and keep the site to the purpose it was created for.

Smartly decorated pub which looked the nicest of the ones we saw in the city centre and it was popular on Saturday afternoon (race day but the ...more


Name: The Water Rat
Location: Ripon

Nice views over the river to the cathedral but pub does look a bit shabby. Theakston's Best, Adnams Broadside and Rudgate's Viking and Jorvik were ...more


Name: The White Bear
Location: Masham

Live folk music in the taproom last Thursday meant that we spent most of our evening in Masham here. I stuck to the Black Bull Bitter which I ...more


Name: The Black Sheep Brewery
Location: Masham

Our 4th pub of the evening and a must-do in Masham. Largely empty though which meant there was little atmosphere. Still the cask beer (choice of ...more


Name: The Kings Head Hotel
Location: Masham

After fish and chips in the market square, we moved to the Kings Arms where Theakston's Best, Old Peculier and a couple of offerings from Black ...more


Name: Bruce Arms
Location: Masham

Second pint of the evening and Old Peculier was my choice here. And I don't mean the strange conversation we had with one of the inebriated locals ...more


Name: The Hope
Location: Carshalton

Well thanks for that Sloppy. Why dont you take your Camra and photograph a few pies. I'll take your missies out and show her a good time in Epsom.

As rated by beerintheevening.com users:
1
Name: The Cuckoo Inn - Location: Hamptworth
Address: Hamptworth, Salisbury, Wiltshire, SP5 2DU
Rating:
8.4/10
2
Name: The Fleece Inn - Location: Bretforton
Address: The Cross, Bretforton, Evesham, Worcestershire, WR11 7JE
Rating:
8.4/10
3
Name: The Jolly Angler - Location: Manchester
Address: 47 Ducie Street, Ancoats, Manchester, M1 2JW
Rating:
8.3/10
4
Name: The Old Poet's Corner - Location: Ashover
Address: Butts Rd, Ashover, Chesterfield, Derbyshire, S45 0EW
Rating:
8.1/10
5
Name: The Old Fire House - Location: Exeter
Address: 50 New North Road, Exeter, Devon, EX4 4EP
Rating:
8.0/10
6
Name: The Admiral Benbow - Location: Penzance
Address: 46, Chapel St, Penzance, Cornwall, TR18 4AF
Rating:
8.0/10
7
Name: The Blythe Hill Tavern - Location: Forest Hill
Address: 319 Stanstead Road, London, SE23 1JB
Rating:
7.8/10
8
Name: Sheffield Tap - Location: Sheffield
Address: Platform 1, Sheffield Station, Sheaf Street, Sheffield, South Yorkshire, S1 2BP
Rating:
7.8/10
9
Name: The Lamplighter - Location: St Helier
Address: 9 Mulcaster Street, St Helier, Jersey, JE2 3NJ
Rating:
7.8/10
10
Name: The Snickleway Inn - Location: York
Address: 47, Goodramgate, York, North Yorkshire, YO1 7LS
Rating:
7.8/10
11
Name: The Rose and Crown - Location: Huish Episcopi
Address: Huish Episcopi, Langport, Somerset, TA10 9QT
Rating:
7.7/10
12
Name: The Cherub Inn - Location: Dartmouth
Address: 13 Higher Street, Dartmouth, Devon, TQ6 9RB
Rating:
7.7/10
13
Name: The Kings Arms - Location: Tring
Address: King St, Tring, Hertfordshire, HP23 6BE
Rating:
7.7/10
14
Name: The Fox and Goose - Location: Hebden Bridge
Address: 9 Heptonstall Road, Hebden Bridge, West Yorkshire, HX7 6AZ
Rating:
7.7/10
15
Name: The Station Inn - Location: Whitby
Address: New Quay Road, Whitby, North Yorkshire, YO21 1DH
Rating:
7.7/10
16
Name: The Castle Inn - Location: West Lulworth
Address: Main Road, West Lulworth, Wareham, Dorset, BH20 5RN
Rating:
7.7/10
17
Name: Trafford Arms - Location: Norwich
Address: 61 Grove Road, Norwich, Norfolk, NR1 3RL
Rating:
7.7/10
18
Name: The Golden Rule - Location: Ambleside
Address: Smithy Brow, Ambleside, Cumbria, LA22 9AS
Rating:
7.7/10
19
Name: The Narrow Boat - Location: Skipton
Address: 38, Victoria St, Skipton, North Yorkshire, BD23 1JE
Rating:
7.7/10
20
Name: The Brewery Tap - Location: Chester
Address: 52-54 Lower Bridge Street, Chester, Cheshire, CH1 1RU
Rating:
7.7/10
Recently added
The latest new pubs added by the BITE team:
Name: The Bridge Inn - Location: Rotherham
Address: 1 Greasborough Road, Rotherham, South Yorkshire, S60 1RB
Rating:
6.5/10
Name: Needham House Hotel - Location: Little Wymondeley
Address: Blakemore End Road, Little Wymondeley, Hertfordshire, SG4 7JJ
Rating:
5.0/10
Name: Black Swan - Location: Asselby
Address: Main Street, Asselby, East Yorkshire, DN14 7HE
Rating:
7.0/10
Name: The Penny Black - Location: Tamworth
Address: 2 Lower Gungate, Tamworth, Staffordshire, B79 7AE
Rating:
6.0/10
Name: Pi - Location: Mossley Hill
Address: 106 Rose Lane, Mossley Hill, Merseyside, L18 8AG
Rating:
6.2/10
Name: The Huxley - Location: Edinburgh
Address: Rutland Street, Edinburgh, Midlothian, EH1 2AE
Rating:
3.0/10
Name: The Boat Inn - Location: Potters Green
Address: 31 Shilton Lane, Potters Green, Coventry, West Midlands, CV2 2AB
Rating:
4.0/10
Name: Brindley's Lock - Location: Packmoor
Address: Silverstone Crescent, Packmoor, Staffordshire, ST6 6XP
Rating:
no rating
Name: The Old Ale House - Location: Woburn
Address: 11 Market Place, Woburn, Buckinghamshire, MK17 9PZ
Rating:
6.0/10
Name: Gordon Bennett's - Location: Hereford
Address: 8 St Peters Street, Hereford, Herefordshire, HR1 2LE
Rating:
5.0/10