BEER... PUBS...

Welcome to beerintheevening.com
Officially the UK's biggest and busiest pub and bar guide!
Now listing over 45,000 venues, it's the perfect place to look for somewhere to eat, drink and socialise! Looking for somewhere to go?
Get started here...
Licensee or venue operator? Your venue not listed or want to manage your listing?
Click here...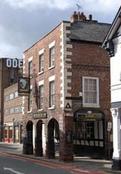 Random pub of the day for 18-8-2017:
Pied Bull, Chester
57 Northgate Street, Chester, Cheshire, CH1 2HQ
Latest comment about the Pied Bull:
Very nice old pub clearly aimed at tourists. Their own beers are pretty good - tried Irristibull & Taurus and both were very nice. Didn't try the food but it looked good and lots of people were eating.
What you've been saying about pubs:
As rated by beerintheevening.com users:
1
Name: The Cuckoo Inn - Location: Hamptworth
Address: Hamptworth, Salisbury, Wiltshire, SP5 2DU
Rating:
8.4/10
2
Name: The Fleece Inn - Location: Bretforton
Address: The Cross, Bretforton, Evesham, Worcestershire, WR11 7JE
Rating:
8.4/10
3
Name: The Jolly Angler - Location: Manchester
Address: 47 Ducie Street, Ancoats, Manchester, M1 2JW
Rating:
8.1/10
4
Name: The Old Poet's Corner - Location: Ashover
Address: Butts Rd, Ashover, Chesterfield, Derbyshire, S45 0EW
Rating:
8.1/10
5
Name: The Old Fire House - Location: Exeter
Address: 50 New North Road, Exeter, Devon, EX4 4EP
Rating:
8.0/10
6
Name: The Admiral Benbow - Location: Penzance
Address: 46, Chapel St, Penzance, Cornwall, TR18 4AF
Rating:
8.0/10
7
Name: The Blythe Hill Tavern - Location: Forest Hill
Address: 319 Stanstead Road, London, SE23 1JB
Rating:
7.8/10
8
Name: The Lamplighter - Location: St Helier
Address: 9 Mulcaster Street, St Helier, Jersey, JE2 3NJ
Rating:
7.8/10
9
Name: The Snickleway Inn - Location: York
Address: 47, Goodramgate, York, North Yorkshire, YO1 7LS
Rating:
7.8/10
10
Name: The Rose and Crown - Location: Huish Episcopi
Address: Huish Episcopi, Langport, Somerset, TA10 9QT
Rating:
7.7/10
11
Name: The Cherub Inn - Location: Dartmouth
Address: 13 Higher Street, Dartmouth, Devon, TQ6 9RB
Rating:
7.7/10
12
Name: Sheffield Tap - Location: Sheffield
Address: Platform 1, Sheffield Station, Sheaf Street, Sheffield, South Yorkshire, S1 2BP
Rating:
7.7/10
13
Name: The Kings Arms - Location: Tring
Address: King St, Tring, Hertfordshire, HP23 6BE
Rating:
7.7/10
14
Name: The Fox and Goose - Location: Hebden Bridge
Address: 9 Heptonstall Road, Hebden Bridge, West Yorkshire, HX7 6AZ
Rating:
7.7/10
15
Name: The Station Inn - Location: Whitby
Address: New Quay Road, Whitby, North Yorkshire, YO21 1DH
Rating:
7.7/10
16
Name: The Castle Inn - Location: West Lulworth
Address: Main Road, West Lulworth, Wareham, Dorset, BH20 5RN
Rating:
7.7/10
17
Name: Trafford Arms - Location: Norwich
Address: 61 Grove Road, Norwich, Norfolk, NR1 3RL
Rating:
7.7/10
18
Name: The Golden Rule - Location: Ambleside
Address: Smithy Brow, Ambleside, Cumbria, LA22 9AS
Rating:
7.7/10
19
Name: The Narrow Boat - Location: Skipton
Address: 38, Victoria St, Skipton, North Yorkshire, BD23 1JE
Rating:
7.7/10
20
Name: The Brewery Tap - Location: Chester
Address: 52-54 Lower Bridge Street, Chester, Cheshire, CH1 1RU
Rating:
7.7/10
Recently added
The latest new pubs added by the BITE team:
Name: Beauchamp Arms - Location: Dymock
Address: B4215, Dymock, GL18 2AQ
Rating:
no rating
Name: Bumble Inn - Location: Peterborough
Address: 46 Westgate, Peterborough, Cambridgeshire, PE1 1RE
Rating:
no rating
Name: Reindeer - Location: Saxon Street
Address: 62 The Street, Saxon Street, Suffolk, CB8 9RS
Rating:
no rating
Name: Waterloo Tap - Location: Waterloo
Address: Arch 147, Sutton Walk, Waterloo, London, SE1 7ES
Rating:
no rating
Name: The Queen Elizabeth - Location: Elmley Castle
Address: Main Street, Elmley Castle, Worcestershire, WR10 3HS
Rating:
no rating
Name: Square and Compass - Location: Cilcewydd
Address: A490, Cilcewydd, Powys, SY21 8RU
Rating:
no rating
Name: The Georgi Fin - Location: Goring by Sea
Address: 54 Goring Road, Goring by Sea, Worthing, West Sussex, BN12 4AD
Rating:
no rating
Name: Sams Bar - Location: Milford on Sea
Address: 2 Church Hill, Milford on Sea, Hampshire, SO41 0QH
Rating:
no rating
Name: Rose and Crown - Location: Redmarley
Address: Playley Green, Redmarley, Gloucestershire, GL19 3NB
Rating:
no rating
Name: Snuffy Jacks - Location: Fishponds
Address: 800 Fishponds Road, Fishponds, Bristol, Bristol, BS16 3TE
Rating:
no rating