BEER... PUBS...

Welcome to beerintheevening.com
Officially the UK's biggest and busiest pub and bar guide!
Now listing over 43,500 venues, it's the perfect place to look for somewhere to eat, drink and socialise!
Looking for somewhere to go?
Get started here...
Licensee or venue operator? Your venue not listed or want to manage your listing?
Click here...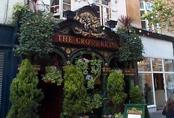 Random pub of the day for 18-12-2014:
Cross Keys, Covent Garden
31, Endell St, London, WC2H 9EB
Latest comment about the Cross Keys:
Every now and then a pub seduces me on a first visit and changes the plans for the afternoon. So it was with the Cross Keys. I love the primarily Victorian ambience, enhanced by the dim, red, lights ;-almost imitation gas lighting. All kinds of memorabilia. Some of it from days gone by. Others more recent such as that pertaining to the Beatles.The seduction was completed by a very flavoursome pint or two of Brodies "Bethnal Green". A beautiful and welcoming little gem of a pub.
What you've been saying about pubs:
Name: The Bulls Head
Location: Chislehurst

RIP the old Public Bar, completely ripped out now, so if you want a pint in this area you have to navigate through a minefield to get to the main ...more


Name: The Plough and Harrow
Location: Hammersmith

Let's start off with the obvious- it's a Wetherspoons. You know what to expect- beer, and price wise. No real surprises. The staff are decent. ...more


Name: The Ship Tavern
Location: Holborn

I first reviewed this pub 2 or 3 years ago, and as stated then, found it to be a wonderful place, with helpful, friendly staff. Subsequently since ...more


Name: The Cittie of Yorke
Location: Holborn

Rude bar staff


Name: The Shakespeare's Head
Location: Holborn

Good beer although a touch cold. I got in here late so it wasn't too busy but the service was exemplary - three staff eager to serve me. Every pub ...more


Name: The Swan
Location: Bloomsbury

It's a decent but nothing special pub a little off the beaten track of central London. The beer's good, they have a decent choice ...more


Name: The Sindercombe Social
Location: Hammersmith

Big echoing space, well filled last Friday night with a live band belting out 80s pub classics. Came for works Christmas do and I must say the ...more


Name: The Salisbury
Location: Leicester Square

Nice architecture, good beer, quick and friendly service even when it's busy. But 4.75 a pint???


Name: The Whitegate Inn
Location: Chadderton

Bad weather forced me to eat here again. Food is particularly poor value albeit edible. I got the same portion in the nearby Boat and Horse for ...more


maybe

- 17 Dec 2014 20:37

Name: The Queen Victoria
Location: Hare Hatch

Yet another change of management. It's been reinvented as a "Restaurant and Bar".

As rated by beerintheevening.com users:
1
Name: The Blythe Hill Tavern - Location: Forest Hill
Address: 319 Stanstead Road, London, SE23 1JB
Rating:
8.1/10
2
Name: The Station Inn - Location: Whitby
Address: New Quay Road, Whitby, North Yorkshire, YO21 1DH
Rating:
8.0/10
3
Name: The Old Poet's Corner - Location: Ashover
Address: Butts Rd, Ashover, Chesterfield, Derbyshire, S45 0EW
Rating:
8.0/10
4
Name: The Nags Head - Location: Great Malvern
Address: 21, Bank Street, Great Malvern, Worcestershire, WR14 2JG
Rating:
7.9/10
5
Name: The Narrow Boat - Location: Skipton
Address: 38, Victoria St, Skipton, North Yorkshire, BD23 1JE
Rating:
7.9/10
6
Name: The Rose and Crown - Location: Huish Episcopi
Address: Huish Episcopi, Langport, Somerset, TA10 9QT
Rating:
7.8/10
7
Name: The Golden Rule - Location: Ambleside
Address: Smithy Brow, Ambleside, Cumbria, LA22 9AS
Rating:
7.8/10
8
Name: The Fernandes Brewery Tap and Bier Keller - Location: Wakefield
Address: The Old Malthouse, Avison Yard, Wakefield, West Yorkshire, WF1 1UA
Rating:
7.8/10
9
Name: The Halfway House - Location: Pitney
Address: Pitney Hill, Langport, Somerset, TA10 9AB
Rating:
7.8/10
10
Name: The Coopers Tavern - Location: Burton-Upon-Trent
Address: 43 Cross Street, Burton-Upon-Trent, Staffordshire, DE14 1EG
Rating:
7.8/10
11
Name: Our Mutual Friend - Location: Stevenage
Address: Broadwater Crescent, Stevenage, Hertfordshire, SG2 8EH
Rating:
7.7/10
12
Name: The Cherub Inn - Location: Dartmouth
Address: 13 Higher Street, Dartmouth, Devon, TQ6 9RB
Rating:
7.7/10
13
Name: The Kings Arms - Location: Tring
Address: King St, Tring, Hertfordshire, HP23 6BE
Rating:
7.7/10
14
Name: The Sussex Arms - Location: Twickenham
Address: 15 Staines Road, Twickenham, Middlesex, TW2 5BG
Rating:
7.7/10
15
Name: Ye Olde Black Boy - Location: Hull
Address: 150, High Street, Hull, East Yorkshire, HU1 1PS
Rating:
7.7/10
16
Name: The Birkbeck Tavern - Location: Leyton
Address: 45, Langthorne Rd, London, E11 4HL
Rating:
7.7/10
17
Name: The Lamplighter - Location: St Helier
Address: 9 Mulcaster Street, St Helier, Jersey, JE2 3NJ
Rating:
7.7/10
18
Name: The Orchard Inn - Location: Bristol
Address: 12 Hanover Place, Bristol, Bristol, BS1 6XT
Rating:
7.7/10
19
Name: The Hope - Location: Carshalton
Address: 48 West St, Carshalton, Surrey, SM5 2PR
Rating:
7.6/10
20
Name: Cloisters Bar - Location: Edinburgh
Address: 26, Brougham St, Edinburgh, Midlothian, EH3 9JH
Rating:
7.6/10
Recently added
The latest new pubs added by the BITE team:
Name: The Old Fountain - Location: Old Street
Address: 3 Baldwin Street, Old Street, London, EC1V 9NU
Rating:
7.5/10
Name: Foundry 34 - Location: Penrith
Address: 34 Burrowgate, Penrith, Cumbria, CA11 7TA
Rating:
no rating
Name: The Robin Hood Inn - Location: Penrith
Address: 51 King Street, Penrith, Cumbria, CA11 7AY
Rating:
no rating
Name: The Cosy Club - Location: Bath
Address: 20 Southgate Place, Bath, Somerset, BA1 1AP
Rating:
no rating
Name: Bowling Green - Location: Nantwich
Address: The Gullet, Nantwich, Cheshire, CW5 6DN
Rating:
5.0/10
Name: Yard of Ale - Location: Broadstairs
Address: 61 Church Street, Broadstairs, Kent, CT10 2TU
Rating:
5.0/10
Name: Badger - Location: Church Minshull
Address: Cross Lane, Church Minshull, Cheshire, CW5 6DY
Rating:
7.0/10
Name: The Waterloo Tavern - Location: Ashton under Lyne
Address: 490-492 Oldham Road, Ashton under Lyne, Lancashire, OL7 9QH
Rating:
3.5/10
Name: The Dog Beck - Location: Penrith
Address: 21-22 Southend Road, Penrith, Cumbria, CA11 8JH
Rating:
no rating
Name: The New Inns - Location: Brewood
Address: Kiddemore Green Road, Kiddemore Green, Brewood, Staffordshire, ST19 9BH
Rating:
5.6/10