BEER... PUBS...

Welcome to beerintheevening.com
Officially the UK's biggest and busiest pub and bar guide!
Now listing over 45,000 venues, it's the perfect place to look for somewhere to eat, drink and socialise! Looking for somewhere to go?
Get started here...
Licensee or venue operator? Your venue not listed or want to manage your listing?
Click here...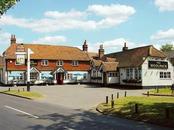 Random pub of the day for 26-8-2016:
Woolpack, Elstead
Milford Rd, Elstead, Surrey, GU8 6HD
Latest comment about the Woolpack:
Sadly only TEA and Doombar on offer. TEA was an eye watering £4.75/pint !! Sorry, won't be returning at those prices.
What you've been saying about pubs:
Name: The Saracens Head Inn
Location: Symonds Yat East

Ah, that's better. The river Wye is reassuringly a bit further away than the last time I called. It's as excellent as ever too.


Name: The Malt Shovel
Location: Shardlow

I enjoy a pint of Marston's now and then, but a few regular guests would make for a welcome change. That said, it's a good pub in an interesting location.

Still very much a locals pub, but OK to while away an hour with a fair pint and a reasonable bite to eat. Oh, too many TVs for my liking, but not for some it seems.


Name: Merlins Cave
Location: Chalfont St Giles

Completely changed inside, gone is the old dingy feeling, instead you get a large restaurant with a small bar area. Beers were O.K., garden is great, got mixed feelings about it.


Name: Feathers
Location: Chalfont St Giles

Closed for while now reopened as a restaurant.


Name: The White Hart
Location: Chalfont St Peter

Reopened under a temporary manager, 4 real ales, decently kept.


Name: The Village Hall
Location: Chalfont St Peter

Due to open as a gastro pub part of Raymond Blanc's White Brasserie chain.


Name: The Poachers
Location: Chalfont St Peter

Reopening as a children's creche, another pub bites the dust1

Closed again. Unfortunately, Nick the landlord lost interest several years ago, and the regulars disappeared. Clive the manager did an excellent ...more


Name: The Nova Scotia
Location: Bristol

What a great pub! Great beer, great food - really enjoyed our evening at one of Bristol's landmark pubs. Six of us had food and beers early ...more

As rated by beerintheevening.com users:
1
Name: The Fleece Inn - Location: Bretforton
Address: The Cross, Bretforton, Evesham, Worcestershire, WR11 7JE
Rating:
8.8/10
2
Name: Golden Lion - Location: Rochford
Address: 35 North Street, Rochford, Essex, SS4 1AB
Rating:
8.4/10
3
Name: The Old Fire House - Location: Exeter
Address: 50 New North Road, Exeter, Devon, EX4 4EP
Rating:
8.2/10
4
Name: Trafford Arms - Location: Norwich
Address: 61 Grove Road, Norwich, Norfolk, NR1 3RL
Rating:
8.1/10
5
Name: The Old Poet's Corner - Location: Ashover
Address: Butts Rd, Ashover, Chesterfield, Derbyshire, S45 0EW
Rating:
8.0/10
6
Name: The Hop Blossom - Location: Farnham
Address: Long Garden Walk, Farnham, Surrey, GU9 7HX
Rating:
8.0/10
7
Name: The Lamplighter - Location: St Helier
Address: 9 Mulcaster Street, St Helier, Jersey, JE2 3NJ
Rating:
8.0/10
8
Name: The Admiral Benbow - Location: Penzance
Address: 46, Chapel St, Penzance, Cornwall, TR18 4AF
Rating:
7.9/10
9
Name: The Narrow Boat - Location: Skipton
Address: 38, Victoria St, Skipton, North Yorkshire, BD23 1JE
Rating:
7.9/10
10
Name: The Cherub Inn - Location: Dartmouth
Address: 13 Higher Street, Dartmouth, Devon, TQ6 9RB
Rating:
7.9/10
11
Name: The Blythe Hill Tavern - Location: Forest Hill
Address: 319 Stanstead Road, London, SE23 1JB
Rating:
7.8/10
12
Name: The Rose and Crown - Location: Huish Episcopi
Address: Huish Episcopi, Langport, Somerset, TA10 9QT
Rating:
7.8/10
13
Name: The Golden Rule - Location: Ambleside
Address: Smithy Brow, Ambleside, Cumbria, LA22 9AS
Rating:
7.8/10
14
Name: The Fox and Goose - Location: Hebden Bridge
Address: 9 Heptonstall Road, Hebden Bridge, West Yorkshire, HX7 6AZ
Rating:
7.8/10
15
Name: The Coopers Tavern - Location: Burton-Upon-Trent
Address: 43 Cross Street, Burton-Upon-Trent, Staffordshire, DE14 1EG
Rating:
7.8/10
16
Name: The Fernandes Brewery Tap and Bier Keller - Location: Wakefield
Address: The Old Malthouse, Avison Yard, Wakefield, West Yorkshire, WF1 1UA
Rating:
7.8/10
17
Name: The Station Inn - Location: Whitby
Address: New Quay Road, Whitby, North Yorkshire, YO21 1DH
Rating:
7.7/10
18
Name: The Kings Arms - Location: Tring
Address: King St, Tring, Hertfordshire, HP23 6BE
Rating:
7.7/10
19
Name: The Orchard Inn - Location: Bristol
Address: 12 Hanover Place, Bristol, Bristol, BS1 6XT
Rating:
7.7/10
20
Name: Sheffield Tap - Location: Sheffield
Address: Platform 1, Sheffield Station, Sheaf Street, Sheffield, South Yorkshire, S1 2BP
Rating:
7.7/10
Recently added
The latest new pubs added by the BITE team:
Name: The Bishops - Location: St Davids
Address: 22-23 Cross Square, St Davids, Dyfed, SA62 6SL
Rating:
6.0/10
Name: Black Lodge Brewing - Location: Liverpool
Address: 4 Kitchen Street, Liverpool, Merseyside, L1 0AN
Rating:
no rating
Name: Bell Inn - Location: Haughton
Address: Newport Road, Haughton, Staffordshire, ST18 9EX
Rating:
no rating
Name: Block and Gasket - Location: Sale
Address: 11-13 School Road, Sale, Cheshire, M33 7XY
Rating:
9.0/10
Name: Fox - Location: Shadingfield
Address: London Road, Shadingfield, Suffolk, NR34 8DD
Rating:
no rating
Name: Merchant - Location: Liverpool
Address: 40 Slater Street, Liverpool, Merseyside, L1 4BX
Rating:
no rating
Name: Tavern Bar - Location: Alltami
Address: Mold Road, Alltami, Clwyd, CH7 6LG
Rating:
5.0/10
Name: Rivelyn Hotel - Location: Scarborough
Address: 1-4 Crown Crescent, Scarborough, North Yorkshire, YO11 2BJ
Rating:
no rating
Name: Pommel Horse - Location: Hemel Hempstead
Address: Unit 2, Jarman Square, Jarman Park, Hemel Hempstead, Hertfordshire, HP2 4JW
Rating:
6.0/10
Name: Running Horses - Location: St Helens
Address: Water Street, St Helens, Merseyside, WA10 1PY
Rating:
8.0/10