BEER... PUBS...

Welcome to beerintheevening.com
Officially the UK's biggest and busiest pub and bar guide!
Now listing over 43,500 venues, it's the perfect place to look for somewhere to eat, drink and socialise!
Looking for somewhere to go?
Get started here...
Licensee or venue operator? Your venue not listed or want to manage your listing?
Click here...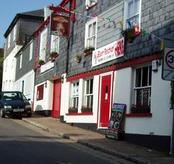 Random pub of the day for 25-5-2015:
Bay Horse Inn, Totnes
8 Cistern Street, Totnes, Devon, TQ9 5SP
Latest comment about the Bay Horse Inn:
A disappointing visit after some very good times here in the past. The real cider has disappeared: there was only keg 'cider' or a blackberry flovoured confection. Fortunately I found that real cider is still on at the Albert Inn, down the High St and just over the bridge.
What you've been saying about pubs:
Name: The Railway
Location: Manchester

Hidden gem in an area where so many pubs are disappearing. Three cask: Mild, bitter and 'Two Hoots' which is especially good and friendly regulars. Real, honest Holts' local


Name: The Railway
Location: Manchester

Hidden gem in an area where so many pubs are disappearing. Three cask: Mild, bitter and 'Two Hoots' which is especially good and friendly regulars. Real, honest Holts' local


Name: The Hope Tap
Location: Reading

Today Monday 25th May i went to the Hope Tap in Reading and when i arrived i went up to the Bar and Tamara Took my Order and i Ordered Porridge ...more

This used to be a great little pub back in the day, but I don't like what it's become now. My wife and I stood in the front bar waiting to be ...more


Name: The Castle Inn
Location: Bedford

Agree with the review below. Nothing spectacular, but a nice enough pub nonetheless, with a friendly welcome. Expensive too, with prices around ...more

Closed for a big refit,apparently it will be going down the food route to compete with the Sheldon and new pub called the ash tree farm.


Name: The Star Inn
Location: Wenhaston

Visited their beer festival 24 may. BF run the way a proper one should be. Lovely selection of beers and ciders, good tasting notes and offered a ...more


samuk

- 25 May 2015 11:37

Name: The Harringay Arms
Location: Crouch End

Beers great now, but what in God's name is the 'mild' referb all about. lots of bench seating removed in favour of high stools and beer ...more


Name: Three Compasses
Location: Hornsey

Horrible, pointless refurb. Hard echoey surfaces, no soft furnishings to dampen the sound. Mediocre beer choice (it's not 2002 anymore, lads) and ...more


Name: The Dog and Pheasant
Location: Shrewsbury

As has been said in other reviews this is a very friendly very local small pub. Very nice indeed. Enjoyed a nice pint of Snecklifter, my favorite, ...more

As rated by beerintheevening.com users:
1
Name: The Rose and Crown - Location: Huish Episcopi
Address: Huish Episcopi, Langport, Somerset, TA10 9QT
Rating:
7.9/10
2
Name: The Blythe Hill Tavern - Location: Forest Hill
Address: 319 Stanstead Road, London, SE23 1JB
Rating:
7.9/10
3
Name: The Fernandes Brewery Tap and Bier Keller - Location: Wakefield
Address: The Old Malthouse, Avison Yard, Wakefield, West Yorkshire, WF1 1UA
Rating:
7.9/10
4
Name: The Star Inn - Location: Glossop
Address: 2 Howard Street, Glossop, Derbyshire, SK13 7DD
Rating:
7.9/10
5
Name: The Old Poet's Corner - Location: Ashover
Address: Butts Rd, Ashover, Chesterfield, Derbyshire, S45 0EW
Rating:
7.8/10
6
Name: The Lamplighter - Location: St Helier
Address: 9 Mulcaster Street, St Helier, Jersey, JE2 3NJ
Rating:
7.8/10
7
Name: The Coopers Tavern - Location: Burton-Upon-Trent
Address: 43 Cross Street, Burton-Upon-Trent, Staffordshire, DE14 1EG
Rating:
7.8/10
8
Name: The Narrow Boat - Location: Skipton
Address: 38, Victoria St, Skipton, North Yorkshire, BD23 1JE
Rating:
7.8/10
9
Name: The Halfway House - Location: Pitney
Address: Pitney Hill, Langport, Somerset, TA10 9AB
Rating:
7.8/10
10
Name: The Station Inn - Location: Whitby
Address: New Quay Road, Whitby, North Yorkshire, YO21 1DH
Rating:
7.7/10
11
Name: The Cherub Inn - Location: Dartmouth
Address: 13 Higher Street, Dartmouth, Devon, TQ6 9RB
Rating:
7.7/10
12
Name: The Kings Arms - Location: Tring
Address: King St, Tring, Hertfordshire, HP23 6BE
Rating:
7.7/10
13
Name: The Cardinals Hat - Location: Worcester
Address: 31, Friar St, Worcester, Worcestershire, WR1 2NA
Rating:
7.7/10
14
Name: The Nags Head - Location: Great Malvern
Address: 21, Bank Street, Great Malvern, Worcestershire, WR14 2JG
Rating:
7.7/10
15
Name: Sheffield Tap - Location: Sheffield
Address: Platform 1, Sheffield Station, Sheaf Street, Sheffield, South Yorkshire, S1 2BP
Rating:
7.7/10
16
Name: The Castle Inn - Location: West Lulworth
Address: Main Road, West Lulworth, Wareham, Dorset, BH20 5RN
Rating:
7.7/10
17
Name: The Orchard Inn - Location: Bristol
Address: 12 Hanover Place, Bristol, Bristol, BS1 6XT
Rating:
7.7/10
18
Name: Anvil - Location: Wigan
Address: Dorning Street, Wigan, Lancashire, WN1 1ND
Rating:
7.6/10
19
Name: The Half Moon - Location: Hitchin
Address: 57, Queen St, Hitchin, Hertfordshire, SG4 9TZ
Rating:
7.6/10
20
Name: The Golden Rule - Location: Ambleside
Address: Smithy Brow, Ambleside, Cumbria, LA22 9AS
Rating:
7.6/10
Recently added
The latest new pubs added by the BITE team:
Name: The Cosy Club - Location: Taunton
Address: 11 Corporation Street, Taunton, Somerset, TA1 4AJ
Rating:
6.0/10
Name: The Green Hops Real Ale Bar - Location: Billingham
Address: 55 The Green, Billingham, County Durham, TS23 1EW
Rating:
no rating
Name: The Courtyard - Location: Heswall
Address: 3 Pensby Road, Heswall, Wirral, Merseyside, CH60 7RA
Rating:
4.5/10
Name: Curio Lounge - Location: Stroud
Address: 9-11 Kings Street, Stroud, Gloucestershire, GL5 3BX
Rating:
6.0/10
Name: The Barrel Drop - Location: Nottingham
Address: 7 Hurts Yard, Nottingham, Nottinghamshire, NG1 6JD
Rating:
no rating
Name: Junkyard - Location: Nottingham
Address: 12 Bridlesmith Walk, Nottingham, Nottinghamshire, NG1 2FZ
Rating:
no rating
Name: Pie and Ale - Location: Manchester
Address: Unit 1 and 2 The Hive, Lever Street, Northern Quarter, Manchester, Manchester, M1 1FN
Rating:
4.0/10
Name: Ship Inn - Location: Wolviston
Address: 50 High Street, Wolviston, County Durham, TS22 5JX
Rating:
4.0/10
Name: Bonzo Lounge - Location: Keynsham
Address: 8-9 Market Walk, Keynsham, Gloucestershire, BS31 1ED
Rating:
no rating
Name: Cultivo Lounge - Location: Letchworth Garden City
Address: 32 Leys Avenue, Letchworth Garden City, Hertfordshire, SG6 3EW
Rating:
no rating