BEER... PUBS...

Welcome to beerintheevening.com
Officially the UK's biggest and busiest pub and bar guide!
Now listing over 44,500 venues, it's the perfect place to look for somewhere to eat, drink and socialise!
Looking for somewhere to go?
Get started here...
Licensee or venue operator? Your venue not listed or want to manage your listing?
Click here...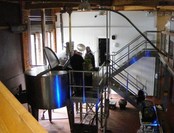 Random pub of the day for 5-8-2015:
Ludlow Brewery, Ludlow
Station Drive, Ludlow, Shropshire, SY8 2PQ
Latest comment about Ludlow Brewery:
Not a place where I could imagine having a session but fine for a couple of well-kept midday pints. Staff very pleasant and willing to talk about the brewing process.
What you've been saying about pubs:
Name: The Princess of Wales
Location: Stratford

Only one old fella nursing a half when we visited on a Tuesday night - barmaid looked a bit startled to see us! Very large pub with pool table, it ...more


Name: The Builders Arms
Location: Stratford

Rough and ready East End pub with limited range of beers but lots of machines!

Ten out of ten, obviously, for the stunning range of beers available, but only one or two out of ten for the experience of ...more


Name: The Cricketers
Location: Kingston Upon Thames

Pity about the people outside last night screaming like a bunch of chimps trying to ward off some wandering animal from ...more


Name: The Coronation Hotel
Location: Southport

Really lacklustre bar could do with a refurb, or at least a bottle of bleach in the ladies,


Name: Lion and Unicorn
Location: Liverpool

Lovely pub just off the main South Road area of Waterloo,spotlessly clean ladies loos and excellent service, liked it very much.


Name: Champs Waterloo
Location: Liverpool

Good clean bar at the end of a road full of restaurants,bars and Cafés. Beer was fine, overall pleasant experience.


Name: St Stephens Tavern
Location: Westminster

Popular pub opposite Parliament. Too popular in fact, despite being post lunch & pre knock off the place was rammed & not all were ...more


Name: The Blackfriar
Location: Blackfriars

Always a pleasure to visit this pub. We don't have anything like it in Queensland! As usual I was early & as usual I was the only customer. ...more


Name: Rugby Tavern
Location: Rugby

Ceased being a pub in 2010.

As rated by beerintheevening.com users:
1
Name: The Rose and Crown - Location: Huish Episcopi
Address: Huish Episcopi, Langport, Somerset, TA10 9QT
Rating:
7.9/10
2
Name: The Strathmore Arms - Location: St Pauls Walden
Address: London Rd, St Pauls Walden, Hitchin, Hertfordshire, SG4 8BT
Rating:
7.9/10
3
Name: The Lamplighter - Location: St Helier
Address: 9 Mulcaster Street, St Helier, Jersey, JE2 3NJ
Rating:
7.9/10
4
Name: The Old Poet's Corner - Location: Ashover
Address: Butts Rd, Ashover, Chesterfield, Derbyshire, S45 0EW
Rating:
7.8/10
5
Name: The Blythe Hill Tavern - Location: Forest Hill
Address: 319 Stanstead Road, London, SE23 1JB
Rating:
7.8/10
6
Name: The Narrow Boat - Location: Skipton
Address: 38, Victoria St, Skipton, North Yorkshire, BD23 1JE
Rating:
7.8/10
7
Name: The Cardinals Hat - Location: Worcester
Address: 31, Friar St, Worcester, Worcestershire, WR1 2NA
Rating:
7.8/10
8
Name: The Halfway House - Location: Pitney
Address: Pitney Hill, Langport, Somerset, TA10 9AB
Rating:
7.8/10
9
Name: The Cherub Inn - Location: Dartmouth
Address: 13 Higher Street, Dartmouth, Devon, TQ6 9RB
Rating:
7.7/10
10
Name: The Kings Arms - Location: Tring
Address: King St, Tring, Hertfordshire, HP23 6BE
Rating:
7.7/10
11
Name: The Station Inn - Location: Whitby
Address: New Quay Road, Whitby, North Yorkshire, YO21 1DH
Rating:
7.7/10
12
Name: The Fernandes Brewery Tap and Bier Keller - Location: Wakefield
Address: The Old Malthouse, Avison Yard, Wakefield, West Yorkshire, WF1 1UA
Rating:
7.7/10
13
Name: The Castle Inn - Location: West Lulworth
Address: Main Road, West Lulworth, Wareham, Dorset, BH20 5RN
Rating:
7.7/10
14
Name: Sheffield Tap - Location: Sheffield
Address: Platform 1, Sheffield Station, Sheaf Street, Sheffield, South Yorkshire, S1 2BP
Rating:
7.7/10
15
Name: The Orchard Inn - Location: Bristol
Address: 12 Hanover Place, Bristol, Bristol, BS1 6XT
Rating:
7.7/10
16
Name: The Coopers Tavern - Location: Burton-Upon-Trent
Address: 43 Cross Street, Burton-Upon-Trent, Staffordshire, DE14 1EG
Rating:
7.7/10
17
Name: Cloisters Bar - Location: Edinburgh
Address: 26, Brougham St, Edinburgh, Midlothian, EH3 9JH
Rating:
7.6/10
18
Name: The Half Moon - Location: Hitchin
Address: 57, Queen St, Hitchin, Hertfordshire, SG4 9TZ
Rating:
7.6/10
19
Name: The Golden Rule - Location: Ambleside
Address: Smithy Brow, Ambleside, Cumbria, LA22 9AS
Rating:
7.6/10
20
Name: The Kings Head - Location: Norwich
Address: 42, Magdalen St, Norwich, Norfolk, NR3 1JE
Rating:
7.6/10
Recently added
The latest new pubs added by the BITE team:
Name: The Inn of Court - Location: Holborn
Address: 18 Holborn, Holborn, London, EC1N 2LE
Rating:
no rating
Name: The Gipsy Queen - Location: Kentish Town
Address: 166 Maiden Road, Kentish Town, London, NW5 4BS
Rating:
no rating
Name: The Balnoon Inn - Location: Balnoon
Address: Old Coach Road, Balnoon, St Ives, Cornwall, TR26 3JB
Rating:
9.0/10
Name: The White Horse - Location: Barnstaple
Address: 29 Boutport Street, Barnstaple, Devon, EX31 1RP
Rating:
no rating
Name: The Lounge Bar - Location: Tipton
Address: 4 Market Place, Tipton, West Midlands, DY4 7EJ
Rating:
no rating
Name: The Top Star - Location: Tipton
Address: 178 Horseley Heath, Great Bridge, Tipton, West Midlands, DY4 7DS
Rating:
2.0/10
Name: The Olde Jack - Location: Calverhall
Address: Bletchley Road, Calverhall, Cheshire, SY13 4PA
Rating:
no rating
Name: Brewery House - Location: Harrington
Address: Main Road, Harrington, Cumbria, CA14 5PF
Rating:
no rating
Name: The Purple Pig - Location: Hull
Address: 10 King Street, Hull, East Yorkshire, HU1 2JJ
Rating:
no rating
Name: Crossways Micropub - Location: Blythe Bridge
Address: 246 Uttoxeter Road, Blythe Bridge, Staffordshire, ST11 9LY
Rating:
5.5/10