BEER... PUBS...

Welcome to beerintheevening.com
Officially the UK's biggest and busiest pub and bar guide!
Now listing over 45,000 venues, it's the perfect place to look for somewhere to eat, drink and socialise! Looking for somewhere to go?
Get started here...
Licensee or venue operator? Your venue not listed or want to manage your listing?
Click here...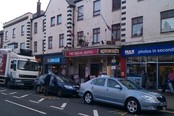 Random pub of the day for 28-11-2015:
Regal Hotel, Cleveleys
70 Victoria Road West, Cleveleys, Lancashire, FY5 1AG
Latest comment about Regal Hotel:
Cheap food but better than wetherspoons and good value. Big negative no real ale but cheap lager and draught bitter in the form of fosters and John smiths.
What you've been saying about pubs:
Name: The Somerville Arms
Location: Leamington Spa

Oh the disappointment. I've been taking inspiration from the Top 10 county pubs on this site - so was delighted to find that the 5th best pub ...more


Name: The Newbold Comyn Arms
Location: Leamington Spa

Started my walk from here - stage 30 of the Millennium Way. Also ties up nicely with this pub, which is top 3 in Warwickshire, according to this ...more


Name: The Colwyn
Location: Birmingham

Closed

Pleasant unusual looking place from the outside. I had a couple of Doombars in here and generally enjoyed the place. Felt like a proper pub of yesteryear. 7/10


Name: William IV
Location: Madron

A good news story.....this pub has been closed for a couple of years and has now reopened .....as a pub. Given the current number of ...more


Name: King William IV
Location: Penzance

Given the current number of pubs closing this is a very good news story. This small village pub has come back to life ....as a pub, after ...more

Not on the beaten track mainly for the local neighbourhood opening hours are not all day. Not the most inviting exterior and the inside is not ...more


Name: The Hayfield
Location: Ormskirk

Very good pub/restaurant, I say restaurant because the food is of that quality. Staff are attentive, very cheerful and are there for your service ...more


Name: The Craven Arms
Location: Walsgrave

Planning permission has been granted for it to be turned into flats.


Name: Victoria
Location: Birmingham

Very dark inside the main bar, only one of the bar fronts serves real ale, so you have to push your way through the throng that stay in front of ...more

As rated by beerintheevening.com users:
1
Name: The Old Poet's Corner - Location: Ashover
Address: Butts Rd, Ashover, Chesterfield, Derbyshire, S45 0EW
Rating:
7.8/10
2
Name: The Blythe Hill Tavern - Location: Forest Hill
Address: 319 Stanstead Road, London, SE23 1JB
Rating:
7.8/10
3
Name: The Lamplighter - Location: St Helier
Address: 9 Mulcaster Street, St Helier, Jersey, JE2 3NJ
Rating:
7.8/10
4
Name: The Golden Rule - Location: Ambleside
Address: Smithy Brow, Ambleside, Cumbria, LA22 9AS
Rating:
7.8/10
5
Name: The Narrow Boat - Location: Skipton
Address: 38, Victoria St, Skipton, North Yorkshire, BD23 1JE
Rating:
7.8/10
6
Name: The Fernandes Brewery Tap and Bier Keller - Location: Wakefield
Address: The Old Malthouse, Avison Yard, Wakefield, West Yorkshire, WF1 1UA
Rating:
7.8/10
7
Name: The Rose and Crown - Location: Huish Episcopi
Address: Huish Episcopi, Langport, Somerset, TA10 9QT
Rating:
7.8/10
8
Name: The Cherub Inn - Location: Dartmouth
Address: 13 Higher Street, Dartmouth, Devon, TQ6 9RB
Rating:
7.7/10
9
Name: The Kings Arms - Location: Tring
Address: King St, Tring, Hertfordshire, HP23 6BE
Rating:
7.7/10
10
Name: The Station Inn - Location: Whitby
Address: New Quay Road, Whitby, North Yorkshire, YO21 1DH
Rating:
7.7/10
11
Name: The Castle Inn - Location: West Lulworth
Address: Main Road, West Lulworth, Wareham, Dorset, BH20 5RN
Rating:
7.7/10
12
Name: Sheffield Tap - Location: Sheffield
Address: Platform 1, Sheffield Station, Sheaf Street, Sheffield, South Yorkshire, S1 2BP
Rating:
7.7/10
13
Name: The Coopers Tavern - Location: Burton-Upon-Trent
Address: 43 Cross Street, Burton-Upon-Trent, Staffordshire, DE14 1EG
Rating:
7.7/10
14
Name: The Orchard Inn - Location: Bristol
Address: 12 Hanover Place, Bristol, Bristol, BS1 6XT
Rating:
7.7/10
15
Name: The Rat and Ratchet - Location: Huddersfield
Address: 40 Chapel Hill, Huddersfield, West Yorkshire, HD1 3EB
Rating:
7.6/10
16
Name: The Strathmore Arms - Location: St Pauls Walden
Address: London Rd, St Pauls Walden, Hitchin, Hertfordshire, SG4 8BT
Rating:
7.6/10
17
Name: Cloisters Bar - Location: Edinburgh
Address: 26, Brougham St, Edinburgh, Midlothian, EH3 9JH
Rating:
7.6/10
18
Name: The Halfway House - Location: Pitney
Address: Pitney Hill, Langport, Somerset, TA10 9AB
Rating:
7.6/10
19
Name: The Brewery Tap - Location: Chester
Address: 52-54 Lower Bridge Street, Chester, Cheshire, CH1 1RU
Rating:
7.6/10
20
Name: The Kings Head - Location: Norwich
Address: 42, Magdalen St, Norwich, Norfolk, NR3 1JE
Rating:
7.6/10
Recently added
The latest new pubs added by the BITE team:
Name: Coach and Horses - Location: Timbersbrook
Address: Under Rainbow Road, Timbersbrook, Cheshire, CW12 3PL
Rating:
no rating
Name: The Smoking Goat - Location: Ayr
Address: 2A Academy Street, Ayr, Ayrshire, KA7 1HS
Rating:
no rating
Name: The Six Medals - Location: Middlehaven
Address: Heath Road, Middlehaven, Middlesbrough, North Yorkshire, TS3 6AT
Rating:
no rating
Name: Craft - Location: Lincoln
Address: 272 High Street, Lincoln, Lincolnshire, LN2 1JG
Rating:
no rating
Name: No. 1 Watson Street - Location: Manchester
Address: 1 Watson Street, Manchester, Manchester, M4 3EE
Rating:
no rating
Name: The Britannia - Location: Urmston
Address: 19-21 Flixton Road, Urmston, Lancashire, M41 5AW
Rating:
no rating
Name: Coopers - Location: Chorlton cum Hardy
Address: 478 Wilbraham Road, Chorlton cum Hardy, Manchester, M21 9AS
Rating:
no rating
Name: The Harrow - Location: Harrow
Address: 269-271 Station Road, Harrow, Middlesex, HA1 2TB
Rating:
no rating
Name: The Grove - Location: Bromsgrove
Address: 11 High Street, Bromsgrove, Worcestershire, B61 8AJ
Rating:
4.0/10
Name: The North Eastern - Location: Stockton on Tees
Address: 163 High Street, Stockton on Tees, County Durham, TS18 1PL
Rating:
no rating