BEER... PUBS...

Welcome to beerintheevening.com
Officially the UK's biggest and busiest pub and bar guide!
Now listing over 43,500 venues, growing daily with over 1.5 million visitors on average each month* looking for somewhere to eat, drink and socialise! Looking for somewhere to go?
Get started here...
Licensee or venue operator? Your venue not listed or want to manage your listing?
Click here...
*According to Google Analytics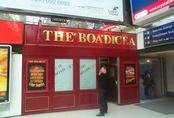 Random pub of the day for 25-7-2014:
Boadicea, Charing Cross Station
Charing Cross Station, London, WC2N 5HS
Latest comment about Boadicea:
Oh, and with SSP's Bite Card (free) the 20% discount (at many of SSP's food and drink operations at UK railway stations) makes prices a bit more competitive.
What you've been saying about pubs:
Name: The Black Prince
Location: Kennington

A nice locals' pub which has survived the hipsterification of this area. Traditional decor and Harveys Best ensure a pleasant evening.


Name: The Union Vaults
Location: Chester

I found this a great little pub. No frills, no poncy food. Well kept beer and a rare bagatelle table - an old game, like a cross between bar ...more


Name: The Slug and Lettuce
Location: York

Inoffensive pub as they usually are. Had a decent view of the river and the barman was welcoming and happy to hold a conversation but not ...more


Name: The Artful Dodger
Location: York

The highlight was having a tv screen in the beer tap, but other than that, unless you're on a pub wander, there isn't much reason to drink here. ...more


Name: Junction Inn
Location: Norbury Junction

Used this pub recently whilst on a canal holiday. It was a sunny Sunday afternoon and the place was busy. Builders bum and tattoos everywhere and ...more


Name: The Lord Nelson
Location: Ipswich

Quiet of a Monday afternoon, as might be expected, but welcoming chatty staff nevertheless. Decent range of Adnams served by gravity. Both the ...more


Name: The Sun Inn
Location: Dedham

Clean, bright and welcoming inn with a long sunny garden. The Crouch Vale Brewers Gold was well kept and there were three more interesting ales on ...more


Name: The Bees in the Wall
Location: Whittlesford

If the landlord of this pub is Mr L. Childs... I knew him over 30 years ago.. Top man. . . .. Mr Redwood....


Name: Brewdog Nottingham
Location: Nottingham

I agree almost entirely with the last posting except overpriced should read vastly overpriced. I went along much against my better judgment with a ...more


Name: Oddies Bar
Location: Crewe

I think this is a club, not a pub. i.e. for members only

As rated by beerintheevening.com users:
1
Name: The Old Poet's Corner - Location: Ashover
Address: Butts Rd, Ashover, Chesterfield, Derbyshire, S45 0EW
Rating:
8.3/10
2
Name: The Fernandes Brewery Tap and Bier Keller - Location: Wakefield
Address: The Old Malthouse, Avison Yard, Wakefield, West Yorkshire, WF1 1UA
Rating:
8.2/10
3
Name: The Post Office Vaults - Location: Birmingham
Address: New Street, Birmingham, West Midlands, B2 4PA
Rating:
8.0/10
4
Name: The Station Inn - Location: Whitby
Address: New Quay Road, Whitby, North Yorkshire, YO21 1DH
Rating:
8.0/10
5
Name: The Coopers Tavern - Location: Burton-Upon-Trent
Address: 43 Cross Street, Burton-Upon-Trent, Staffordshire, DE14 1EG
Rating:
8.0/10
6
Name: The Blythe Hill Tavern - Location: Forest Hill
Address: 319 Stanstead Road, London, SE23 1JB
Rating:
7.8/10
7
Name: The Narrow Boat - Location: Skipton
Address: 38, Victoria St, Skipton, North Yorkshire, BD23 1JE
Rating:
7.8/10
8
Name: The Rose and Crown - Location: Huish Episcopi
Address: Huish Episcopi, Langport, Somerset, TA10 9QT
Rating:
7.8/10
9
Name: The Sussex Arms - Location: Twickenham
Address: 15 Staines Road, Twickenham, Middlesex, TW2 5BG
Rating:
7.8/10
10
Name: The Golden Rule - Location: Ambleside
Address: Smithy Brow, Ambleside, Cumbria, LA22 9AS
Rating:
7.8/10
11
Name: The Halfway House - Location: Pitney
Address: Pitney Hill, Langport, Somerset, TA10 9AB
Rating:
7.8/10
12
Name: The Orchard Inn - Location: Bristol
Address: 12 Hanover Place, Bristol, Bristol, BS1 6XT
Rating:
7.7/10
13
Name: The Kings Arms - Location: Tring
Address: King St, Tring, Hertfordshire, HP23 6BE
Rating:
7.7/10
14
Name: Plough - Location: Worcester
Address: 23 Fish Street, Worcester, Worcestershire, WR1 2HN
Rating:
7.7/10
15
Name: The Anchor and Hope - Location: Charlton
Address: 2, Riverside Walk, Anchor and Hope Lane, London, SE7 7SS
Rating:
7.7/10
16
Name: Ye Olde Black Boy - Location: Hull
Address: 150, High Street, Hull, East Yorkshire, HU1 1PS
Rating:
7.7/10
17
Name: The Cherub Inn - Location: Dartmouth
Address: 13 Higher Street, Dartmouth, Devon, TQ6 9RB
Rating:
7.7/10
18
Name: Fanny's Ale And Cider House - Location: Saltaire
Address: 63, Saltaire Rd, Saltaire, Shipley, West Yorkshire, BD18 3JN
Rating:
7.7/10
19
Name: The Birkbeck Tavern - Location: Leyton
Address: 45, Langthorne Rd, London, E11 4HL
Rating:
7.7/10
20
Name: Anvil - Location: Wigan
Address: Dorning Street, Wigan, Lancashire, WN1 1ND
Rating:
7.6/10
Recently added
The latest new pubs added by the BITE team:
Name: The Robin Hood Inn - Location: Penrith
Address: 51 King Street, Penrith, Cumbria, CA11 7AY
Rating:
no rating
Name: The Cosy Club - Location: Bath
Address: 20 Southgate Place, Bath, Somerset, BA1 1AP
Rating:
no rating
Name: Bowling Green - Location: Nantwich
Address: The Gullet, Nantwich, Cheshire, CW5 6DN
Rating:
no rating
Name: Yard of Ale - Location: Broadstairs
Address: 61 Church Street, Broadstairs, Kent, CT10 2TU
Rating:
no rating
Name: Badger - Location: Church Minshull
Address: Cross Lane, Church Minshull, Cheshire, CW5 6DY
Rating:
no rating
Name: The Waterloo Tavern - Location: Ashton under Lyne
Address: 490-492 Oldham Road, Ashton under Lyne, Lancashire, OL7 9QH
Rating:
no rating
Name: The Dog Beck - Location: Penrith
Address: 21-22 Southend Road, Penrith, Cumbria, CA11 8JH
Rating:
no rating
Name: The New Inns - Location: Brewood
Address: Kiddemore Green Road, Kiddemore Green, Brewood, Staffordshire, ST19 9BH
Rating:
no rating
Name: Hop and Vine - Location: St Austell
Address: Market Street, St Austell, Cornwall, PL25 4BB
Rating:
no rating
Name: Halfway House - Location: Ashton under Lyne
Address: 123 Whiteacre Road, Ashton under Lyne, Lancashire, OL6 9PS
Rating:
no rating