BEER... PUBS...

Welcome to beerintheevening.com
Officially the UK's biggest and busiest pub and bar guide!
Now listing over 45,000 venues, it's the perfect place to look for somewhere to eat, drink and socialise! Looking for somewhere to go?
Get started here...
Licensee or venue operator? Your venue not listed or want to manage your listing?
Click here...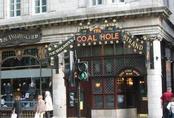 Random pub of the day for 29-7-2016:
Coal Hole, Strand
91-92 Strand, Strand, London, WC2R 0DW
Latest comment about the Coal Hole:
This pub has deteriorated. On my evening visit, the music was deafening and I had to shout at someone only two feet away to make myself heard. I can't imagine the other clientele, many of whom were 40+, were too impressed either. There were six real ales on offer, but only one of them was a standard bitter. So I had a pint of London Pride which at £4.45 was on the expensive side, even for London. I was slightly short-measured. But my real problem was the quality which was awful. It was sour and there's no excuse for that when a large pub like The Coal Hole must have a high-volume throughput. There's clearly a problem with the cellar-keeping, although I doubt whether the mainly foriegn bar staff would have a clue what a good pint of bitter tastes like. Tourists may not know any better, but if you're a real ale drinker try the Nell Gwynne which is up an alley on the way to Charing Cross.
What you've been saying about pubs:
Name: Cambridge Brew House
Location: Cambridge

An American diner style with a Brewery that produces crap.We left and were desperate NOT to drink our beers.


Name: The Cambridge Blue
Location: Cambridge

A very nice well run pub,it was slightly off putting to enter and look at large bank of coolers and not be able to see the ...more


Name: The Kingston Arms
Location: Cambridge

The worst bar staff i've encountered in years,never ever leave to teenagers running a pub a cardinal rule broken.The young boy was very rude and really did NOT want to serve.0/10.


Name: Fluer de Lis
Location: Bristol

"Fluer"? Ooh-er...


Name: The Kings Arms
Location: Cartmel

The Kings is a lovely looking pub, restaurant and hotel in the centre of the village. I visited with family on a recent Sunday having been to the ...more


Name: Devonshire Arms
Location: Ulverston

A late Saturday night visit for 1 final drink after a long day. Quite empty when we arrived but just from the friendly girl behind the bar and ...more

Now called The Mill at Ulverston, The wife and I popped in here on a Saturday night for the first of 5 pubs in Ulverston that feature in the 2016 ...more

This large Ossett Brewing Co run bar was the remaining pub in York from the current GBG that needed ticking and what a cracker it is. The ...more


Name: Bird in Hand
Location: Princes Risborough

A Greene King pub doing good trade following a change in tenancy about 18 months ago. The undercover outdoor area was particularly busy on my ...more


Name: The James Street Tavern
Location: Oxford

Appears to be closed on Wednesday nights. I turned up to meet friends on 4 occasions about 10pm to find the place closed, I'm not going to bother again.

As rated by beerintheevening.com users:
1
Name: The Fleece Inn - Location: Bretforton
Address: The Cross, Bretforton, Evesham, Worcestershire, WR11 7JE
Rating:
8.8/10
2
Name: Golden Lion - Location: Rochford
Address: 35 North Street, Rochford, Essex, SS4 1AB
Rating:
8.4/10
3
Name: The Old Fire House - Location: Exeter
Address: 50 New North Road, Exeter, Devon, EX4 4EP
Rating:
8.2/10
4
Name: Trafford Arms - Location: Norwich
Address: 61 Grove Road, Norwich, Norfolk, NR1 3RL
Rating:
8.1/10
5
Name: The Old Poet's Corner - Location: Ashover
Address: Butts Rd, Ashover, Chesterfield, Derbyshire, S45 0EW
Rating:
8.0/10
6
Name: The Lamplighter - Location: St Helier
Address: 9 Mulcaster Street, St Helier, Jersey, JE2 3NJ
Rating:
8.0/10
7
Name: The Admiral Benbow - Location: Penzance
Address: 46, Chapel St, Penzance, Cornwall, TR18 4AF
Rating:
7.9/10
8
Name: The Narrow Boat - Location: Skipton
Address: 38, Victoria St, Skipton, North Yorkshire, BD23 1JE
Rating:
7.9/10
9
Name: The Cherub Inn - Location: Dartmouth
Address: 13 Higher Street, Dartmouth, Devon, TQ6 9RB
Rating:
7.9/10
10
Name: The Blythe Hill Tavern - Location: Forest Hill
Address: 319 Stanstead Road, London, SE23 1JB
Rating:
7.8/10
11
Name: The Rose and Crown - Location: Huish Episcopi
Address: Huish Episcopi, Langport, Somerset, TA10 9QT
Rating:
7.8/10
12
Name: The Golden Rule - Location: Ambleside
Address: Smithy Brow, Ambleside, Cumbria, LA22 9AS
Rating:
7.8/10
13
Name: The Fox and Goose - Location: Hebden Bridge
Address: 9 Heptonstall Road, Hebden Bridge, West Yorkshire, HX7 6AZ
Rating:
7.8/10
14
Name: The Coopers Tavern - Location: Burton-Upon-Trent
Address: 43 Cross Street, Burton-Upon-Trent, Staffordshire, DE14 1EG
Rating:
7.8/10
15
Name: The Fernandes Brewery Tap and Bier Keller - Location: Wakefield
Address: The Old Malthouse, Avison Yard, Wakefield, West Yorkshire, WF1 1UA
Rating:
7.8/10
16
Name: The Station Inn - Location: Whitby
Address: New Quay Road, Whitby, North Yorkshire, YO21 1DH
Rating:
7.7/10
17
Name: The Kings Arms - Location: Tring
Address: King St, Tring, Hertfordshire, HP23 6BE
Rating:
7.7/10
18
Name: The Orchard Inn - Location: Bristol
Address: 12 Hanover Place, Bristol, Bristol, BS1 6XT
Rating:
7.7/10
19
Name: Sheffield Tap - Location: Sheffield
Address: Platform 1, Sheffield Station, Sheaf Street, Sheffield, South Yorkshire, S1 2BP
Rating:
7.7/10
20
Name: The Castle Inn - Location: West Lulworth
Address: Main Road, West Lulworth, Wareham, Dorset, BH20 5RN
Rating:
7.7/10
Recently added
The latest new pubs added by the BITE team:
Name: The Bishops - Location: St Davids
Address: 22-23 Cross Square, St Davids, Dyfed, SA62 6SL
Rating:
no rating
Name: Black Lodge Brewing - Location: Liverpool
Address: 4 Kitchen Street, Liverpool, Merseyside, L1 0AN
Rating:
no rating
Name: Bell Inn - Location: Haughton
Address: Newport Road, Haughton, Staffordshire, ST18 9EX
Rating:
no rating
Name: Block and Gasket - Location: Sale
Address: 11-13 School Road, Sale, Cheshire, M33 7XY
Rating:
no rating
Name: Fox - Location: Shadingfield
Address: London Road, Shadingfield, Suffolk, NR34 8DD
Rating:
no rating
Name: Merchant - Location: Liverpool
Address: 40 Slater Street, Liverpool, Merseyside, L1 4BX
Rating:
no rating
Name: Tavern Bar - Location: Alltami
Address: Mold Road, Alltami, Clwyd, CH7 6LG
Rating:
no rating
Name: Rivelyn Hotel - Location: Scarborough
Address: 1-4 Crown Crescent, Scarborough, North Yorkshire, YO11 2BJ
Rating:
no rating
Name: Pommel Horse - Location: Hemel Hempstead
Address: Unit 2, Jarman Square, Jarman Park, Hemel Hempstead, Hertfordshire, HP2 4JW
Rating:
no rating
Name: Running Horses - Location: St Helens
Address: Water Street, St Helens, Merseyside, WA10 1PY
Rating:
no rating