BEER... PUBS...

Welcome to beerintheevening.com
Officially the UK's biggest and busiest pub and bar guide!
Now listing over 45,000 venues, it's the perfect place to look for somewhere to eat, drink and socialise! Looking for somewhere to go?
Get started here...
Licensee or venue operator? Your venue not listed or want to manage your listing?
Click here...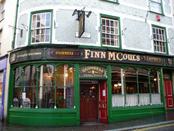 Random pub of the day for 23-7-2016:
Finn M'Coul's, Falmouth
1 Killigrew Street, Falmouth, Cornwall, TR11 3PG
Latest comment about Finn M'Coul's:
This used to be called the Kimberley Hotel, which is still visible set in the stonework outside. It was turned into an Irish themed pub back in the eighties when this was the fashion. It has little to do with Ireland and is a one bar smallish corner pub which has regular live music. No real ale, strictly lager sort of place, but the Guinness was good.
What you've been saying about pubs:
Name: The Auld Mill Inn
Location: Galashiels

Small bar on a corner. Typical old style mans bar. TV on for the horses and 70's music in the background. No real ales that I could see but a ...more


Name: Hunters Hall
Location: Galashiels

Decent pub which had three real ales on that I could see. Don't know how well they were kept as I was on the soft drinks. Prices were pretty ...more


Name: The Barge Inn
Location: Milton Keynes

By the admittedly lamentable standards of Milton Keynes, this pub isn't too bad - a bucolic setting and an old building, canal photos adorning ...more


Name: Yew Tree Inn
Location: Preston-on-Wye

A traditional rural inn that serves a single well-kept ale and cider/perry, both from the barrel. Had a satisfyingly traditional Three Shires ...more


Name: Golden Lion
Location: Boston

In here last Saturday just after 12.45 and already a good dozen in including a couple playing domies. Very comfy with soft seats and nice ...more


Name: Moon Under Water
Location: Boston

Nice interior with lots of space. In here last Saturday just after 11.00 am. The Cider festival means that 4 of the 8 hand pulls are for Cider. ...more


Name: The Golden Cross
Location: Twyford

Reviews seem out of date, lovely bright pub. No sign of any pool table or fruit machines just TVs. Nice friendly staff, sat in garden which had ...more


Name: The Kings Arms
Location: Hawkshead

The Kings Arms is one of 2 pubs in the village that appears in the 2016 GBG. I stayed in Hawkshead over 12 years ago and convinced myself I had ...more


Name: The Bridge Hotel
Location: Buttermere

Opposite the Fish Inn, the Bridge is a very different style hotel & bar with an attractive south facing garden at the rear of the pub facing ...more


Name: The Hawkley Inn
Location: Hawkley

I haven't been for years as one of the previous owners post Big Al put me off by trying to make it a total food experience rather than a mix. The ...more

As rated by beerintheevening.com users:
1
Name: The Fleece Inn - Location: Bretforton
Address: The Cross, Bretforton, Evesham, Worcestershire, WR11 7JE
Rating:
8.8/10
2
Name: Golden Lion - Location: Rochford
Address: 35 North Street, Rochford, Essex, SS4 1AB
Rating:
8.4/10
3
Name: The Old Fire House - Location: Exeter
Address: 50 New North Road, Exeter, Devon, EX4 4EP
Rating:
8.2/10
4
Name: Trafford Arms - Location: Norwich
Address: 61 Grove Road, Norwich, Norfolk, NR1 3RL
Rating:
8.1/10
5
Name: The Old Poet's Corner - Location: Ashover
Address: Butts Rd, Ashover, Chesterfield, Derbyshire, S45 0EW
Rating:
8.0/10
6
Name: The Lamplighter - Location: St Helier
Address: 9 Mulcaster Street, St Helier, Jersey, JE2 3NJ
Rating:
8.0/10
7
Name: The Admiral Benbow - Location: Penzance
Address: 46, Chapel St, Penzance, Cornwall, TR18 4AF
Rating:
7.9/10
8
Name: The Narrow Boat - Location: Skipton
Address: 38, Victoria St, Skipton, North Yorkshire, BD23 1JE
Rating:
7.9/10
9
Name: The Cherub Inn - Location: Dartmouth
Address: 13 Higher Street, Dartmouth, Devon, TQ6 9RB
Rating:
7.9/10
10
Name: The Blythe Hill Tavern - Location: Forest Hill
Address: 319 Stanstead Road, London, SE23 1JB
Rating:
7.8/10
11
Name: The Golden Rule - Location: Ambleside
Address: Smithy Brow, Ambleside, Cumbria, LA22 9AS
Rating:
7.8/10
12
Name: The Fox and Goose - Location: Hebden Bridge
Address: 9 Heptonstall Road, Hebden Bridge, West Yorkshire, HX7 6AZ
Rating:
7.8/10
13
Name: The Coopers Tavern - Location: Burton-Upon-Trent
Address: 43 Cross Street, Burton-Upon-Trent, Staffordshire, DE14 1EG
Rating:
7.8/10
14
Name: The Rose and Crown - Location: Huish Episcopi
Address: Huish Episcopi, Langport, Somerset, TA10 9QT
Rating:
7.8/10
15
Name: The Fernandes Brewery Tap and Bier Keller - Location: Wakefield
Address: The Old Malthouse, Avison Yard, Wakefield, West Yorkshire, WF1 1UA
Rating:
7.8/10
16
Name: The Station Inn - Location: Whitby
Address: New Quay Road, Whitby, North Yorkshire, YO21 1DH
Rating:
7.7/10
17
Name: The Kings Arms - Location: Tring
Address: King St, Tring, Hertfordshire, HP23 6BE
Rating:
7.7/10
18
Name: The Orchard Inn - Location: Bristol
Address: 12 Hanover Place, Bristol, Bristol, BS1 6XT
Rating:
7.7/10
19
Name: Sheffield Tap - Location: Sheffield
Address: Platform 1, Sheffield Station, Sheaf Street, Sheffield, South Yorkshire, S1 2BP
Rating:
7.7/10
20
Name: The Castle Inn - Location: West Lulworth
Address: Main Road, West Lulworth, Wareham, Dorset, BH20 5RN
Rating:
7.7/10
Recently added
The latest new pubs added by the BITE team:
Name: The Old Red Lion - Location: Litchborough
Address: 4 Banbury Road, Litchborough, Northamptonshire, NN12 8JF
Rating:
no rating
Name: The Refreshment Rooms - Location: Birkenhead
Address: Bedford Road East, Rock Ferry, Birkenhead, Merseyside, CH42 1LS
Rating:
7.0/10
Name: Garden City Brewery - Location: Letchworth Garden City
Address: The Wynd, Letchworth Garden City, Hertfordshire, SG6 3EN
Rating:
no rating
Name: Bakehouse - Location: Welwyn Garden City
Address: Bessemer Road, Welwyn Garden City, Hertfordshire, AL7 1HH
Rating:
no rating
Name: Beer Emporium - Location: Bristol
Address: 13-15 Kings Street, Bristol, Bristol, BS1 4EF
Rating:
no rating
Name: The Three Marines - Location: Portsmouth
Address: 110 Highland Road, Portsmouth, Hampshire, PO4 4NQ
Rating:
no rating
Name: Bar Babylon - Location: Cleethorpes
Address: 49-51 Market Street, Cleethorpes, Lincolnshire, DN35 8LY
Rating:
no rating
Name: The Griffin Inn - Location: Llanbedr Dyffryn
Address: Mold Road, Llanbedr Dyffryn, Clwyd, LL15 1UP
Rating:
no rating
Name: The Wheatsheaf - Location: Chatham
Address: 53 Capstone Road, Chatham, Kent, ME5 7NH
Rating:
4.5/10
Name: The Sitwell Arms - Location: Bucknell
Address: Old Bedstone Road, Bucknell, Shropshire, SY7 0AA
Rating:
5.0/10