BEER... PUBS...

Welcome to beerintheevening.com
Officially the UK's biggest and busiest pub and bar guide!
Now listing over 43,500 venues, it's the perfect place to look for somewhere to eat, drink and socialise!
Looking for somewhere to go?
Get started here...
Licensee or venue operator? Your venue not listed or want to manage your listing?
Click here...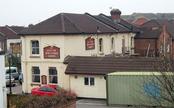 Random pub of the day for 26-10-2014:
South Western, St Denys
38-40, Adelaide Rd, St Denys, Southampton, Hampshire, SO17 2HW
Latest comment about the South Western:
Still very expensive - like for like 80p per pint dearer than the Guide Dog and 70p dearer than Talking Heads.
What you've been saying about pubs:
Name: The Cross Keys
Location: Norton Fitzwarren

Closed at 10:30 on a Saturday night; how poor is that. I guess the staff were just too lazy to serve honest hard working punters who want to buy a drink at this hour. very poor


Name: Staplegrove Inn
Location: Taunton

Closed at 10:30 on a Saturday night but not sure if it has closed down again, or just given up for the night.


Name: Les Trois Brasseurs
Location: Lille

blue scrumpy, possibly not served due to being in a bunch of scouse footie fans; cant say I blame them


Name: Les Trois Brasseurs
Location: Lille

Poor example of a pub/restaurant. We only wanted drinks. But they refused to serve us, as we were a large group. 0/10 as no beer was being served, ...more


Name: John Peel Inn
Location: Bowness on Windermere

I recently attended this pub with a group of friends, for food, spending around £60 on food and drink. When I told the landlady/owner - an ...more


Name: Cheadle Hulme
Location: Cheadle Hulme

One of the few Holt's that also has the Bootleg brewery beers on as well, so we had a mild. Nice, but no plans to go back here.


Name: The Milson Rhodes
Location: Didsbury

Typical Wetherspoons. Better for a group visit than particularly to enjoy beers - though they have an alright selection.


Name: The Railway
Location: Didsbury

Enjoyed a decent pint of Holt's black. Decent location and one of the better quality Holt's we've visited.


Name: The Duke of Buckingham
Location: Kingston Upon Thames

Last of the traditional pubs. Good Irish and locals scene and will remain open as they have bought the building and saved it from the developers.


Name: Inn on the Wharf
Location: Burnley

This pub has undergone a lot of changes in recent months. New chefs, staff training, being tidied up, more ales and wine selection, new menus! The ...more

As rated by beerintheevening.com users:
1
Name: The Old Poet's Corner - Location: Ashover
Address: Butts Rd, Ashover, Chesterfield, Derbyshire, S45 0EW
Rating:
8.1/10
2
Name: The Nags Head - Location: Great Malvern
Address: 21, Bank Street, Great Malvern, Worcestershire, WR14 2JG
Rating:
8.1/10
3
Name: The Station Inn - Location: Whitby
Address: New Quay Road, Whitby, North Yorkshire, YO21 1DH
Rating:
8.0/10
4
Name: The Coopers Tavern - Location: Burton-Upon-Trent
Address: 43 Cross Street, Burton-Upon-Trent, Staffordshire, DE14 1EG
Rating:
8.0/10
5
Name: The Rose and Crown - Location: Huish Episcopi
Address: Huish Episcopi, Langport, Somerset, TA10 9QT
Rating:
7.9/10
6
Name: Our Mutual Friend - Location: Stevenage
Address: Broadwater Crescent, Stevenage, Hertfordshire, SG2 8EH
Rating:
7.9/10
7
Name: The Narrow Boat - Location: Skipton
Address: 38, Victoria St, Skipton, North Yorkshire, BD23 1JE
Rating:
7.8/10
8
Name: The Sussex Arms - Location: Twickenham
Address: 15 Staines Road, Twickenham, Middlesex, TW2 5BG
Rating:
7.8/10
9
Name: The Golden Rule - Location: Ambleside
Address: Smithy Brow, Ambleside, Cumbria, LA22 9AS
Rating:
7.8/10
10
Name: The Halfway House - Location: Pitney
Address: Pitney Hill, Langport, Somerset, TA10 9AB
Rating:
7.8/10
11
Name: The Orchard Inn - Location: Bristol
Address: 12 Hanover Place, Bristol, Bristol, BS1 6XT
Rating:
7.7/10
12
Name: The Cherub Inn - Location: Dartmouth
Address: 13 Higher Street, Dartmouth, Devon, TQ6 9RB
Rating:
7.7/10
13
Name: The Blythe Hill Tavern - Location: Forest Hill
Address: 319 Stanstead Road, London, SE23 1JB
Rating:
7.7/10
14
Name: Ye Olde Black Boy - Location: Hull
Address: 150, High Street, Hull, East Yorkshire, HU1 1PS
Rating:
7.7/10
15
Name: The Kings Arms - Location: Tring
Address: King St, Tring, Hertfordshire, HP23 6BE
Rating:
7.7/10
16
Name: The Fernandes Brewery Tap and Bier Keller - Location: Wakefield
Address: The Old Malthouse, Avison Yard, Wakefield, West Yorkshire, WF1 1UA
Rating:
7.7/10
17
Name: The Birkbeck Tavern - Location: Leyton
Address: 45, Langthorne Rd, London, E11 4HL
Rating:
7.7/10
18
Name: The Lamplighter - Location: St Helier
Address: 9 Mulcaster Street, St Helier, Jersey, JE2 3NJ
Rating:
7.6/10
19
Name: The Anchor and Hope - Location: Charlton
Address: 2, Riverside Walk, Anchor and Hope Lane, London, SE7 7SS
Rating:
7.6/10
20
Name: The Hope - Location: Carshalton
Address: 48 West St, Carshalton, Surrey, SM5 2PR
Rating:
7.6/10
Recently added
The latest new pubs added by the BITE team:
Name: The Robin Hood Inn - Location: Penrith
Address: 51 King Street, Penrith, Cumbria, CA11 7AY
Rating:
no rating
Name: The Cosy Club - Location: Bath
Address: 20 Southgate Place, Bath, Somerset, BA1 1AP
Rating:
no rating
Name: Bowling Green - Location: Nantwich
Address: The Gullet, Nantwich, Cheshire, CW5 6DN
Rating:
5.0/10
Name: Yard of Ale - Location: Broadstairs
Address: 61 Church Street, Broadstairs, Kent, CT10 2TU
Rating:
5.0/10
Name: Badger - Location: Church Minshull
Address: Cross Lane, Church Minshull, Cheshire, CW5 6DY
Rating:
7.0/10
Name: The Waterloo Tavern - Location: Ashton under Lyne
Address: 490-492 Oldham Road, Ashton under Lyne, Lancashire, OL7 9QH
Rating:
4.0/10
Name: The Dog Beck - Location: Penrith
Address: 21-22 Southend Road, Penrith, Cumbria, CA11 8JH
Rating:
no rating
Name: The New Inns - Location: Brewood
Address: Kiddemore Green Road, Kiddemore Green, Brewood, Staffordshire, ST19 9BH
Rating:
5.2/10
Name: Hop and Vine - Location: St Austell
Address: Market Street, St Austell, Cornwall, PL25 4BB
Rating:
no rating
Name: Halfway House - Location: Ashton under Lyne
Address: 123 Whiteacre Road, Ashton under Lyne, Lancashire, OL6 9PS
Rating:
4.0/10