BEER... PUBS...

Welcome to beerintheevening.com
Officially the UK's biggest and busiest pub and bar guide!
Now listing over 45,000 venues, it's the perfect place to look for somewhere to eat, drink and socialise! Looking for somewhere to go?
Get started here...
Licensee or venue operator? Your venue not listed or want to manage your listing?
Click here...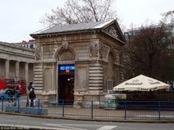 Random pub of the day for 20-11-2018:
Euston Tap, Euston
190 Euston Road, Euston, London, NW1 2EF
Latest comment about Euston Tap:
Handy if heading south or west out of Euston especially with Bree Louise now gone. Also with it being more suited to the start rather than end of a session given the climb up the spiral staircase to toilets or even for the seating when carrying one or two pints as well. Luckily our visit when a reasonable choice of beer was not long after midday.
What you've been saying about pubs:
Name: The Princess Royal
Location: Taunton

It was ok in here when we visited on a Saturday afternoon. Fairly busy too although I thought £3.80 a pint for ale a little on the high side. ...more


Name: The Racehorse Inn
Location: Taunton

One of the better pubs in Taunton, we enjoyed our visit here. Not sure whether a would like it on a packed night in here mind. The pub is ...more


Name: The Angel
Location: Manchester

The new builds looming over the pub only highlight the peeling external plaster and down at heel external appearance. Inside, its fine - all ...more


Name: The Swan
Location: Ironbridge

Guessing I'm not part of their target market as the solitary ale was a pretty average Thwaites Wainwright, their "smokehouse" food ...more


Name: The Black Swan
Location: Telford

Not a bad way to start our weekend in the Ironbridge Gorge area with a quick pint of good Hobsons Old Prickly after visiting the nearby Jackfield ...more


Name: The Woodbridge Inn
Location: Telford

I always think of Brunning & Price pubs as slightly upmarket restaurants which sell beer, but maybe that's because I've visited at popular ...more


Name: The All Nations
Location: Madeley

A short walk from Blists Hill Victorian Town, it doesn't look much initially from the outside but then you see the keystone dated 1789 and the ...more


Name: Tontine Hotel
Location: Telford

Large, cavernous Georgian hotel that once was visited by royalty but would be better suited nowadays as a Wetherspoon pub. At least if Mr Martin ...more


Name: The Ship and Castle
Location: East Cowes

The Ship & Castle has now re-opened. I just had time for a swift drink before the ferry back to the mainland. Entrance is through a side door. ...more


Name: The White Hart
Location: East Cowes

The White Hart has now been closed by the Red Funnel ferry company. I'm not sure what their plans will be for the building. But I doubt they will be too constructive.

As rated by beerintheevening.com users:
1
Name: The Cuckoo Inn - Location: Hamptworth
Address: Hamptworth, Salisbury, Wiltshire, SP5 2DU
Rating:
8.4/10
2
Name: The Fleece Inn - Location: Bretforton
Address: The Cross, Bretforton, Evesham, Worcestershire, WR11 7JE
Rating:
8.4/10
3
Name: The Old Poet's Corner - Location: Ashover
Address: Butts Rd, Ashover, Chesterfield, Derbyshire, S45 0EW
Rating:
8.1/10
4
Name: The Stanley Arms - Location: Portslade
Address: 47 Wolseley Rd, Portslade, Brighton, East Sussex, BN41 1SS
Rating:
8.1/10
5
Name: The Jolly Angler - Location: Manchester
Address: 47 Ducie Street, Ancoats, Manchester, M1 2JW
Rating:
8.1/10
6
Name: The Old Fire House - Location: Exeter
Address: 50 New North Road, Exeter, Devon, EX4 4EP
Rating:
8.0/10
7
Name: The Admiral Benbow - Location: Penzance
Address: 46, Chapel St, Penzance, Cornwall, TR18 4AF
Rating:
7.9/10
8
Name: The Blythe Hill Tavern - Location: Forest Hill
Address: 319 Stanstead Road, London, SE23 1JB
Rating:
7.8/10
9
Name: The Snickleway Inn - Location: York
Address: 47, Goodramgate, York, North Yorkshire, YO1 7LS
Rating:
7.8/10
10
Name: The Fox and Goose - Location: Hebden Bridge
Address: 9 Heptonstall Road, Hebden Bridge, West Yorkshire, HX7 6AZ
Rating:
7.8/10
11
Name: The Lamplighter - Location: St Helier
Address: 9 Mulcaster Street, St Helier, Jersey, JE2 3NJ
Rating:
7.8/10
12
Name: The Rose and Crown - Location: Huish Episcopi
Address: Huish Episcopi, Langport, Somerset, TA10 9QT
Rating:
7.7/10
13
Name: Sheffield Tap - Location: Sheffield
Address: Platform 1, Sheffield Station, Sheaf Street, Sheffield, South Yorkshire, S1 2BP
Rating:
7.7/10
14
Name: The Rat and Ratchet - Location: Huddersfield
Address: 40 Chapel Hill, Huddersfield, West Yorkshire, HD1 3EB
Rating:
7.7/10
15
Name: The Coopers Tavern - Location: Burton-Upon-Trent
Address: 43 Cross Street, Burton-Upon-Trent, Staffordshire, DE14 1EG
Rating:
7.7/10
16
Name: The Golden Rule - Location: Ambleside
Address: Smithy Brow, Ambleside, Cumbria, LA22 9AS
Rating:
7.7/10
17
Name: The Great Western - Location: Wolverhampton
Address: Sun Street, Wolverhampton, West Midlands, WV10 0DJ
Rating:
7.7/10
18
Name: The Narrow Boat - Location: Skipton
Address: 38, Victoria St, Skipton, North Yorkshire, BD23 1JE
Rating:
7.7/10
19
Name: The Kings Head - Location: Norwich
Address: 42, Magdalen St, Norwich, Norfolk, NR3 1JE
Rating:
7.6/10
20
Name: The Fernandes Brewery Tap and Bier Keller - Location: Wakefield
Address: The Old Malthouse, Avison Yard, Wakefield, West Yorkshire, WF1 1UA
Rating:
7.6/10
Recently added
The latest new pubs added by the BITE team:
Name: The Paul Pry - Location: Worcester
Address: 6 The Butts, Worcester, Worcestershire, WR1 3PA
Rating:
5.8/10
Name: The Talbot Inn - Location: Welshpool
Address: 16 High Street, Welshpool, Powys, SY21 7JP
Rating:
4.8/10
Name: Love and Rockets - Location: Aigburth
Address: 52 Lark Lane, Aigburth, Liverpool, Merseyside, L17 8UU
Rating:
7.0/10
Name: The Brook - Location: Worcester Park
Address: 181 Central Road, Worcester Park, Surrey, KT4 8DR
Rating:
no rating
Name: Towcester Mill Brewery Tap Room - Location: Towcester
Address: Chantry Lane, Towcester, Northamptonshire, NN12 6AD
Rating:
4.0/10
Name: Blackfriars - Location: Edinburgh
Address: 57-61 Blackfriars Street, Edinburgh, Midlothian, EH1 1NB
Rating:
4.0/10
Name: The Meridian Bier Cafe - Location: Ayr
Address: 2 Killoch Place, Ayr, Ayrshire, KA7 2EA
Rating:
5.5/10
Name: The Turks Head - Location: Leeds
Address: Turks Head Yard, Leeds, West Yorkshire, LS1 6HB
Rating:
no rating
Name: Black Swan - Location: Alnwick
Address: 26 Narrowgate, Alnwick, Northumberland, NE66 1JG
Rating:
no rating
Name: The Milk House - Location: Sissinghurst
Address: The Street, Sissinghurst, Kent, TN17 2JG
Rating:
7.0/10