BEER... PUBS...

Welcome to beerintheevening.com
Officially the UK's biggest and busiest pub and bar guide!
Now listing over 43,500 venues, it's the perfect place to look for somewhere to eat, drink and socialise!
Looking for somewhere to go?
Get started here...
Licensee or venue operator? Your venue not listed or want to manage your listing?
Click here...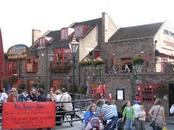 Random pub of the day for 1-2-2015:
Anchor, Southwark
34 Park Street, Bankside, Southwark, London, SE1 9EF
Latest comment about the Anchor:
Took some French guests there for "The Ultimate Fish and Chips" the beer is good but the meal was marred by being served on stone cold plates and two waitresses didn't know what to say or do about it and looked at me as if it wasn't a problem!
What you've been saying about pubs:
Name: The Phoenix Tavern
Location: Faversham

A smallish pub with bare floorboards. Generally seems busy which is a good sign. On my last visit the food was very good although they did make a ...more


Name: The Old Wine Vaults
Location: Faversham

The carpets give a cosy feel to the pub. Lots of beams and a split level floor. Friendly with a decent selection of real ales. We were eating elsewhere but the menu looked enticing.

Well, this place has had a massive refurb lately by Enterprise Inns, and in all fairness it looks quite nice inside nowdays, but we called in ...more


Name: The Bull's Head
Location: Mobberley

Good country pub. Cobbled frontage. Found 6 Cheshire beers, with individual tasting notes a nice touch. Services locally sourced food.


Name: The Lord Eldon
Location: Knutsford

Nice old pub with a lovely large bar area and open fires. Beer garden at the rear. Good ales and food menu at reasonable prices. Best pub found in the area.


Name: John O'Gaunt Inn
Location: Horsebridge

Time before last, it took nearly an hour before my soup order was delivered. Ever hopeful, I called in again but couldn't reach the bar ...more


Name: The Dukes Head
Location: Romsey

Called in after 3 o'clock on a Saturday afternoon, the bar was full of a friendly shooting party. Food wasn't being served due to the time (3 to 5 ...more


Name: The Inn on the Green
Location: Harpenden

What's happened here? A Greene King pub with two guest ales! Never thought I would see the day. IPA and Abbott the two regular brews, but also ...more


Name: The Green Dragon
Location: Cadnam

Much changed and refurbished since my last unsatisfactory visit some years ago. Large car park at rear with steps and a ramp to the entrance, ...more


Name: The Good Yarn
Location: Uxbridge

Today Saturday 31st January I went to Uxbridge and when i got to Uxbridge i walked to the Good Yarn and when i Arived i went up to the Bar and ...more

As rated by beerintheevening.com users:
1
Name: The Blythe Hill Tavern - Location: Forest Hill
Address: 319 Stanstead Road, London, SE23 1JB
Rating:
7.9/10
2
Name: The Rose and Crown - Location: Huish Episcopi
Address: Huish Episcopi, Langport, Somerset, TA10 9QT
Rating:
7.9/10
3
Name: The Fernandes Brewery Tap and Bier Keller - Location: Wakefield
Address: The Old Malthouse, Avison Yard, Wakefield, West Yorkshire, WF1 1UA
Rating:
7.9/10
4
Name: The Station Inn - Location: Whitby
Address: New Quay Road, Whitby, North Yorkshire, YO21 1DH
Rating:
7.8/10
5
Name: The Old Poet's Corner - Location: Ashover
Address: Butts Rd, Ashover, Chesterfield, Derbyshire, S45 0EW
Rating:
7.8/10
6
Name: The Halfway House - Location: Pitney
Address: Pitney Hill, Langport, Somerset, TA10 9AB
Rating:
7.8/10
7
Name: Our Mutual Friend - Location: Stevenage
Address: Broadwater Crescent, Stevenage, Hertfordshire, SG2 8EH
Rating:
7.7/10
8
Name: The Coopers Tavern - Location: Burton-Upon-Trent
Address: 43 Cross Street, Burton-Upon-Trent, Staffordshire, DE14 1EG
Rating:
7.7/10
9
Name: The Narrow Boat - Location: Skipton
Address: 38, Victoria St, Skipton, North Yorkshire, BD23 1JE
Rating:
7.7/10
10
Name: The Cherub Inn - Location: Dartmouth
Address: 13 Higher Street, Dartmouth, Devon, TQ6 9RB
Rating:
7.7/10
11
Name: The Kings Arms - Location: Tring
Address: King St, Tring, Hertfordshire, HP23 6BE
Rating:
7.7/10
12
Name: The Lamplighter - Location: St Helier
Address: 9 Mulcaster Street, St Helier, Jersey, JE2 3NJ
Rating:
7.7/10
13
Name: The Nags Head - Location: Great Malvern
Address: 21, Bank Street, Great Malvern, Worcestershire, WR14 2JG
Rating:
7.7/10
14
Name: The Sussex Arms - Location: Twickenham
Address: 15 Staines Road, Twickenham, Middlesex, TW2 5BG
Rating:
7.7/10
15
Name: The Orchard Inn - Location: Bristol
Address: 12 Hanover Place, Bristol, Bristol, BS1 6XT
Rating:
7.7/10
16
Name: The Brewery Tap - Location: Chester
Address: 52-54 Lower Bridge Street, Chester, Cheshire, CH1 1RU
Rating:
7.6/10
17
Name: Cloisters Bar - Location: Edinburgh
Address: 26, Brougham St, Edinburgh, Midlothian, EH3 9JH
Rating:
7.6/10
18
Name: The Rat and Ratchet - Location: Huddersfield
Address: 40 Chapel Hill, Huddersfield, West Yorkshire, HD1 3EB
Rating:
7.6/10
19
Name: Plough - Location: Worcester
Address: 23 Fish Street, Worcester, Worcestershire, WR1 2HN
Rating:
7.6/10
20
Name: Anvil - Location: Wigan
Address: Dorning Street, Wigan, Lancashire, WN1 1ND
Rating:
7.6/10
Recently added
The latest new pubs added by the BITE team:
Name: The Cosy Club - Location: Taunton
Address: 11 Corporation Street, Taunton, Somerset, TA1 4AJ
Rating:
6.0/10
Name: The Green Hops Real Ale Bar - Location: Billingham
Address: 55 The Green, Billingham, County Durham, TS23 1EW
Rating:
no rating
Name: The Courtyard - Location: Heswall
Address: 3 Pensby Road, Heswall, Wirral, Merseyside, CH60 7RA
Rating:
4.5/10
Name: Curio Lounge - Location: Stroud
Address: 9-11 Kings Street, Stroud, Gloucestershire, GL5 3BX
Rating:
no rating
Name: The Barrel Drop - Location: Nottingham
Address: 7 Hurts Yard, Nottingham, Nottinghamshire, NG1 6JD
Rating:
no rating
Name: Junkyard - Location: Nottingham
Address: 12 Bridlesmith Walk, Nottingham, Nottinghamshire, NG1 2FZ
Rating:
no rating
Name: Pie and Ale - Location: Manchester
Address: Unit 1 and 2 The Hive, Lever Street, Northern Quarter, Manchester, Manchester, M1 1FN
Rating:
no rating
Name: Ship Inn - Location: Wolviston
Address: 50 High Street, Wolviston, County Durham, TS22 5JX
Rating:
no rating
Name: Bonzo Lounge - Location: Keynsham
Address: 8-9 Market Walk, Keynsham, Gloucestershire, BS31 1ED
Rating:
no rating
Name: Cultivo Lounge - Location: Letchworth Garden City
Address: 32 Leys Avenue, Letchworth Garden City, Hertfordshire, SG6 3EW
Rating:
no rating