BEER... PUBS...

Welcome to beerintheevening.com
Officially the UK's biggest and busiest pub and bar guide!
Now listing over 45,000 venues, it's the perfect place to look for somewhere to eat, drink and socialise! Looking for somewhere to go?
Get started here...
Licensee or venue operator? Your venue not listed or want to manage your listing?
Click here...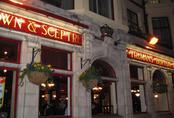 Random pub of the day for 17-1-2022:
Crown and Sceptre, Streatham
2, Streatham Hill, Streatham, London, SW2 4AH
Latest comment about the Crown and Sceptre:
Returned yesterday for this transitional period of outdoor drinking only. Very busy outside grabbed one of the last available tables on a sunny Saturday but there was a steady turn over. There is a tent with 8 or so tables inside it for, er, rainy day drinkers. 3 cask beers available £3.00 a pint. Two from Southwark brewing co (the Mayflower particularly nice) plus Doom Bar. Cash and card taken. Staff were rushed off their feet doing table service, but very friendly!
What you've been saying about pubs:
Name: The Barrowboy and Banker
Location: London Bridge

The ground floor of this pub was so packed we found ourselves asking "pandemic? what pandemic?" Anyway, ...more


Name: The Mudlark
Location: London Bridge

Surprisingly empty - but very friendly - on a Friday afternoon. Nice to have a good selection of tables to sit at, just a shame the beer selection is somewhat limited and uninteresting.


Name: The Rake
Location: London Bridge

Good selection of beers - on hand pumps and listed on the wall. Unfortunately very few inside tables so we ended up sitting outside - in January! ...more


Name: The Wheatsheaf
Location: Borough

Had an enjoyable pint here and good quality food (they offer a range of burgers and pizzas). The tables are all a bit cramped as ...more


Name: The Travellers Tavern
Location: Victoria

Amazing pub in the heart of Belgravia, prices are very reasonable and the food to to die for, I would in particular recommend their Fish and chips, it's one of these I had in London


Name: The Shakespeare
Location: Harbury

Harbury no longer has as many pubs as it once did (the Old New Inn has now closed) but the Grade II listed Shakespeare (some of which dates back ...more


Name: The Red Lion
Location: Horley

Traditional wet-led pub with occasional pop-up kitchens which might just be my new favourite in the area due to a terrific pint of Hook Norton's ...more


Name: The Dun Cow
Location: Hornton

Hooky, Hooky Gold and Doom Bar were the 3 ales available on New Year's Eve - I was there at 4pm and sat on one of the red leatherette banquettes ...more


Name: The Feathers Hotel
Location: Ludlow

Refurbished at considerable cost since the last review and now looks much more like a classy hotel than the slightly shabby mishmash that it once ...more


Name: The Stanhope Arms
Location: Brasted

December 2021 - hallelujah - a free house, with new owners, new managers, and a total makeover. 12 of us are and drank there for a pre Christmas ...more

As rated by beerintheevening.com users:
1
Name: The Bhurtpore Inn - Location: Aston
Address: Wrenbury Rd, Aston, Nantwich, Cheshire, CW5 8DQ
Rating:
8.6/10
2
Name: The Cuckoo Inn - Location: Hamptworth
Address: Hamptworth, Salisbury, Wiltshire, SP5 2DU
Rating:
8.2/10
3
Name: The Fleece Inn - Location: Bretforton
Address: The Cross, Bretforton, Evesham, Worcestershire, WR11 7JE
Rating:
8.2/10
4
Name: The Britannia Inn - Location: Elterwater
Address: Elterwater, Ambleside, Cumbria, LA22 9HP
Rating:
8.0/10
5
Name: The Old Poet's Corner - Location: Ashover
Address: Butts Rd, Ashover, Chesterfield, Derbyshire, S45 0EW
Rating:
7.9/10
6
Name: The Old Fire House - Location: Exeter
Address: 50 New North Road, Exeter, Devon, EX4 4EP
Rating:
7.8/10
7
Name: Sheffield Tap - Location: Sheffield
Address: Platform 1, Sheffield Station, Sheaf Street, Sheffield, South Yorkshire, S1 2BP
Rating:
7.7/10
8
Name: The Blythe Hill Tavern - Location: Forest Hill
Address: 319 Stanstead Road, London, SE23 1JB
Rating:
7.7/10
9
Name: The Rat and Ratchet - Location: Huddersfield
Address: 40 Chapel Hill, Huddersfield, West Yorkshire, HD1 3EB
Rating:
7.7/10
10
Name: The Great Western - Location: Wolverhampton
Address: Sun Street, Wolverhampton, West Midlands, WV10 0DJ
Rating:
7.7/10
11
Name: The Coopers Tavern - Location: Burton-Upon-Trent
Address: 43 Cross Street, Burton-Upon-Trent, Staffordshire, DE14 1EG
Rating:
7.7/10
12
Name: The Lamplighter - Location: St Helier
Address: 9 Mulcaster Street, St Helier, Jersey, JE2 3NJ
Rating:
7.7/10
13
Name: The Cherub Inn - Location: Dartmouth
Address: 13 Higher Street, Dartmouth, Devon, TQ6 9RB
Rating:
7.6/10
14
Name: The Narrow Boat - Location: Skipton
Address: 38, Victoria St, Skipton, North Yorkshire, BD23 1JE
Rating:
7.6/10
15
Name: The Fox and Goose - Location: Hebden Bridge
Address: 9 Heptonstall Road, Hebden Bridge, West Yorkshire, HX7 6AZ
Rating:
7.6/10
16
Name: The Golden Rule - Location: Ambleside
Address: Smithy Brow, Ambleside, Cumbria, LA22 9AS
Rating:
7.6/10
17
Name: The Cardinals Hat - Location: Worcester
Address: 31, Friar St, Worcester, Worcestershire, WR1 2NA
Rating:
7.6/10
18
Name: The Bell Inn - Location: Aldworth
Address: Bell Lane, Aldworth, Reading, Berkshire, RG8 9SE
Rating:
7.6/10
19
Name: Fanny's Ale And Cider House - Location: Saltaire
Address: 63, Saltaire Rd, Saltaire, Shipley, West Yorkshire, BD18 3JN
Rating:
7.6/10
20
Name: The Admiral Benbow - Location: Penzance
Address: 46, Chapel St, Penzance, Cornwall, TR18 4AF
Rating:
7.6/10
Recently added
The latest new pubs added by the BITE team:
Name: The London and South Western - Location: Battersea
Address: 276-288 Lavender Hill, Battersea, London, SW11 1LJ
Rating:
no rating
Name: The Buck Inn - Location: Northallerton
Address: 237-238 High Street, Northallerton, North Yorkshire, DL7 8LU
Rating:
no rating
Name: The Hedgeford Lodge - Location: Hednesford
Address: Anglesey Lodge, Anglesey Street, Hednesford, Staffordshire, WS12 1DL
Rating:
no rating
Name: The Golden Beam - Location: Headingley
Address: Headingley Lane, Headingley, Leeds, West Yorkshire, LS6 1BL
Rating:
no rating
Name: The Eagle - Location: Newcastle
Address: 42 Scotswood Road, Newcastle upon Tyne, Tyne and Wear, NE4 7JD
Rating:
no rating
Name: The Silverback Ale House - Location: Winton
Address: 518 Wimborne Road, Winton, Bournemouth, Dorset, BH9 2EX
Rating:
9.0/10
Name: The Paul Pry - Location: Worcester
Address: 6 The Butts, Worcester, Worcestershire, WR1 3PA
Rating:
6.4/10
Name: The Talbot Inn - Location: Welshpool
Address: 16 High Street, Welshpool, Powys, SY21 7JP
Rating:
5.8/10
Name: Love and Rockets - Location: Aigburth
Address: 52 Lark Lane, Aigburth, Liverpool, Merseyside, L17 8UU
Rating:
6.0/10
Name: The Brook - Location: Worcester Park
Address: 181 Central Road, Worcester Park, Surrey, KT4 8DR
Rating:
6.2/10