Worlds End, Almer - pub details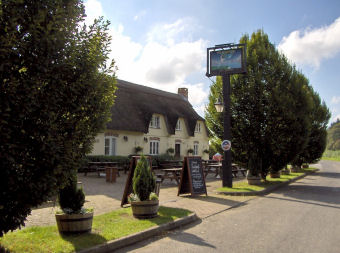 > Current user rating: 6.7/10 (rated by 22 users)
other pubs nearby:
Botany Bay Inn, Winterborne Zelston (0.9 miles)
please note - reviews on this site are purely the opinion of site visitors, so don't take them too seriously.
5 most recent reviews of 19 shown - see all reviews
First time visit. Good welcome from bar staff. On a lunchtime the service was good and the food very good. Felt the need to write something more recent.

Superb. Menus, food, drinks, service, surroundings all excellent. John and Helena.

waited at the bar for 15mins to be served only 4 people where in the pub,gave up and went to the next pub.

Stopped in here at around 4pm for a very late lunch one weekday afternoon just after Christmas. Waited 45 minutes for food to be served, despite a complete lack of other diners. Thankfully the food was, on the whole, pretty good.
Two Badger beers on offer at the bar. I tried the 'Pickled Partridge' which was very good, whilst the 'First Gold' was also available.
The interior of the pub has been revamped since I last visited several years ago, and thankfully the main bar looks a lot more welcoming as a result, even if it is now unashamedly in the gastro-pub territory its location suggests it is best suited to.
As dorsetman54 mentions, this is exactly the same sort of Hall and Woodhouse outfit as the St Peter's Finger and several other local pubs, but it's still worth a look if your focus is food rather than drink.

I write this with a mixed heart!

My Wife & I have just visited this pub, which looks extremely inviting. We arrived early (5.35pm) & although it seemed quite empty, we received no attention at all for nearly ten minutes. The barman, whom we later found to be the manager, finally came to take our drinks order. I ordered the "Pickled Partridge" Real Ale & my Wife ordered a "coke, no ice" which inevitably came with ice. We were hungry, however & ready to order our meal; a little bit of ice between friends never sank any ships!

We asked what the soup of the day was but the Manager didn't know & left to find out. "Tomato & Basil" was eventually returned, which we both ordered along with our mains of Chicken Madras & Lasagne (5.55pm). Our soup was brought out to us in record time & I mean within five minutes of placing the order! Fantastic! It was not particularly hot though & it could have done with a few more tomatoes! Because it was tepid, we managed to finish the small bowl in record time & I mean within five minutes of receiving the order!

We waited... Other people were arriving & also waiting... Other people were asking where their starters were... whilst we waited. We ended up taking our empty bowls back to the bar ourselves to find out what was happening (6.25). "Two minutes. Just being plated up now", we were told. "Ok", we said, they were getting busyish now. Two minutes went by. Another quarter of an hour went by & I found my self experiencing deja-vu, being told, "Two minutes, Chef's just plating it up". By this time, one could look around the pub & see that we were certainly not alone, however, sure enough our mains were finally delivered (6.45-6.50). The Madras was made up of three components: very watery rice, chicken & a curry sauce. As the chicken wasn't marinated or cooked in any spices before hand, it didn't take the water from the rice long to dilute the curry sauce, resulting in a flavourless dish. My Wife's lasagne was made with bland mince & the whole dish required a lot of self seasoning. Her side salad, however was crisp, fresh & tasty!

The Manageress was made aware that we had been waiting for so long between courses & came over to see if everything was alright. I only had to show her the "Madras soup" I had & she apologised profusely & went off to see the "Chef". On returning, she apologised again & informed us that she didn't expect us to pay for our mains or starters & because we hadn't had much to drink, we could have those on the house, as well.

With all the above said, they did seem to struggle when the demand increased. Would I go there for a meal knowing that I would get it all for free? No. I would prefer to pay for good food. There are many establishments out there that would easily take your money, regardless of what food they gave you. The World's End could see they were struggling & we didn't have to pay at this time. This shows me that their heart is firmly in the right place & we did drive the 13 miles specificly to dine there on word of mouth, after all. Will we be returning? Yes. It is still a fine pub with a relaxing atmosphere. I look forward to eating the good food that this restaurant should easily be capable of.

see more reviews