The Cask Marque Objective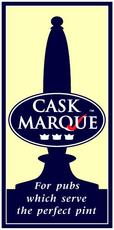 To improve the quality of cask ale at the point of dispense by awarding a nationally recognised and respected Marque to the licensee when quality standards have been met. This should achieve the following :
Provide an objective measurement of standards to help retailers and brewers improve quality and focus on training and investment more objectively.
To raise customer awareness of quality standards.
The Cask Marque Stands For:
Excellence in the service of cask ale.
Awarded to the licensee rather than to the pub.
Jointly funded by brewers and retailers.
Inspections made twice a year.
Enter a town or postcode here to find Cask Marque accredited pubs:
To find out more, visit the Cask Marque website.