Surrey pub and bar guide
Here's a guide to the pubs and bars of Surrey - good or bad, we bring you the most talked about venues and the places you have to visit at least once. We've included a few user reviews, to give you an idea of what to expect when you get there. Or you can follow the links to see full details and all reviews for each pub.
The Hope, Carshalton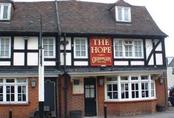 Address: 48 West St, Carshalton, Surrey, SM5 2PR
Phone: 020 8240 1255
See full pub details

Nearest train stations: Carshalton (0.2 miles), Carshalton Beeches (0.7 miles), Wallington (0.9 miles)
Reviews by BITE users:
The management do not seem to realise that my post (Aug 11) is not a criticism but a warning to potential customers that the system, however well advertised, is going to catch some people out being the only pub I have ever known where this system is used. Apparently my great sin is not going through the management first. They must be joking; it's a pub FFS, not a workplace or a school etc. They think they're running a private club and there is a sense of amateurish self-importance.
25 Sep 2016 04:00
Sleepy. I have no idea who you are. Furthermore, I do not care either.
You seem to hate this place. If that is the case, why don't you just fuck off and leave the place to the people who like it; have the brains to be able to use the massively advertised parking system; and appreciate the people who put their money up to save a below average pubs and turn it into into the amazing pub it has become.
Don't bother having a got at me; accusing me of being part of the management or being a shareholder etc., because I won't take your purple troll bait.
Long may this place prosper!
24 Sep 2016 19:58
So that's how to get all the awards, coerce the customers not to criticise the pub in anyway. 6857, do the staff wear black and strut around a bit?I think it is time to contact CAMRA at St.Albans H.Q. and let them know exactly how strong this Community feeling goes.The draconian parking fine of £100 is not in the spirit of a convivial community pub,the company Parking Eye at least is honest enough to have a name reminiscent of 1984 (George Orwell).
24 Sep 2016 12:01
The Well House Inn, Mugswell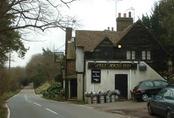 Address: Chipstead Lane, Mugswell, Coulsdon, Surrey, CR5 3SQ
Phone: 01737 830640
See full pub details

Nearest train stations: Kingswood (1.1 miles), Tadworth (1.9 miles), Chipstead (2.3 miles)
Reviews by BITE users:
Fully agree as a regular in the Well.
Why should anyone dictate (or try to) what beverages are sold, in any establishment?
McDonalds should sell kebabs? No, because they choose not to...
22 Apr 2016 22:34
Yet MORE real ale advice for Mark, the Well's owner - from Jump! Mark has decided not to bother too much about real ale, as he has in his other successful outlets; get over it and/or go elsewhere!
Regulars (increasing every week) are not bothered - and I, in there very frequently, have seen no demand. Mark's expertise and experience - in many other pubs - has allowed him to see other/better areas of potential.
Should we not just wish him well - and not continue to bombard him (and this site) with unwanted and irrelevant real ale propaganda. Particularly, as these ales are easily found elsewhere in the locality.
22 Apr 2016 09:55
Well Jump - your 'Missing a Trick' advice and real ale blackboard suggestion would seem, to some, an effort to change the owner's strategic/business choices.
Mark has got it right at the Well, something evidenced by the increased trade - without the need for any great real ale concentration.
21 Apr 2016 15:22
The Bell, Reigate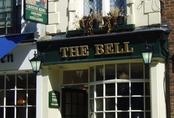 Address: 21 Bell Street, Reigate, Surrey, RH2 7AD
Phone: 01737 244438
See full pub details

Nearest train stations: Reigate (0.4 miles), Earlswood - Surrey (1.7 miles), Redhill (1.8 miles)
Reviews by BITE users:
Whichever moron is slagging off the barstaff you had better stop or you will have me to answer to.
25 Jul 2016 12:46
yeah, i work in esure up the road
staff are the problem in this pub, including ex-staff
it's all about the fireman, rugby player, all day bloke, failed actor, thigh slapper, absentee manager etc
we don't go in anymore after one barmaid told us - i need a pee...when she was texting
19 Jul 2016 21:55
A talking shop for bar staff - particularly at shift changes, which can last half an hour.
19 Jul 2016 18:13
The Running Horse, Leatherhead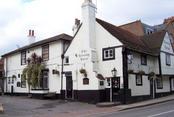 Address: 38 Bridge Street, Leatherhead, Surrey, KT22 8BZ
Phone: 01372 372081
See full pub details

Nearest train stations: Leatherhead (0.3 miles), Ashtead (2 miles), Bookham (2.5 miles)
Reviews by BITE users:
I was recently in Leatherhead on a Sunday and fancied a quick lunch time pint. Being listed in the GBG, I headed for The Running Horse. As I was not eating, I was made to feel most uncomfortable by one of the bar staff and will not be returning.
17 Jun 2016 16:36
Having eaten at the 'Horse on Tuesday evening, it's probably a mercy the kitchen isn't open when walkers will be turning up. The food was dreadful. My burger was burnt and flavourless, in the cheapest supermarket bun - more raising agent than flour. The chips were dull, dry and flavourless. The salad was OK. My brother's bangers-and-mash in onion gravy turned out to be bangers and some sort of industrial instant-mash (either potato puree or powder) in bland gungy non-onion gravy which just contained a few burnt onions and no other vegetable matter. I was not impressed. This is a good pub to drink in if you like Thatcher's Gold cider (I do!) or Shepherd Neame beers, but I really would not recommend it for its food. I shall endeavour to try the food at the Penny Black - what I saw there looked much better.
24 Apr 2016 18:19
I should add, the kitchen isn't open through the afternoon, no food to be had between 3 and 6 - short-sighted considering its walker-friendly riverside location, methinks.
12 Apr 2016 13:13
The Bulls Head, Reigate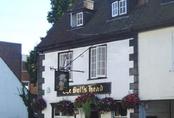 Address: 55 High St, Reigate, Surrey, RH2 9AE
Phone: 01737 277171
See full pub details

Nearest train stations: Reigate (0.4 miles), Earlswood - Surrey (1.9 miles), Redhill (2 miles)
Reviews by BITE users:
Open yesterday - and looks good. However, it has the same square footage as before. Menu looks good, and the new management seem keen and enthusiastic.
5 Mar 2016 08:36
Builders in - and first floor is being incorporated into the pub (I'm told).
Expected to reopen at the end of this month.
18 Feb 2016 10:52
Excellent news for Reigate where pub quality and standards are not good. Only marginally better than awful Redhill, where Wetherspoons sell most of the beer. Could they come to Reigate?
4 Feb 2016 18:09
The Jolly Farmers, Betchworth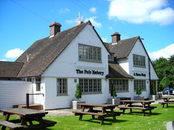 Address: Reigate Road, Buckland, Betchworth, Surrey, RH3 7BG
Phone: 01737 221355
See full pub details

Nearest train stations: Betchworth (1.3 miles), Reigate (1.7 miles), Earlswood - Surrey (3.4 miles)
Reviews by BITE users:
This pub's new name was posted on here, 7 months ago!
Business is good - as evidenced by the full/enlarged car park.
Service can be slowish, due to customer numbers sometimes.
However food and beer quality are good.
31 May 2016 09:59
Renamed The Pheasant about 18 months ago after being added to the Brunning and Price group. Impressively revamped and upgraded to a pub/restaurant with about half dozen ales on pump at the bar including Surrey Hills Shere Drop. Good range of food on the menu and cooked well so a few notches above standard pub grub therefore that bit more expensive. Couldn't fault the service. Very popular, so need to book at week-ends. Well worth a visit.
30 May 2016 23:45
Open - and if the full/new car park is anything to go by - doing extremely well.
18 Jan 2016 22:52
The Bell, Walton On The Hill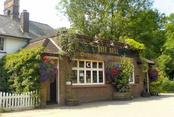 Address: Withybed Corner, Walton-on-The Hill, Tadworth, Surrey, KT20 7UJ
Phone: 01737 812132
See full pub details

Nearest train stations: Tadworth (0.4 miles), Tattenham Corner (1.5 miles), Kingswood (1.6 miles)
Reviews by BITE users:
Jeezo, must stop reading this website at work. That last post made me laugh out loud. Pissinthecupboard, you are a ledge.
I knew a bloke who lived in Walton-on-the-Hill and this was his favourite pub.
29 Jan 2016 15:44
Yh its a nice lookin pub, went there with a girl. Bla, blah in me ear all night, wants me to open the boneyard on her.
I go to check out toilet and pretend to have a leek, fella next me farts and reckons he done it out of his cock. How is that possible? Ive only gone mad at him and told him get out.
Boned missus in woods nearby instead, boshed out a chug good n proper!
29 Jan 2016 14:08
Great old fashioned pub.
Moved in locally 18 months ago and use it all the time for a quiet drink and a read of the paper with dog, along with long sessions over the weekend
Even my 19 year old son with his mates appreciates the old fashioned values and décor, along with "the Gumpy Landlord"
So come on guys and girls use it or we'll lose it, and end up with another plastic foodie pub!
Just a though has anyone noticed the newly refurbished Blue Ball has a very similar internal decoration policy I.E random photos and pictures plastered all over the walls, Methinks they are trying to copy "The Rat"
29 Jan 2016 10:23
The Blue Anchor, Reigate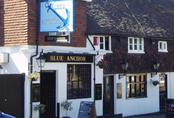 Address: West Street, Reigate, Surrey, RH2 9BL
Phone: 01737 669497
See full pub details

Nearest train stations: Reigate (0.4 miles), Earlswood - Surrey (2 miles), Redhill (2.1 miles)
Reviews by BITE users:
One of the finest beer gardens in Surrey, and excellent food.
Efficient staff and well kept beers.
Same management as the nearly Red Cross - which doesn't do food and concentrates on music and TV sport.
5 Jul 2016 12:40
Hi all just thought i'd post this, been looking round the villages for a decent pub to frequent, but why did i bother when this is on my doorstep, a proper pub, great ! Also don't have to drive, double good, cheers.
4 Jul 2016 21:44
Good food, beer taste ok most the time... Bit cold for my liking.
As everyone probably says.. Beautiful garden.
18 Sep 2014 16:45
The Grantley Arms, Wonersh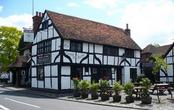 Address: The Street, Wonersh, Guildford, Surrey, GU5 0PE
Phone: 01483 893351
See full pub details

Nearest train stations: Chilworth (1.5 miles), Shalford (1.5 miles), Farncombe (2.8 miles)
Reviews by BITE users:
Just checked out the pubs `Scores on the Doors` score.
One yes just one star out of 5 for hygiene at a so called `Gastro` pub.
25 May 2016 18:12
Now know locally as The Ghastly Arms.
The way it`s been decorated is fine in anything other that a 400 year old building.
All the heart has been ripped out of a once proud olde world pub, tourists hunt out places with tradition, this now has none.
If I wanted a picture on a plate i`d hire an artist, I don`t need diet portions either.
Rant over Toddle pip
21 Feb 2016 12:59
Unbelievable, this place blasts on about it`s heritage (circa 1590) then does everything to get rid of the evidence. Gone the iconic Friary sign that`s hung outside this pub for over a hundred years.
Who ever decided to all these changes should be hung up by their `Gonads` from the nearest lamp post, knowing this village that would be Bramley.
This pub has been destroyed by some poncy idiot who wouldn`t know a village pub if it bit his privates.
15 Feb 2016 16:57
Nonsuch Inn, North Cheam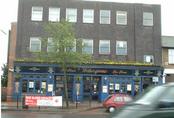 Address: London Road, North Cheam, Sutton, Surrey, SM3 9AA
Phone: 0208 644 1808
See full pub details

Nearest train stations: West Sutton (1.1 miles), Worcester Park (1.1 miles), Stoneleigh (1.2 miles)
Reviews by BITE users:
beer been ok on my visits,service good,food good.not sure why the management team haven't any common sense when dealing with nice regular customers,seems to be a your barred policy,rather than talk it through like adults.oh and are the staff aware of the wetherspoons code of conduct regarding drinking up time?seems that decent customers get barred while constant troublemakers aren't even spoken too!police incident last Thursday,wont do the pub image any good!
16 Jun 2016 16:28
Sunday lunch,where's me roast.
Lovely Guinness,cute service.
Love the camp apron,Hi Di Hi.
Friendly place,do recommend.
I WANNA BE A YELLOW COAT!!
5 Apr 2016 11:14
sorry to say the 2 beers I tried over the weekend were poor,went on the bottled beer as didn't want anymore disappointment!£2.60 for guest beers 20 odd pence dearer than other 2 Sutton spoons!
9 Mar 2016 13:36
Cobbetts, Dorking
Address: 23 West Street, Dorking, Surrey, RH4 1BY
Phone: 01306879877
See full pub details

Nearest train stations: Dorking West (0.3 miles), Dorking Deepdene (0.8 miles), Dorking (0.9 miles)
Reviews by BITE users:
Excellent beer all in top condition. Slerpy is a no-nothing gobshyte.
2 Feb 2016 13:02
I've never seen anything like seven real ales on in Cobbetts,you are clearly an idiot who counts the Key Keg shite as Real Ale,the truth is in the word keg.The place is a tiny little shop without any trade to speak of so how the ---- can the beer be any good there simply isn't the TURNOVER,if they did have seven barrels conditioning naturally the beer would be vinegary for lack of sales, Tony34081 -village idiot of Dorking .
2 Feb 2016 08:31
Popped in today to get some lovely bottles.
There were only seven fantastic beers on draught at the time. Clearly this is not enough for a connoisseur such as Slerpy.
I am sure if he looks hard enough he will find a pub in Dorking he likes. I mean somebody must sell Heineken.
29 Jan 2016 20:37
More information