Liverpool pub and bar guide
Here's a guide to the pubs and bars of Liverpool - good or bad, we bring you the most talked about venues and the places you have to visit at least once. We've included a few user reviews, to give you an idea of what to expect when you get there. Or you can follow the links to see full details and all reviews for each pub.
Peter Kavanaghs, Liverpool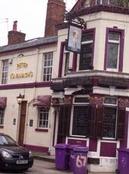 Address: 2-6 Egerton Street, Liverpool, Merseyside, L8 7LY
Phone: 0151 709 3443
See full pub details

Nearest train stations: Liverpool Central (0.8 miles), Lime Street Liverpool (1 mile), Edge Hill (1 mile)
Reviews by BITE users:
Characterful pub serving well-kept ales and with friendly service and relaxed atmosphere. A ''must visit''. 10/10.
28 Aug 2017 22:18
Great locals pub not far from Pro Cathedral. Worth a look to see the interior.
22 Jan 2017 16:32
This pub was busy but it wasn't, what i mean by this is that one of the side rooms was quite busy and the bar as well. But at least one side room was pretty quiet, I stood at the bar. 5 ales on one being Abbot Ale, I went for a pint of 'Onyx' (not sure what the brewery was, this may be incentive to go back to find out), priced at 3.20 and was very tasty. This feels a bit more of a locals pub, some of the other lads around the bar seemed a bit more 'up for it' (if you will), friendly though (one even bought me a pint). Definitely worth a visit, only thing I would say is it is worth coming here earlier on in your night as it is a bit further away from the main drinking areas of Liverpool. Don't risk getting lost or having to deal with some interesting characters on your walk back at the end of the night.
17 Dec 2016 12:40
The Baltic Fleet, Liverpool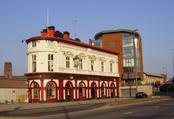 Address: 33 Wapping, Liverpool, Merseyside, L1 8DQ
Phone: 0151 709 3116
See full pub details

Nearest train stations: Brunswick (0.3 miles), James Street (0.5 miles), Liverpool Central (0.5 miles)
Reviews by BITE users:
Well worth the walk from the city centre. 6 or 7 ales and a cider on yesterday. I had Equinox IPA, a lovely citrus ale.
10 Jun 2017 15:48
A survivor from the wholesale developments along the Strand, this is an unusual wedge-shaped Victorian building. It's been a bit hipsterised inside but I won't hold that against them. An excellent Brimstage Sandpiper light, and in mid-afternoon I found a sunny place to enjoy it.
15 Apr 2017 12:56
A short walk from the city centre but that didn't seem to be deterring anyone on my visit last September. The place was pretty busy early Saturday evening. Good selection of ales, and was tempted to stay for two, but had other places to try Would definitely visit again.
27 Jan 2017 14:48
The Grapes, Liverpool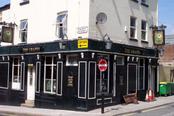 Address: 60 Roscoe Street, Liverpool, Merseyside, L1 9DW
Phone: 0151 709 8617
See full pub details

Nearest train stations: Liverpool Central (0.3 miles), Lime Street Liverpool (0.5 miles), James Street (0.8 miles)
Reviews by BITE users:
A fairly big place with a G-shaped bar with a few seating areas, most of them right in the bars vicinity. The bar itself has a bit of a weird theme, almost a bit of a tropical feel. Behind the bar they also have old beer clips. On the bar the beers when I was in were- Salopian Atonement, Binghams Vanilla Stout, Agnes by a Cornish Brewery, Habour Cornish bitter, Pithead Porter by Big Hand brewery,Hafod Sunrise, Neptune Mermaids Purse. I went for the Pithead Porter, a pretty decent beer. The bar man was friendly and the punters seemed decent. Worth a return trip and a visit to anyone who hasn't been.
21 Jun 2017 21:50
I agree that the Grapes has improved further, with the new extension. It still maintains its traditional feel, whilst simply allowing more customers. This is one of the late night establishments in this area. So it was busy when we arrived in the early hours of Saturday morning. The atmosphere was lively and bar staff were friendly and efficient. Ales were Neptune Riptide & Aegir, Salopian Bulletproof & Far Side, Hopcraft Dead Man Calling & Heavy Industry Pigeon Toed Orange Peel. They also had Seacider Medium Dry on handpull. Now possibly my third favourite pub in Liverpool after the Ship & Mitre and the Dispensary.
13 May 2017 16:48
Friendly back street pub which has survived the test of time, and a nice fire to warm me up from a chilly April night. The Bragdy Heavy Industry porter is a heavy, treacly brew that will warm you up even further. Well recommended.
15 Apr 2017 12:46
Thomas Rigby's, Liverpool
Address: 23 - 25 Dale Street, Liverpool, Merseyside, L2 2EZ
Phone: 01512363269
See full pub details

Nearest train stations: Moorfields (0.1 miles), James Street (0.2 miles), Liverpool Central (0.5 miles)
Reviews by BITE users:
Rigby's was one of 4 pubs we visited yesterday afternoon, along with the Lion, Ranelagh's Tavern and the Sanctuary. The latter two are not listed on here. It's been a while since I've been in here. But little has changed. It was packed on our Friday visit, with little space to manoeuvre in the bar area. The courtyard at the rear was also busy. However for the first time, we sat in the room at the back, where there were spare tables and where it actually feels quite quiet, compared with the rest of the pub. The ale selection wasn't the best. Okell's Bitter & IPA are the 2 regular ales. They also had Castletown Ale from Okell's and 3 other guests - Kirkstall Pale Ale, Lancaster English Pale Ale & Exit 33 Thirst Aid. With no dark beers or ciders, there was nothing particular to suit me. So I resorted to a Thistly Cross cider from a bottle. Still fails to hit the spot.
13 May 2017 16:41
Decent pub, excellent ales but needs to turn the central heating down!
25 Feb 2017 01:03
Split between the lounging/eating area and the public bar, with a large outdoor seating area, coat hangers on the bar which is a nice touch. 6 ales on, 3 from Okell's and at least one local beer, a few American craft berrs in the fridge including Firestone brewery from California which I have never seen before in the UK. I went for a pint of Okell's IPA at 3.10 that was well kept and quite nice, bar maid was friendly.  Not really a proper pub or anything, feels a bit dated but not in a scruffy way, quite interesting to look around at.  Quite a friendly bar but I don't think it's worth hanging around for more than one.  Seems to reserve tables for groups (presumably eaters) which is a shame.
17 Dec 2016 11:50
The Philharmonic, Liverpool
Address: 36 Hope St, Liverpool, Merseyside, L1 9BX
Phone: 01517072837
See full pub details

Nearest train stations: Liverpool Central (0.4 miles), Lime Street Liverpool (0.5 miles), Moorfields (0.9 miles)
Reviews by BITE users:
Seems like my experience here has been similar to most of the other reviewers (well parts of theirs are applicable to mine). I have been in here a couple of times but haven't bothered seeing as most people have talked about the main things about the place, e.g. the very nice decor in the bar and toilets. The beer selection has always been pretty decent when I have been in. It's pretty pricey and I have never had a problem with getting served but the beer in this pub seems to be kept at a very warm temperature. I had a pint of 'Musselburgh broke' by Knops and I found it to be warm. Worth a visit to see the interior of the place but I wouldn't recommend hanging around for too long as there isn't much to the place on the actual drinking front.
18 Feb 2017 13:34
Visited last September on a Saturday evening. It was very busy. A bit of a delay getting served at the bar and has been previously commented, feels a bit "dog eat dog" trying to get served. If I remember rightly the various real ale pumps are spread across the horseshoe shaped bar, which makes it a bit difficult to see what is on offer when the bar is crowded. I seem to remember a reasonable selection though, and may have included some Robinsons ales unless my memory is playing tricks on me.
Great historic interior and well worth a visit just to marvel at that. The gents are interesting too, if a little fragrant.
Would happily return. You probably stand better chance of admiring and exploring the interior during quieter times. We only managed to get a seat because someone else was leaving.
27 Jan 2017 14:56
Worth a drop by with new visitors to the city. The Organic 24 carat Gold was a nice enough pint. Service has always been crap in this place though. I managed to get served swift enough on this occasion but there were others waiting who gave up and left before getting served. Getting served at the bar is a bit dog eat dog and you need to wave notes and bark your order.
18 Dec 2016 14:36
The Dispensary, Liverpool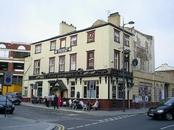 Address: 87 Renshaw Street, Liverpool, Merseyside, L1 2SP
Phone: 0151 709 2160
See full pub details

Nearest train stations: Liverpool Central (0.2 miles), Lime Street Liverpool (0.4 miles), Moorfields (0.7 miles)
Reviews by BITE users:
Dave was in usual form yesterday. With Everton winning, Liverpool losing and me and my mates having visited other hostelries in the city, he was in a typically sarcastic mood. But you have to take him with a pinch of salt. This is his boozer and his pride and joy. The pub is always packed with people that appreciate the quality of his well-kept and well-sourced ales. So it makes a decent drinking environment. Yesterday's selection was Titanic First Class & Plum Porter, George Wright Mark's Mild, Riverhead Liquorice Latte Stout, Fyne Jagnarok Imperial Jarl, Oakham Citra & Rat White Rat. Still our go to pub in Liverpool, despite the lack of a real cider for me. The dark ales generally make up for it. Still thoroughly recommended.
5 Feb 2017 18:34
Called in on my annual January trip to Liverpool. White Rat as superb as ever.
22 Jan 2017 16:29
Me and my son was the first customers for 2017. I orderd a Titanic first class, and so he asked my son what he want? I answerd: He have a taste of my glass before he decides. The landlord exploded!! Knobhead and gobshite, he called me, and never stoped yelling. I payed the beer, did not tuch it, and we went out. Its a pity for that pub with all the good beer, but a landlord from hell.
5 Jan 2017 13:20
More information