beer... pubs...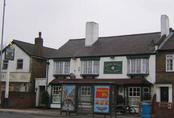 Random pub of the day for 23-9-2018:
Lucky Rover, Hook
312 Hook Road, Hook, Surrey, KT9 1NY
Latest comment about the Lucky Rover:
Finally got around to trying this pub following a visit to Chessington World of Adventures in September. There are no real ales served - just Guinness, Strongbow, Fosters, Carling, Coors Light, Kronenbourg, Heineken & Hop House Lager. It was a cold day and the fire was on. The customers all seemed to be local.
latest user comments
what you've been saying about pubs:
Name: The Fletcher Moss
Location: Didsbury

This is a beautiful, wonderful pub. The people of Didsbury are very lucky to have such a perfect local in their vicinity. ...more


Name: The Anchor Inn
Location: Tideswell

Good range of well kept ales in this very unspoilt and traditional establishment. The Sunday lunch was bloody lovely. Very nice indeed, nice to know that places like this still exist.


Name: The Grange
Location: Ealing Common

Smart. Pleasant. Competent. Good pint of Young's. Artificial flowers in small vases. All present and correct. Bit dull.


Name: Wheatsheaf
Location: Shrewsbury

Decent pub, smoking area by car park, efficient barmaid; TV was too loud. 3 ales on, I had 'Three Tuns' a decent pint.


Name: The Wheatsheaf
Location: Shrewsbury

Very friendly barmaid, on our recent visit the pub was closing the following day for refurbishment, so all 5 ales on were £2 a pint. I opted for Ringwood 'Razorback', a nice pint.

top 10 pubs
as rated by beerintheevening.com users
1
Name: The Griffin Inn - Location: Shustoke
Address: Coleshill Road, Church End, Shustoke, Birmingham, West Midlands, B46 2LB
Rating:
9.2/10
2
Name: The Rat and Ratchet - Location: Huddersfield
Address: 40, Chapel Hill, Huddersfield, West Yorkshire, HD1 3EB
Rating:
9.1/10
3
Name: The Pineapple - Location: Stockport
Address: 159 Heaton Lane, Stockport, Cheshire, SK4 1AQ
Rating:
9.0/10
4
Name: The Hare On The Hill - Location: Bristol
Address: 41 Thomas Street North, Bristol, Bristol, BS2 8LX
Rating:
8.9/10
5
Name: The Halfway House - Location: Pitney
Address: Pitney Hill, Langport, Somerset, TA10 9AB
Rating:
8.8/10
6
Name: The Guide Dog - Location: Bevois Valley
Address: 38 Earls Road, Bevois Valley, Southampton, Hampshire, SO14 6SF
Rating:
8.8/10
7
Name: The Millwright Arms - Location: Warwick
Address: 69 Coten End, Warwick, Warwickshire, CV34 4NU
Rating:
8.7/10
8
Name: The Old Fourpenny Shop Hotel - Location: Warwick
Address: 27-29, Crompton St, Warwick, Warwickshire, CV34 6HJ
Rating:
8.7/10
9
Name: The Three Moles Inn - Location: Selham
Address: Selham, Petworth, West Sussex, GU28 0PN
Rating:
8.7/10
10
Name: The Brewery Tap - Location: Liverpool
Address: 35 Stanhope Street, Liverpool, Merseyside, L8 5XJ
Rating:
8.7/10
recently added
the latest new pubs visited by the BITE team
Name: The Paul Pry - Location: Worcester
Address: 6 The Butts, Worcester, Worcestershire, WR1 3PA
Rating:
5.8/10
Name: The Talbot Inn - Location: Welshpool
Address: 16 High Street, Welshpool, Powys, SY21 7JP
Rating:
4.8/10
Name: Love and Rockets - Location: Aigburth
Address: 52 Lark Lane, Aigburth, Liverpool, Merseyside, L17 8UU
Rating:
7.0/10
Name: The Brook - Location: Worcester Park
Address: 181 Central Road, Worcester Park, Surrey, KT4 8DR
Rating:
no rating
Name: Towcester Mill Brewery Tap Room - Location: Towcester
Address: Chantry Lane, Towcester, Northamptonshire, NN12 6AD
Rating:
4.0/10
Name: Blackfriars - Location: Edinburgh
Address: 57-61 Blackfriars Street, Edinburgh, Midlothian, EH1 1NB
Rating:
4.0/10
Name: The Meridian Bier Cafe - Location: Ayr
Address: 2 Killoch Place, Ayr, Ayrshire, KA7 2EA
Rating:
5.5/10
Name: The Turks Head - Location: Leeds
Address: Turks Head Yard, Leeds, West Yorkshire, LS1 6HB
Rating:
no rating
Name: Black Swan - Location: Alnwick
Address: 26 Narrowgate, Alnwick, Northumberland, NE66 1JG
Rating:
no rating
Name: The Milk House - Location: Sissinghurst
Address: The Street, Sissinghurst, Kent, TN17 2JG
Rating:
7.0/10