beer... pubs...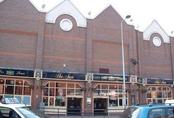 Random pub of the day for 19-3-2018:
Sun, Redhill
17-21 London Road, Redhill, Surrey, RH1 1LY
Latest comment about the Sun:
Until relatively recently, there were five pubs in the centre of Redhill - now there are two; and the Sun trades for 4 hours before its sole competitor even opens - and well after it closes! Not just a pub - it serves breakfasts, morning coffees, lunches, afternoon teas, dinner etc. And it's busy throughout the day - with locals and shoppers (a massive new Sainsbury's is just opposite). Food and beer are of good quality and the place is well run. Six nations rugby will be shown - as are other major sporting events. In this area - there is no busier pub/restaurant.
latest user comments
what you've been saying about pubs:
top 10 pubs
as rated by beerintheevening.com users
1
Name: The Griffin Inn - Location: Shustoke
Address: Coleshill Road, Church End, Shustoke, Birmingham, West Midlands, B46 2LB
Rating:
9.2/10
2
Name: The Rat and Ratchet - Location: Huddersfield
Address: 40, Chapel Hill, Huddersfield, West Yorkshire, HD1 3EB
Rating:
9.1/10
3
Name: The Pineapple - Location: Stockport
Address: 159 Heaton Lane, Stockport, Cheshire, SK4 1AQ
Rating:
9.0/10
4
Name: The Hare On The Hill - Location: Bristol
Address: 41 Thomas Street North, Bristol, Bristol, BS2 8LX
Rating:
8.9/10
5
Name: The Halfway House - Location: Pitney
Address: Pitney Hill, Langport, Somerset, TA10 9AB
Rating:
8.8/10
6
Name: The Guide Dog - Location: Bevois Valley
Address: 38 Earls Road, Bevois Valley, Southampton, Hampshire, SO14 6SF
Rating:
8.8/10
7
Name: The Millwright Arms - Location: Warwick
Address: 69 Coten End, Warwick, Warwickshire, CV34 4NU
Rating:
8.7/10
8
Name: The Old Fourpenny Shop Hotel - Location: Warwick
Address: 27-29, Crompton St, Warwick, Warwickshire, CV34 6HJ
Rating:
8.7/10
9
Name: The Three Moles Inn - Location: Selham
Address: Selham, Petworth, West Sussex, GU28 0PN
Rating:
8.7/10
10
Name: The Brewery Tap - Location: Liverpool
Address: 35 Stanhope Street, Liverpool, Merseyside, L8 5XJ
Rating:
8.7/10
recently added
the latest new pubs visited by the BITE team
Name: The Paul Pry - Location: Worcester
Address: 6 The Butts, Worcester, Worcestershire, WR1 3PA
Rating:
5.8/10
Name: The Talbot Inn - Location: Welshpool
Address: 16 High Street, Welshpool, Powys, SY21 7JP
Rating:
4.8/10
Name: Love and Rockets - Location: Aigburth
Address: 52 Lark Lane, Aigburth, Liverpool, Merseyside, L17 8UU
Rating:
no rating
Name: The Brook - Location: Worcester Park
Address: 181 Central Road, Worcester Park, Surrey, KT4 8DR
Rating:
no rating
Name: Towcester Mill Brewery Tap Room - Location: Towcester
Address: Chantry Lane, Towcester, Northamptonshire, NN12 6AD
Rating:
no rating
Name: Blackfriars - Location: Edinburgh
Address: 57-61 Blackfriars Street, Edinburgh, Midlothian, EH1 1NB
Rating:
no rating
Name: The Meridian Bier Cafe - Location: Ayr
Address: 2 Killoch Place, Ayr, Ayrshire, KA7 2EA
Rating:
no rating
Name: The Turks Head - Location: Leeds
Address: Turks Head Yard, Leeds, West Yorkshire, LS1 6HB
Rating:
no rating
Name: Black Swan - Location: Alnwick
Address: 26 Narrowgate, Alnwick, Northumberland, NE66 1JG
Rating:
no rating
Name: The Milk House - Location: Sissinghurst
Address: The Street, Sissinghurst, Kent, TN17 2JG
Rating:
no rating