Warwickshire pub and bar guide
Here's a guide to the pubs and bars of Warwickshire - good or bad, we bring you the most talked about venues and the places you have to visit at least once. We've included a few user reviews, to give you an idea of what to expect when you get there. Or you can follow the links to see full details and all reviews for each pub.
The Folly, Napton on the Hil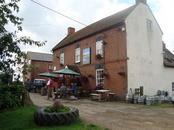 Address: Folly Lane, Napton on the Hill, Southam, Warwickshire, CV47 8NZ
Phone: 01926 815185
See full pub details
Reviews by BITE users:
Cycled from Southam for our first visit to The Folly. Checked their website before setting off and saw that they served food until 2:30pm. Arrived at 1:45pm but was told that it was too late to order food because they'd just taken 2 big orders and the chef was leaving at 2pm. So, no food and a spoiled day. Don't think we'll bother going back. Beer was an OK pint of Hook Norton Haymaker. Only HN beers in left hand bar, didn't see any guests.
13 Aug 2014 15:49
Great little find, tucked away on the canal and hidden from view. Found it on an arduous cycle ride and got stuck into the Old Rosie cider....needless to say I wobbled most of the way back to Stockton!
24 Jun 2014 16:19
Lovely spot down by the canal, the Pacific beer was really good and the old Rosie also. Would definitely go here again if camping near by
11 May 2014 07:48
Green Man, Long Itchington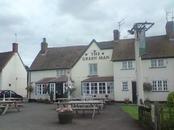 Address: Church Road, Long Itchington, Southam, Warwickshire, CV47 9PW
Phone: 01926 812208
See full pub details
Reviews by BITE users:
Tucked away in a residential part of the village of Long Itchington, this place was quiet of a Saturday lunchtime, presumably because no food is on offer. Good ales though and although these all came from the bigger national breweries, all were well kept - Black Sheep was my choice on the day. There is a excellent outdoor seating at the front of the pub to watch the world go by.
27 Jul 2014 11:24
This is a strange one. I have now visited three times, and whilst the beer is mediocre at best, the entire bar staff appears to be made up of under-age girls that are welded to their mobile phones, texting and tweeting, rather than actually doing what they are (presumably?) paid to do, and serve thirsty punters!
24 Jun 2014 16:23
Another nice village pub and not small either. Nice outside seating front and rear. Very well kept beer and more than plays its part at the beer festival :-)
5 May 2014 09:53
Buck and Bell, Long Itchington
Address: The Green, Long Itchington, Southam, Warwickshire, CV47 9PH
Phone: 01926 811177
See full pub details
Reviews by BITE users:
A smarter option in a village that is blessed with a number of Good Beer Guide pubs none of which really scale the heights. A local beer from Rugby went down well and the restoration is lovingly done if veering on the soulless. Judo from the Commonwealth Games was on the telly with none of us any wiser as to the rules.
27 Jul 2014 11:28
It all appears to have gone downhill since Adam, Katie and a few other long-standing members of the Team have left.
Not somewhere that I would go out of my way to visit anymore, sorry!
24 Jun 2014 16:16
Just Returned from another great weekend at Long itch beer festival. Always worth a trip and yet another year where i'm no disappointed. The Buck and Bell was very well organised with great and enthusiatic staff. Over the 2 day I was there the was a great selection of beer which when I have visited on other normal days has been just as good. Can't wait till next year :-)
5 May 2014 09:36
The Holly Bush, Alcester
Address: Henley St, Alcester, Warwickshire, B49 5QX
Phone: 01789 762482
See full pub details
Reviews by BITE users:
If you are not an Everards fan then the beer choice is disappointing as it is limited to the house range. Nevertheless the beer is well kept even if the atmosphere is now sadly lacking.
I have to say that I have always been amazed that the pub retained its place in the GBG given the previous owner appeared to have lost interest in the place some time ago and the beer was of dubious quality for a long time. Serving huge numbers of real ale does not make the beer good, a fact that local CAMRA members who voted this pub in the guide would do well to remember.
13 Feb 2015 12:53
Closed last month. A shame but HMRC sought a winding-up petition against Holbush Inns Ltd of which the pub owner was a director.
12 Nov 2014 14:11
Obviously popular as often packed and always queue at bar. Great if want to be in company of lots of people and can put up with the noise and crush.
15 Jan 2013 12:37
The Harvester, Long Itchington
Address: 6, The Square, Church Rd, Long Itchington, Southam, Warwickshire, CV47 9PE
Phone: 01926 812698
See full pub details
Reviews by BITE users:
I came in here just after opening one night and while the beer was fine the place was downright freezing. It was akin to drinking in someone's living room; I wasn't too impressed but a couple of hours later might have been fine.
21 Feb 2015 22:25
Might just edge out the other pubs in Long Itchington as it has a proper locals' feel and the publican family are friendly and welcoming. Also, they sell a glorious range of pickled items (as mentioned in the Good Beer Guide) and there were 3 interesting ales on tap. Not much choice for vegetarians on the food front and the dining room does look a bit old fashioned though.
27 Jul 2014 11:20
Consistently good. Great rotating Ale, and fantastic Steaks. This is the difference when you can do your own thing as a Free House, and are not tied to some God-Awful PubCo. Dont change anything - all is good here!
24 Jun 2014 16:25
The Bear, Stratford
Address: Swan's Nest Lane, Stratford, Warwickshire, CV37 7LT
Phone: 01789266804
See full pub details

Nearest train stations: Stratford-upon-avon (0.8 miles), Wilmcote (3.5 miles)
Reviews by BITE users:
Nice selection of beers - Butty Bach, HPA and Hobgoblin available, plus a Bird's Brewery Stout that I enjoyed. Friendly staff and nice atmosphere - enjoyed the visit
13 Oct 2014 21:20
The beer selection on our stay was dominated by Green King and Hook Norton although the GK offerings were not the standard ones. The House beer from North Cotswold was fine. The best by far was HPA from Wye Valley. Bar food was ok. Very busy with locals. On the Thursday night one of the bar staff seemed to be having a competition to see how many glasses she could smash in the most spectacular fashion. Both the bar and restaurant are outsourced and need to bring in hands on management.
21 Aug 2014 10:13
Service was slightly apathetic last night, 5 people behind the bar all faffing around and just one actually doing any visible serving. Fortunately, the queue to be served was virtually non-existent. Only the Bird's Nightjar and Greene King Brasilia were new to me, the others were a little mainstream (e.g. 2 from Wye Valley, Marstons EPA etc). I tried the Nightjar which was £3.30 (standard Bear price) and in very good condition.
6 Jul 2014 10:31
More information