Nottingham pub and bar guide
Here's a guide to the pubs and bars of Nottingham - good or bad, we bring you the most talked about venues and the places you have to visit at least once. We've included a few user reviews, to give you an idea of what to expect when you get there. Or you can follow the links to see full details and all reviews for each pub.
The Plough Inn, Radford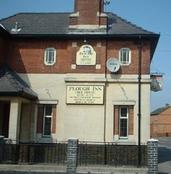 Address: 17 St. Peters Street, Nottingham, Nottinghamshire, NG7 3EN
Phone: 0115 942 2649
See full pub details

Nearest train stations: Nottingham (1.7 miles), Beeston (2.9 miles), Bulwell (3.3 miles)
Reviews by BITE users:
Visited this pub on spec on Friday. Tried a couple of pints of Rock Mild, ditto Rock Bitter, ditto Robin Hood bitter - all superb.
Liked it so much we went back on Saturday and had similar.
18 Nov 2013 13:12
Being attached to the Nottingham Brewery, this pub gets on the map more than it would otherwise do. I was very disappointed by my latest visit (the previous being a number of years ago on an organised pub tour). There's a lack of attention to detail here, a comment that is summed up by the state of the garden area. I fully expected the Nottingham Legend ale to be excellent, but it was at best average. Very disappointing all round. A real ale pub attached to its own brewery that has only 5 customers (all male) in the place between 1.30pm and 2.15pm on a Sunday lunchtime needs to have a serious look at what it has to offer.
16 Sep 2013 09:36
No blasts of steam or shrill whistles from Trainman today?
Is he chuffing away quietly in a siding somewhere?
Or hurtling along like an express, er, train?
8 Aug 2013 19:52
Ye Olde Trip to Jerusalem, Nottingham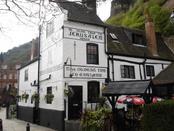 Address: 1 Brewhouse Yard, Castle Rd, Nottingham, Nottinghamshire, NG1 6AD
Phone: 0115 947 3171
See full pub details

Nearest train stations: Nottingham (0.3 miles), Beeston (3.2 miles), Netherfield (3.3 miles)
Reviews by BITE users:
Like, it seems, many people, I have no big love of Greene King and what they have done to small brewers like Hardy and Hansons who used to own this pub back in the day. Their guest beer policies are crap, with no real choice bar beers brewed by GK themselves under the names of the breweries they have f**ked over. With that in mind, I was really not looking forward to going here recently as I knew I'd have little choice and would be here for the entire night. Imagine my surprise when I found a Nottingham brewery ale on tap! I could enjoy the pub and it's great unique atmosphere and not have a bland GK beer. Yaaaay!
My 9/10 is for the uniqueness, history and feel of the pub and not necessarily for the beer (except the Nottingham one obviously).
11 Mar 2014 17:01
A must visit for anyone who likes pubs. I came once before on a saturday and it was mentally busy. Back mid week evening and it was almost empty - allowing me to investigate and yes, take photos. The beer was very good as well, which was almost a bonus. Unique.
5 Mar 2014 15:00
I came here as a teenager on a family visit years ago, and remember being intrigued by this place even back then! I promised myself as an adult, that I would come back and do the place justice. Glad to report the place hasn't changed.
Fantastic historic settings with the snugs being carved out of the rocks. They obviously forgot to plaster the walls though! (Joke) Drank Olde Trip which considering is a Greene King brew tasted great. (I'm not a massive Greene King fan.)
Got chatting with a bunch of Aussies who came over for the Ashes tournament. I ended up going on a session with them as they were great craic and chilled.
Okay, it's a tourist pub with yanks and Japanese taking photos at every opportunity, but don't let that small inconvenience put you off.
Highly recommended.
11 Jul 2013 11:59
The Salutation Inn, Nottingham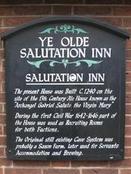 Address: Maid Marion Way, Nottingham, Nottinghamshire, NG1 6AJ
Phone: 0115 9589432
See full pub details

Nearest train stations: Nottingham (0.4 miles), Netherfield (3.2 miles), Beeston (3.3 miles)
Reviews by BITE users:
Nottingham has more than its share of interesting pubs. Somehow, I managed to enter a time warp as I entered this place. The jukebox was belting out Whitesnake. Poodle permed men had bandanas hanging out of their jeans arse pockets.
The beer looked plentiful. My 6x was wishy washy. I came, I saw, I laughed, I will not be returning.
9 Mar 2014 15:47
My second pub on my recent trip to Nottingham. Was a great find and quite handily near my hotel. A rockers pub who take care with their ales. 4 handpumps with ales on and 4 pumps with scrumpies on. Apparently it is a very old establishment - not too older than ye old trip. Drank a pint of Maid Marion which was in great condition. Had a good laugh with the regulars and bar girl. Old timber wood inside adds to the oldie world feel.
Recommended.
11 Jul 2013 11:49
As a Heavy Rock themed pub - very good. Not so good otherwise. Limited beer choice - EPA, Hobgoblin & Pedigree. Very old interior, but the two "ye olde" snugs were cold & uninviting.
13 Jun 2013 19:23
Canal House, Nottingham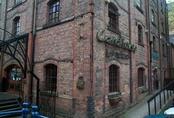 Address: 48-52 Canal Street, Nottingham, Nottinghamshire, NG1 7EH
Phone: 0115-955 5011
See full pub details

Nearest train stations: Nottingham (0.1 miles), Netherfield (3.1 miles), Beeston (3.3 miles)
Reviews by BITE users:
Short measures, appalling customer service, and crazy craft beer prices (more expensive than some craft places in London!) make this a place that I used to like going into a place that I have little desire to come back to again. Absolute toss.
11 Mar 2014 16:34
Originally a barge workshop mill which has been converted to a pub with the canal still there. A walk over the curved bridge brings you to the bar which is a Castle Rock outlet. Quirky place but myself and my Aussie pals opted to drink outside to watch the ladies and barges pass by in the evening sun.
A must see when in Nottingham!
11 Jul 2013 12:04
Unique pub with canal (& barge) in the middle. Castle Rock's full range. Plenty of room for both sitting & vertical drinking. The decor & lighting are just right, although a large bar, it does feel a lot smaller & intimate. Food fine as well.
13 Jun 2013 19:31
The Organ Grinder, Nottingham
Address: 21 Alfreton Road, Nottingham, Nottinghamshire, NG7 3JE
Phone: 0115 952 0309
See full pub details

Nearest train stations: Nottingham (1 mile), Beeston (3.3 miles), Bulwell (3.6 miles)
Reviews by BITE users:
Our first visit but it won't be our last! Good beer and a great bustling,hectic atmosphere when we went (Saturday afternoon). Not to be missed and to be enjoyed along with the other good pubs in the Canning Circus area - people of Nottingham - you are so lucky and so spoilt for great pubs and beers I envy you.
1 Dec 2013 14:30
What a fantastic pub. Great range of Blue Monkey beer son hand pump and in bottles. Roof terrace is a novel feature and the staff are more than helpful. Chapeau!!
4 Oct 2013 20:01
Nine handpumps, six of which were Blue Monkey. Very good mix of seating & vertical drinking space.
13 Jun 2013 19:16
The Fox and Crown, Basford
Address: 33 Church Street, Old Basford, Nottingham, Nottinghamshire, NG6 0GA
Phone: 0115 942 2002
See full pub details

Nearest train stations: Bulwell (1.7 miles), Nottingham (2.9 miles)
Reviews by BITE users:
Well.......
Rude staff, We ordered 2 halves, a diet coke and a coffee.
We were served our halves and coke but asked if we minded to wait a short while for the coffee, we said we did not mind. she went off and served others. THe staff have no concept of who to serve next. The beer we were served was horrible, Warm, Cloudy and just horrible taste. We had almost finsihed our drinks and still no sign of the coffee. When politly asked if it would be long as we were almost ready to leave the young lady snapped, I am on my own and serving. (Well not our problem. you took the order and money)
Not a very nice place, not very nice beer. Will not be returning.
2 Dec 2013 13:41
Shocking beer (one was warm and cloudy - both had a really unpleasant taste to them. The service was poor and as we disliked the beer so much we left rather quickly.
2 Dec 2013 09:30
This pub looked like a bit of a dump from the outside and I was wondering whether it was still the brewery tap for the Alcazar Brewery. Sure enough it us. The entrance has some nice tiling and inside, there is a traditional townhouse interior. There were 5 Alcazar beers being dispensed - Alcazar Ale, New Dawn, Vixen's Vice, Fox Tale Ale & Windjammer IPA. I plumped for the Fox Tale, which wasn't in the best of condition. Looking around, as the previous reviewer states, there weren't many people drinking the real ales. So turnover of stock could be a concern. There was a pool table in one corner and TVs were showing the Canadian F1 Grand Prix. Nearly all tables were taken on my early Sunday evening visit. So this is clearly a popular local pub where the interior belies the exterior. Worth a visit, despite the questionable beer quality.
15 Jun 2013 11:51
More information