Isle of Wight pub and bar guide
Here's a guide to the pubs and bars of Isle of Wight - good or bad, we bring you the most talked about venues and the places you have to visit at least once. We've included a few user reviews, to give you an idea of what to expect when you get there. Or you can follow the links to see full details and all reviews for each pub.
The Castle, Sandown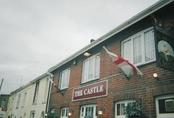 Address: 12, Fitzroy St, Sandown, Isle of Wight, PO36 8HY
Phone: 01983 403169
See full pub details

Nearest train stations: Sandown (0.4 miles), Lake (0.8 miles), Shanklin (1.9 miles)
Reviews by BITE users:
top pub,always a good selection of ales,enjoyed the triple fff elder skelter very much.love the pub dog.
30 Sep 2012 14:44
A nice pub with a range of beers on. It does not look too inviting from the outside as along a row of terraced houses and has a plastic door, but once inside the character can be seen. A pub that seems to celebrate halloween all year round with skeletons, suits of armour and weaponary on the walls. Glad we stopped by for one when heading back from the beach.
12 Jul 2012 16:41
A back street boozer that features a large l-shaped lounge and a central bar. There are large flat screen tvs on both sides of the pub. Floor is mostly carpeted and the seating which includes a couple of sofas is reasonably comfortable. There are a few unusual beers on the bar, including some local IOW beers. The pub seems mainly frequented by locals rather than tourists. The castle theme is carried on in the lounge with loads of oddments; shields, axes, suits of armour, a portcullis etc!
6 Jul 2012 11:19
The Kings Head, Yarmouth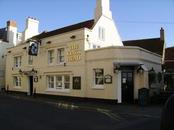 Address: Quay Street, Yarmouth, Isle of Wight, PO41 0PB
Phone: 01983 760351
See full pub details

Nearest train station: Lymington Pier (4.3 miles)
Reviews by BITE users:
Probably the best Pub in Yarmouth, and probbly the oldest, with probably the best ham and eggs to die for, but with the absolute best log fire on the island!!!
28 Dec 2012 14:26
A pleasent pub had a Yates beer on at £3 a pint.Lowenbrau was an astonishing £4.80 a pint.Our visit was spoiled somewhat by plastic tennis fans giving you funny looks for talking at the bar while the Wimbledon final was on
17 Jul 2012 23:33
A traditional pub in the centre of the town. The bar is in the centre with 2 lounges on either side. 3 real ales on the bar but a rather predictable selection. Seating includes large sofas and wooden chairs with large wooden tables. Lounge has a large stone fireplace. Food is reasonable but the main menu items are rather dear.
6 Jul 2012 10:41
The Bargemans Rest, Newport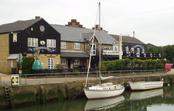 Address: Little London, Newport, Isle of Wight, PO30 5BS
Phone: 01983 525828
See full pub details
Reviews by BITE users:
We go to the Bargemans Rest quite frequently as it's very convenient if you arrive in Newport by boat. The food is good, not brilliant, but better than average for the Island. The beer varies considerably in quality, but they're happy to let you taste them first so you should find one that's to your liking. Gets very busy if you want to sit outside, and the tables and chairs outside are horrible plastic things which frankly need replacing with more stable and better quality units. Overall, it's a nice pub.
2 Oct 2012 13:35
Ales in very decent condition, only handicapped by usual IOW problem of few micro brewery offerings from across the water. Food was quite superb, both quality and quantity.
24 Aug 2012 21:22
My parents tried this pub a couple of times while on Holiday in June 2011. I can't advise on the drink, but the food was very plentiful, and they both came out of there rather stuffed. The staff were also very friendly, and helpful.
10 Jul 2011 17:12
The Ocean Deck, Sandown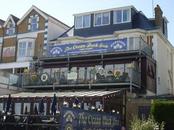 Address: Esplanade, Sandown, Isle Of Wight, PO36 8AE
Phone: 01983 403960
See full pub details

Nearest train stations: Sandown (0.6 miles), Lake (1 mile), Brading (1.9 miles)
Reviews by BITE users:
Seems mostly a food pub and although I did not eat in there the food looked good. Decent enough ales on tap and a good amount of nautical tat on all available wall space. Worth including in a pub crawl or having dinner.
12 Jul 2012 16:44
A seaside fronted pub based on 3 levels with a strong nautical theme throughout. There is an outside decking area, a conservatory level and finally the bar level. The furnishing is relatively bare and not especially comfortable. It had 3 real ales, 2 from Ringwoods. It does a good food trade and the Sunday carvery is worth a visit as it is good value and well cooked.
6 Jul 2012 11:12
call in every year,staff are very welcoming,food is top notch and beer good
27 Apr 2012 14:42
The Steamer Inn, Shanklin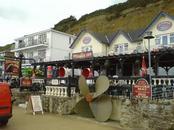 Address: 18, Esplanade, Shanklin, Isle of Wight, PO37 6BS
Phone: 01983 862641
See full pub details

Nearest train stations: Shanklin (0.5 miles), Lake (1.3 miles), Sandown (2.1 miles)
Reviews by BITE users:
very good pint of goddards in here.great views ,worth a visit.the new irish bar foleys just along the front had great guinness as well.
2 Oct 2012 14:14
Went here almost every night during my holiday and found this to be a very fine place with a terrace view that would inspire even the most pessimistic. Food is very decent, especially the Papardelle dishes, and they do have some good beers on offer, usually from one of the Isles breweries.
19 Sep 2012 18:43
Visited on a hot sunny day as always with the IOW. Fab place that we go back to and back to, mighty fine Goddard's ales on - suits me fine. Good outdoor seating area and anyting food wise from buttie through to full monty dinners.
Great place - luverley view
28 Aug 2012 19:32
The Tap, Sandown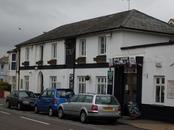 Address: 2, Avenue Rd, Sandown, Isle of Wight, PO36 8BW
Phone: 01983 405783
See full pub details

Nearest train stations: Sandown (0.6 miles), Lake (1.1 miles), Brading (1.8 miles)
Reviews by BITE users:
Spent the last Saturday of 6 Nations in here. Friendly staff & locals, chicken from takeaway down road delivered, well priced beer with plenty of special offers.
Busy sports type pub.
Best one we found in the town.
22 Mar 2013 16:02
2 bar pub,which had 2 beers on london pride and doom bar.but noted that around the top of bar around 15 different beers will be on during october.only popped in for 1 pint friday night,but band were good and golf was on in other bar,so didnt get out till 1 am.
2 Oct 2012 14:00
A very spartan bar which feels more a sports club. Bare floorboards throughout but seating is not too bad. The large lounge has 3 fruit machines, a pool table and a football machine. It also had a very large flat screen tv and a projector screen plus another screen in the other lounge area. Its only saving grace was that the beer was cheap but not of a very high quality.
6 Jul 2012 11:38
More information