East London pub and bar guide
Here's a guide to the pubs and bars of East London - good or bad, we bring you the most talked about venues and the places you have to visit at least once. We've included a few user reviews, to give you an idea of what to expect when you get there. Or you can follow the links to see full details and all reviews for each pub.
The Birkbeck Tavern, Leyton
Address: 45, Langthorne Rd, London, E11 4HL
Phone: 020 8539 2584
See full pub details

Nearest tube station: Leyton (0.3 miles)

Nearest train stations: Leytonstone High Road (0.7 miles), Maryland (0.8 miles), Leyton Midland Road (1.1 miles)
Reviews by BITE users:
The archetypal London boozer. When you approach this pub and then step inside you know you are in a classic. Wonderful high ceilings and traditional unashamed Victoriana throughout. A giant wooden dart suspended above the oche! Several ales available and friendly staff. I gather this pub is registered as an Asset of Community Value, and as somebody who has been involved in campaigning I can see how it would be that kind of pub. Very much a community boozer but outsiders such as myself were still more than welcome. This is what London pubs are all about.
4 Nov 2015 10:49
Came in here on a Monday night. No food which was a little bit disappointing but the beer was in very condition, the barman a nice bloke with good taste in music, and the other locals no bother at all.
I am very happy to be less than a ten minute walk to this place - all the other pubs in the locale are mediocre at best. Looking forward to the next visit and to trying the food.
This is what local pubs are about and why it's important to use them or lose them.
8 Jun 2015 22:41
Great backstreet boozer, with a lovely beer garden. Seemed to have a decent ale selection and they serve food, which, while I didn't eat, looked good from what I saw others eating.
Like the previous poster, I don't see this making a top-20 list in London, much less the UK, but its a great pub all the same and well worth a visit.
20 Apr 2015 12:38
The Town of Ramsgate, Wapping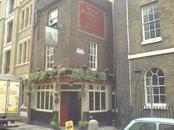 Address: 62 Wapping High Street, London, E1W 2PN
Phone: 020 7481 8000
See full pub details

Nearest tube stations: Wapping (0.3 miles), Bermondsey (0.4 miles), Rotherithe (0.5 miles)

Nearest DLR stations: Shadwell (0.7 miles), Tower Gateway (0.8 miles)

Nearest train stations: Fenchurch Street (1 mile), South Bermondsey (1 mile), London Bridge (1.1 miles)
Reviews by BITE users:
4th pub of the evening and a re-visit to this superb local.
4 pumps with 4 different ales, I went for Long Man American Pale Ale, a thoroughly decent pint.
Half busy inside with people finishing their meals, we took our pints to the back garden area that overlooks the river.
A decent pint later and it was time to move onto the Captain Kidd.
This is a cracking little pub & one of my favs in this part of London.
29 Jul 2015 13:49
Very pleasant pub with lovely beer garden enjoying the sound of the lapping Thames. The beer was good (Youngs) but over £6 for two halves is a bit steep to say the least!
18 Jun 2015 12:07
Hmmm, I really wanted to like this pub but I think it may only be fun if you are regular. Perhaps if I had stayed for quiz night things might have got better! It's got a nice unspoilt exterior, but beer, while not horrible, was nowhere near perfect. Food looked like overpriced micro ready meals - could be wrong of course! Staff, while not frosty, were not exactly engaging. Just a pub ticking over, not trying too hard. 5/10
27 Mar 2015 11:34
Turners Old Star, Wapping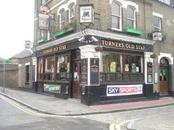 Address: 14 Watts Street, London, E1W 2QG
Phone: 02074811343
See full pub details

Nearest tube stations: Wapping (0.2 miles), Rotherhithe (0.5 miles), Rotherithe (0.5 miles)

Nearest DLR stations: Shadwell (0.5 miles), Tower Gateway (0.8 miles)

Nearest train stations: Fenchurch Street (1 mile), Limehouse (1 mile), South Bermondsey (1.1 miles)
Reviews by BITE users:
I'll be frank - didn't look too promising from the outside and first impression when entering wasn't great. My first impressions were wrong. Basic boozer but very friendly and welcoming. Barlady couldn't have been more friendly. Nice change from some of the busier, better know pubs on the river.
1 Aug 2015 09:12
3rd pub of the evening and yet another new pub for me in Wapping.
3 pumps with 2 ales and 1 cider, I went for Elgoods Old Star Special @ 3.8%, a decent pint brewed for the pub.
Amazing tiled windows here that add real character to the pub. The garden is a nice little sun trap aswell.
All punters on my visit were locals & it was less than half busy with several of the chaps playing pool.
Quite a decent pub, another one that has avoided too much modernisation.
24 Jul 2015 17:10
Very friendly traditional boozer. We walked in when there was a Wake on but everyone was very accommodating and the Landlady was very chatty. A nice break from the food driven Prospect & Captain Kidd and has a proper locals feel to it with some interesting (but non-threatening) old school East End characters. Well worth a visit if in the area.
8 Apr 2015 09:37
The Captain Kidd, Wapping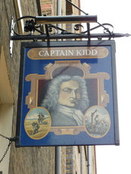 Address: 108 Wapping High Street, Wapping, London, E1W 2NE
Phone: 020 7480 5759
See full pub details

Nearest tube stations: Wapping (0.2 miles), Rotherhithe (0.4 miles), Rotherithe (0.4 miles)

Nearest DLR stations: Shadwell (0.7 miles), Tower Gateway (0.9 miles)

Nearest train stations: South Bermondsey (1 mile), Fenchurch Street (1 mile), Limehouse (1.2 miles)
Reviews by BITE users:
5th and final pub of my short crawl of Wapping and we decided to finish it here in this quality Samuel Smiths pub
Around 9pm when we arrive and it's busy inside and out.
A full compliment of Sam Smiths ales and lagers on tap and in the fridges. I had several pints of Best and treated myself to a £12.00 bottle of Yorkshire Stingo. A beer that is limited edition and in my eyes was worth the money…it was handsome.
Only one barmaid one at the time of my visit but she was very competent and speedy.
Drinks purchased we took a seat in the nice outside area and soaked up the atmosphere.
Historic pub with plenty of history and in a great location.
My review this time is much better than from my last visit when it was winter and the pub felt incredibly dark inside…in the summer it's a cracker and a must visit along with the Town of Ramsgate.
29 Jul 2015 13:57
Situated in former warehouses this riverside pub is roughly 2-3 minute from Wapping station. The pub itself is on 3 floors - the top floor being a function room. The interior is very traditional which you'd expect from Sam Smith's boozers with great views of London and the Thames from the beer garden and other parts of the pub.
The 1st floor is the restaurant area with typical S Smiths fayre being served. The food was good and fairly priced, nothing out of the ordinary it has to be said. Again, the beer is OBB, Alpine Lager etc, exactly the same as you get from other Sam Smith's outlets. The atmosphere in the pub was relaxed and suitable for families if visiting in the daytime.
This was an enjoyable visit, the staff were friendly with the pub having a welcoming feel to it. It's worth a visit to The Captain Kidd if you're in the vicinity.
2 Jul 2015 19:12
Second time I've had a bad experience here in the last 3 months. The staff clearly don't know what they're doing and a couple had a seriously bad attitude. A pleasant pub but has a desperate air of misery once you walk in. The terrace is pleasant but I wouldn't return until the shambles behind the bar get their act together.
8 Apr 2015 09:32
Tap East, Stratford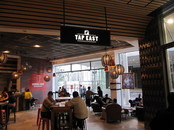 Address: 7 International Square, Stratford, E20 1EE
Phone: 02085554467
See full pub details

Nearest tube stations: Stratford (0.2 miles), Hackney Wick (0.9 miles), Leyton (0.9 miles)

Nearest DLR stations: Stratford (0.2 miles), Pudding Mill Lane (0.8 miles)

Nearest train stations: Maryland (0.6 miles), Hackney Wick (0.9 miles), West Ham (1.3 miles)
Reviews by BITE users:
Ten out of ten, obviously, for the stunning range of beers available, but only one or two out of ten for the experience of drinking in a corner carved out of a massive shopping centre. Not cheap, either.
5 Aug 2015 12:00
Never had a bad pint here though it is somewhere that you go while waiting for the other half to finish shopping or changing trains rather than a destination bar in it's own right.
12 Apr 2015 10:13
This is unusual - a craft beer bar and microbrewery tucked away in a corner of a vast shopping centre - the only one in the UK according to the GBG. There are six handpumps, three of which were dispensing beers from their own brewery (visible behind glass next to the bar). I tried their IPA which was good. There are also ten taps serving beers from around the world.
I wouldn't make a special journey to this place, but if you happen to be in the area, it's worth popping in.
1 Apr 2015 23:31
The Coborn Arms, Bow
Address: 8 Coborn Road, London, E3 2DA
Phone: 020 8980 3793
See full pub details

Nearest tube stations: Mile End (0.2 miles), Bow Road (0.3 miles), Stepney Green (0.8 miles)

Nearest DLR stations: Bow Church (0.5 miles), Devons Road (0.7 miles), Pudding Mill Lane (0.9 miles)

Nearest train stations: Limehouse (1.2 miles), Hackney Wick (1.3 miles), Cambridge Heath (1.3 miles)
Reviews by BITE users:
Well I havent left a review in 5 years. But going to the Coburn today compelled me to resurrect my account. Its the first time ive been since the refurb. Im by no means a regular; I work nearby but usually visit once a month with colleagues for a good booze up. We Always loved the genuine honest feel to the place and its why we always went here rather than the Morgan.
But that character and charm have been gutted along with the old furniture. I couldnt put it better than the reviewer below - it looks like a bloody tea rooms where old women eat cake. I dont know if the place was struggling but it always seemed pretty busy to me. If it where my regular local i'd feel quite betrayed that the pub had comletely changed identity in order to find a better class of customer. Only had the one, it wasnt particularly nice. I think I'll be using The Little Driver or BowBells in future.
15 Apr 2015 20:38
Alistair - Bummer news about my old haunt. I believe I was the first to post on this site years ago about how much I really liked it. At that time, my old gf lived at the Wellington Bldgs, so I was always here. It was a proper 'hood boozer with really good food. Glad I was there back in the day. Cheers. Joe USA
9 Apr 2015 17:33
The refurb is absolutely awful!
The inside now looks like a little old ladies' Team Rooms in the Cotswolds. I'm not a dinosaur and understand that pubs have to adapt with the times and that pubs rarely survive in residential areas just on wet trade. However what was once a pleasant proper East End boozer with bags of character has now become a ladies that lunch / crèche play area.
East London pub culture really is being slowly eroded away. There is almost no middle ground boozers anymore - it's either sanitised £12.50 for a Burger places or ghetto dives where, unless you're a local face, you wouldn't be comfortable in. The Coborn was a decent middle ground but, alas, no more.
Avoid and go to The Tredegar around the corner which has been tastefully and subtly refurbished, unlike this horror show.
9 Apr 2015 16:00
More information