Derbyshire pub and bar guide
Here's a guide to the pubs and bars of Derbyshire - good or bad, we bring you the most talked about venues and the places you have to visit at least once. We've included a few user reviews, to give you an idea of what to expect when you get there. Or you can follow the links to see full details and all reviews for each pub.
The Alexandra Hotel, Derby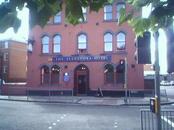 Address: 203 Siddals Road, Derby, Derbyshire, DE1 2QE
Phone: 01332 293 993
See full pub details

Nearest train stations: Derby (0.2 miles), Peartree (1.6 miles), Spondon (2.7 miles)
Reviews by BITE users:
Not a lot has changed here since my last visit, but just thought I'd mention that as well as discount for CAMRA members, they also let you use your Wetherspoons vouchers fror 50p off a pint of any Castle Rock beer. Having said that I actually had the Windswept Blonde - which was excellent.
12 Oct 2014 23:47
Went here after The Brunswick. Seems like a nice pub though prefer The Brunswick. Less choice of Ale here than next door too. The ales are in good condition though.
12 Aug 2014 20:42
Pretty amazing pub. Starting off with the beer, there were about 8 on tap, 4 from Castle Rock (I had the Presentation), and 4 guests (including Titanic Mild). Also a range of bottles behinf the bar - usefully sorted by type - though I couldn't see any comprehensive list.
Food appears to be limited to large cobs and scotch eggs (yuck !), but I didn't eat here.
Huge range of railway memorabilia mostly on the walls, but with an enormous digital clock hanging from the ceiling (actually working). Small drinking / smoking area out the back complete with cab of class 37 diesel locomotive !
26 Jul 2014 23:57
The Globe Hotel, Glossop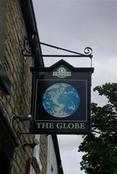 Address: 144 High Street West, Glossop, Derbyshire, SK13 8HJ
Phone: 01457 852417
See full pub details

Nearest train stations: Glossop (0.4 miles), Hadfield (1.4 miles), Dinting (1.4 miles)
Reviews by BITE users:
Quite enjoy going here food is good tastes like authentic Indian curry to me!! I like the cider as well I am not a beer drinker so cannot comment on the quality of the beer. The bar staff are friendly and the place looks cosy and its atmosphere on the whole is fairly easy going i like the fact there is not a big telly vision set like some places have and you can get on and have a chat. I like the Irish night on Monday night. All in all if you fancy a nice bit of veggie nosh and a relaxing dring this is the place to go!
23 Sep 2014 19:49
I'm independent and not a real ale drinker and just do lager/cider so please do not accuse me of having a vendetta. My friends who drink real ale said it was possibly the worst beer they have tasted and forced little old me to try,well to be quite frank I couldde where they were coming from. Was this beer made from all the peelings from the vegetables that you use to make the food? On a brighter note my cider was ok.
23 Aug 2014 20:51
Called-in here this evening and enjoyed a pint of Sunset - a full-bodied, ruby red ale. Also enjoyed a pint of the pale Blondie. Both soaked-up by the ever-good chcik pea and spinach curry with fried rice. As usual service was efficient and friendly. 10/10.
25 Jun 2014 22:35
The Hollybush Inn, Makeney
Address: Holly Bush Lane, Makeney, Belper, Derbyshire, DE56 0RX
Phone: 01332 841729
See full pub details

Nearest train stations: Duffield (0.8 miles), Belper (1.9 miles)
Reviews by BITE users:
I USED to be a big fan of the Holly Bush, but on a recent visit (last Thursday 28 August) although there was a good selection of beers available, the Brampton Star of India IPA was not particularly outstanding.
But what completely p*ssed me off was being served cheese and onion rolls that according to the label had been made TWO DAYS earlier. OK, I did receive a full refund when I returned them unopened, but I certainly won't be returning in a hurry.
If a pub cannot be bothered to serve freshly prepared food and instead tries to foist what I consider to be stale produce on it customers, one has to wonder about what other corners the management is cutting ….
2 Sep 2014 05:08
Wish they had this sort of pub around Manchester.easily the best pub Ive been too,and Ive been in many
15 Aug 2014 12:29
I think this might be my favourite pub ever.
Great selection of ales, including Pedigree straight from the jug and fresh as you can get. Good team of staff keeping everybody served quickly despite it being busy.
The garden is a lovely place to sit out and enjoy the sunshine, or you can perch on the wall out front and admire the prettiness of the village.
The food is snack and very home made, including pies and cheeses.
Pub heaven 10/10.
17 May 2014 12:22
Market Hotel, Heanor
Address: Market Place, Heanor, Derbyshire, DE75 7AA
Phone: 01773769768
See full pub details

Nearest train station: Langley Mill (1.1 miles)
Reviews by BITE users:
visited last night with a mate. Pint of Carling and Hardy and Hanson Cool £4.70. Also enjoyed a couple of Copper Dragon beers at only £2.30 a pint, both well kept. Went for the limited edition one which was a pale ale, other was Copper Dragon best bitter. Jukebox does now have a good range of music
17 Sep 2014 11:34
Cheap enough pint of Carling but what's with the jukebox just having 1960's music on it?
11 Jul 2014 11:24
standard town centre pub, cheap well kept ale around £2.30 a pint from the Greene King range. Ok to pop for a couple mid week or early on, gets full of rowdy teens on a friday/saturday night
11 Apr 2014 12:08
Mr Grundys Tavern, Derby
Address: Ashbourne Road, Derby, Derbyshire, DE22 3AD
Phone: 01332340279
See full pub details

Nearest train stations: Derby (1.4 miles), Peartree (2.4 miles), Spondon (4 miles)
Reviews by BITE users:
First impressions here weren't good. There was loud music playing when I entered. But on getting to the bar the noise had subsided. For some reason the speakers are right over the entrance doorway ! [ But music was still not really necessary ]
Once ensconsed at the bar though, you are amid a plethora of paraphernalia. Beermats plastering the bar, t-shirts hanging from the ceiling, along with dried hops and a collection of hats. There is even a red phone box – which appears to be in working order.
7 or 8 beers on tap, including 3 (possibly more) of their own brewery beers. I tried the Bullet, which was a darkish beer. It was OK, but by no means the best I tried that day.
There was a board advertising a limited range of food – which appeared to be somewhat expensive. I'm not sure if this was the full menu though.
7/10 – just lacking a certain something
7 Sep 2014 23:46
Actually a hotel with pub part accessed from side entrance. Lots of wood paneling, covered with film pictures (mostly old) with what little wall space remaining taken by pubby artefacts. Old red phone box in one corner. Food being served at tables when we arrived, which smelt OK. The barmaid was very friendly & helpful, offering us a three thirds taster of their home brews for £3.20. Sadly, none tasted great to us, a comment other BITE reviewers have made, to my palate an odd antiseptic flavour to a couple of them. There were other offerings on at the bar which we didn't try. If this place could improve its beer we'd gladly return, but Derby's no place to be so-so on that front.
21 Aug 2014 19:18
Lovely pub. Lots of bric a brac in here well worth a visit but the beer is not to my taste. Try a pedigree. Beer garden probably the best in Derby
12 Aug 2014 20:55
Red Lion, Heanor
Address: 2 Derby Road, Heanor, Derbyshire, DE75 7QG
Phone: 01773533767
See full pub details

Nearest train station: Langley Mill (1.3 miles)
Reviews by BITE users:
Popped in saturday just gone, although this place is a dive the quality of beer and the service is better than most. 2 Milestone ales on and an ale from some place in Barnsley, can't remember what the brewery was but they were all decent. Also witnessed a comical moment where some elderly guy tried to take a walking stick that wasn't his - luckily it didn't turn too nasty.
5 Aug 2014 15:48
another extract from my Wetherblog
"entering the pub seemed to be a bit of a timewarp. I have been to over 100 Spoons branches, but never come across one like this. It reminded me very much of a basic boozer from the 1970s. Bare walls, stained wooden panelling, chairs & tables, and a dart board. Some of the clientele looked like they'd been there since the 70s as well ! Anyway, anyone who hasn't been to this branch is recommended to go soon. I can't see it lasting much longer without being either compeletely refurbished, or sold off."
11 Jul 2014 00:52
cheap, well kept ales. standard slow spoons service. bit of a dive could do with refurbishment. 7/10 score is purely or decent ale
11 Apr 2014 12:14
More information