Derby pub and bar guide
Here's a guide to the pubs and bars of Derby - good or bad, we bring you the most talked about venues and the places you have to visit at least once. We've included a few user reviews, to give you an idea of what to expect when you get there. Or you can follow the links to see full details and all reviews for each pub.
Last Post, Derby
Address: 1 Uttoxeter Old Road, Derby, Derbyshire, DE1 1GA
See full pub details

Nearest train stations: Derby (1.4 miles), Peartree (2.3 miles), Spondon (4 miles)
Reviews by BITE users:
Lovely little micropub, with great ales changing all the time. Great atmosphere, great service, well worth a visit or 2 or 3 .....
6 Oct 2015 15:08
This is a small but quaint pub that stands out from the others in the vicinity and offers a warm welcome along with a good selection of ales and other refreshments.
It has certainly become my personal favourite over the past 6 months and it is exactly what the area has needed and continues to grow in popularity.
5 Oct 2015 07:39
Perfectly compact traditional local pub.
Friendly atmosphere that makes everyone feel comfortable, including a couple of females together meeting after work ( which often isn't the case)
Homely decor and great selection of beers and ciders.as a cider drinker it's great to always have a guest drink.
A previous reviewer mentioned that the beers has run out. I doubt this but but if it is because the beers are managed/ left to settle well and the pub is a victim of it own success and must have been exceedingly busy.
The landlady and landlord welcoming , polite,sociable and constantly checking and clearing tables that I frequently happens in most pubs.
Nice selection of snacks including the most amazing homemade pork pies with pickles , but be warmed unless you greedy / very hungry you struggle to finish it.
There are several pubs within a short difference but this is definitely worth a visit. I'd certainly become a regular if I had the time .
4 Oct 2015 19:30
The Rowditch Inn, Derby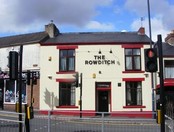 Address: 246 Uttoxeter New Road, Derby, Derbyshire, DE22 3LL
See full pub details

Nearest train stations: Derby (1.3 miles), Peartree (1.8 miles), Spondon (4 miles)
Reviews by BITE users:
Good pub, cheap, good beer, good staff. Unfortunately doesn't do food, but there is a good curry place next door.
29 Nov 2015 16:54
In my view one of the best pubs in Derby. Beer is always first class, bar staff are friendly and the guest beer is always interesting. Mostly patronised by locals it can be busy at weekends but is a good venue for a quiet weekday pint.
25 Nov 2015 20:54
Well, I've heard of "quiet pubs" but this is ridiculous ! The place wasn't empty by any means, with about half a dozen other customers, but it was so quiet you could hear a pin drop ! [ Or in my case, my tinnitus ] An old fashioned down at heel kind of boozer. Brews its own beer, which was really the only reason for my visit. There were only 3 beers available from 5 pumps, and only one was their own beer. This was St Andrews Ale – a boring golden ale.
6/10 – not as good as CAMRA seem to think it is !
16 Sep 2015 22:32
The Exeter Arms, Derby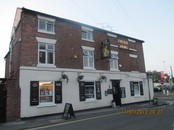 Address: Exeter Place, Derby, Derbyshire, DE1 2EU
Phone: 01332 346679
See full pub details

Nearest train stations: Derby (0.7 miles), Peartree (2 miles), Spondon (3.1 miles)
Reviews by BITE users:
Too much of a pretentious eatery for my taste. Given the high prices they charge, they shouldn't be dispensing short pints and the staff need watching in this respect.
20 Oct 2015 20:57
Fantastic pub in central Derby with a great choice of Dancing Duck beers (& guests). I didn't eat when I visited but a friend tells me the food is very good too. The pub is divided into lots of little snugs and has bags of character and charm. The only problem we had was that it was a glorious summer evening and the beer garden gets no sun at all in the evening.
14 Aug 2015 14:29
Agree with comments that this is a slightly more upmarket pub than many others in Derby. It features Dancing Duck ales - Ay Up, Dark Drake & Abduction, in addition to Marstons Pedigree & Saltaire South Island Ale. Cider was Gwynt y Ddraig Farmhouse Scrumpy. The interior felt dark and there is a focus on eating. We chose to sit in a pleasant outdoor area. Service was efficient, with plenty of staff on hand.
14 Jun 2015 10:16
The Smithfield, Derby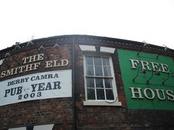 Address: Meadow Road, Derby, Derbyshire, DE1 2BH
Phone: 01332 370429
See full pub details

Nearest train stations: Derby (0.5 miles), Peartree (1.9 miles), Spondon (2.9 miles)
Reviews by BITE users:
I'm afraid to say this place is definitely going downhill. The last few visits have seen the same four beers available, and the place is getting a down at heel appearance. Furthermore THEY HAVE STOPPED DOING CAMRA DISCOUNT in revenge for being left out of the latest GBG. Not sure what has replaced them, but they definitely weren't the worst in the previous (2015) guide. [ See Rowditch ! ]
6/10 – they need a kick up the b**kside !
29 Sep 2015 22:46
Not as good an ale range as the Brunswick or the Alexandra. But this was still a nice pub in a location next to the river Derwent and a bus garage. It was reasonably quiet. Locals were friendly. Some were partaking in meals. Ales were Enville Ginger, Derby The Smithy, Whim Arbor Light, Oakham Bishop's Farewell & Bass. Cider was Black Dragon. Worth a swift detour, if you can find it in what is a confusing network of roads and paths through parkland with the river to traverse somewhere in between!
14 Jun 2015 10:10
When I last went in here 5 or so years ago it had down at heel old world charm, in a scruffy sort of way. This time it is done up, music too loud and not even what I call proper music. I had Smithy from Derby brewing company and something from Whim Ales, I think Arbour light or something. Both we're very good. Only 610.
13 Feb 2015 19:58
The Brewery Tap, Derby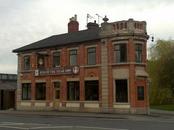 Address: 1 Derwent Street, Derby, Derbyshire, DE1 2ED
Phone: 01332200074
See full pub details

Nearest train stations: Derby (0.7 miles), Peartree (2 miles), Spondon (3.1 miles)
Reviews by BITE users:
Amazing range of beers, I was on the real ale which was also good. The tap has more of a "bar" than "pub" feel to it but is still good. The downside is the beer garden which is small, dark and a bit grotty.
14 Aug 2015 14:35
Similar to the nearby Exeter Arms, the Tap is now a little upmarket. It is the brewery tap for the Derby Brewery. Ales on from them were Little Belter, Navigation, Dashingly Dark, Business As Usual, On Tap & Hop Til You Drop. Guests were Titanic Lifeboat, Timothy Taylor Landlord, Goffs Camelot & Navigation Mayflower. One of only 2 pubs we visited in Derby without a real cider. Sat in a covered courtyard at the side. But you will get traffic noise from the main road here. Expensive, but decent pub.
14 Jun 2015 10:20
Used to be called the Royal Standard. A bit trendy for my liking but good atmosphere and good beer. Has an expensive reputation but I had Hop till you drop or something, at 2.90 a pint.
23 Feb 2015 20:42
The Peacock Inn, Derby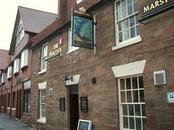 Address: Nottingham Road, Derby, Derbyshire, DE1 3QS
Phone: 01332 340712
See full pub details

Nearest train stations: Derby (0.7 miles), Peartree (2.1 miles), Spondon (3.1 miles)
Reviews by BITE users:
Supposedly a Marstons pub, but far removed from their typical offering. A long low stone-built building, looking a bit incongruous in a brick terrace. Inside there are two bars at two levels, the front one at road level, and the other side behind lower down. Lots of photos etc on the wall relating to old Derby – and particularly Derby County FC.
There were 7 beers available on handpump, mostly from small local breweries, but also Marstons Pedigree. There was also a handwritten notice saying you could have Bass from the jug (it wasn't available on draught). I tried the Hartshorn Revolution, which was very nice.
I cant remember anything about food, but did notice they were advertising live music every weekend.
Main drawback was the lack of other people ! I was the only person in the front bar, though there were a couple of others in the back.
7/10 – I'll be back – hopefully when a few more customers are present !
5 Jul 2015 21:50
I used this pub 7 days each week because they were selling oakham bishops farewell, Due to a faulty batch they stop selling it, I drink elsewhere now
4 Jul 2015 18:50
The Marstons sign on the outside didn't fill us with optimism. But once inside, you realise that this is far more than just a basic Marstons pub. Pedigree was the only Marstons beer. Others were an excellent range of guests - Hartshorns Ignite & Shakademus, Whim Hartington IPA, Burton Bridge Top Dog Stout, Ossett Citra & Fernandes Challenger. Cider was Westons Single Orchard. Service was with a smile and the locals were friendly too. Plenty to like about this pub. If only all Marstons pubs were like this.
14 Jun 2015 10:13
The Greyhound, Derby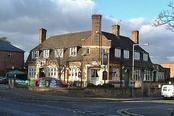 Address: Village Street, Derby, Derbyshire, DE23 8DE
Phone: 01332 273637
See full pub details

Nearest train stations: Peartree (0.8 miles), Derby (1.7 miles), Spondon (3.8 miles)
Reviews by BITE users:
this place is about to be turned into a mosque or Islamic education centre.
14 Oct 2015 14:35
Forgot to say they've just been awarded 5 stars from EHO. It was no surprise to me.
16 Jun 2015 20:16
This pub is now under new management as from March & can I say what a difference it has made. The new landlady is doing a superb job at turning this pub back into the excellent hostelry it once was. Food started at Easter and was immediately a big hit with the superb culinary skills of Chef Karen. It has a great menu at really good prices. Friday & Saturday nights have a great atmosphere with disco/karaoke. The function room is fantastic for any occasion, & the pub is large enough to cater for two parties at the same time if necessary. The pub has a pool table, dartboard and a really nice beer garden if you want to soak up some rays while enjoying a nice cool drink. The pub also has 3 large screen TV's for showing of popular events, such as England football matches. If you're looking to join a team for pool, darts, crib, dominoes or anything else just have a word with a member of staff to find out what is available.
16 Jun 2015 20:11
Castle and Falcon, Derby
Address: East Street, Derby, Derbyshire, DE1 2AU
Phone: 01332369869
See full pub details

Nearest train stations: Derby (0.6 miles), Peartree (1.8 miles), Spondon (3.1 miles)
Reviews by BITE users:
@staceyfare87
I've only been coming in the castle for the past year or so it may be a dive but most of the pubs in that area are too. But the staff are certainly not rude or obnoxious far from it!! And it's definitely not a DLF pub you should try the Neptune then you'll know about DLF
Staff are great the prices very good and the beer is spot on 10/10
2 Feb 2016 19:47
The place is a dive and the staff are rude and obnoxious and their regulars are intimidating if you support a certain rival team don't go in there at all costs if you value your life as one other person said home to the Imfamous DLF Derby hooligans DO NOT GO IN!!!!!!
6 Jan 2016 19:20
Having read about this on BITE, I was dreading visiting. In the end, I was disappointed – it wasn't nearly as bad as I expected ! Yes the place is a dive, with the worst kind of 1970s architecture, and the only beer available is pisswater, but the atmosphere wasn't intimidating at all And at least this time we didn't have any problems getting served with halves (see Merry Widows). There were a couple of blokes playing pool, a few people watching the sports TV, and a juke box playing some music , but not overloud.
22 Nov 2015 23:12
More information