Cheshire pub and bar guide
Here's a guide to the pubs and bars of Cheshire - good or bad, we bring you the most talked about venues and the places you have to visit at least once. We've included a few user reviews, to give you an idea of what to expect when you get there. Or you can follow the links to see full details and all reviews for each pub.
Hops, Crewe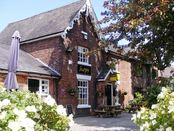 Address: 8-10 Prince Albert Street, Crewe, Cheshire, CW1 2DF
Phone: 01270 211 100
See full pub details

Nearest train stations: Crewe (0.6 miles), Nantwich (4.3 miles)
Reviews by BITE users:
I really liked this place and would say it's the best pub in crewe (which isn't hard). Anyway great range of beers and bottles but the chubby girl behind the bar is surly and has zero personality. She threw the pack of crisps on the bar towards my girlfriend and didn't thank us for taking the glasses back. Send this wiman to charm school or replace her with a traffic cone.
7 Sep 2015 12:45
I was in here last month and what a lovely unusual surprise. Very welcoming staff, lovely laid back atmosphere, good beer, and very good selection.
31 Mar 2015 18:05
Vying with the Borough for range of continental beer, but seems a bit cheaper. Not at all a traditional pub, quite reminiscent of bars I've visited in Belgium (hello Brugse Biert'je). Not been full when I've been in but seems well frequented. A beacon in the dross that are most of the pubs in Crewe
31 Mar 2015 14:59
The Brewery Tap, Chester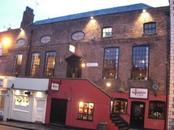 Address: 52-54 Lower Bridge Street, Chester, Cheshire, CH1 1RU
Phone: 01244340999
See full pub details

Nearest train stations: Chester (0.9 miles), Bache (1.7 miles)
Reviews by BITE users:
As many others have said, a beautiful building converted into an unusual pub. Whitewashed, bright and airy, it was was lovely and cool on a blistering day. Eight real ales on offer, all knowledgeably described by the enthusiastic barmaid. Spitting Feathers dark Velvet mild was a fine choice. Imaginative, reasonably priced menu (grilled mackerel was lip-smacking). A very pleasurable experience.
15 May 2015 17:35
Great place. Reached from the street by a set of steps, the large room has stone floor, very high ceilings, and a fantastic atmosphere.
Some of the best ale we discovered in town. Really well kept, and good quality.
Bar staff very friendly and helpful.
24 Jan 2015 03:28
Far and away the best pub we found in Chester.
A good 7 hand pulled pints. Of course, I had never heard of any of them. Staffed gave recommendations and a decent pint of Smoked Autumn was had.
But it's the building you really want to go in for. How often do you get to drink in a mediaeval banqueting hall? Superb.
8 Dec 2014 17:13
The Old Harkers Arms, Chester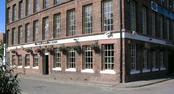 Address: 1, Russell St, Chester, Cheshire, CH1 5AL
Phone: 01244 344525
See full pub details

Nearest train stations: Chester (0.3 miles), Bache (1.3 miles)
Reviews by BITE users:
This lovely old building in it's canal side location houses then very good Old Harkers Arms.
Our 2nd pub after the Cellar Bar and even though it's busy it's nowhere near as packed as the Cellar was.
Large inside with the bar directly in front of you as you enter and 2 large seating areas on either side.
On the bar are 9 hand pumps with 9 different ales on. With all this choice I opted for a few pints of Weetwood's Cheshire Cat @ 4.0% which were very good. There are a number of real ciders available from direct in the cellar as well as a selection of decent lagers. Quick service from the many bar staff every time I went to the bar.
Loads of pictures on the walls of many different subjects, including several of the local area.
We stayed for a couple of hours, the atmosphere in the pub was really good with a good mix of punters.
Food available but I only saw desserts being served.
Good location, Lovely building & a cracking pub.
26 Oct 2015 14:15
This clean and tidy canal-side pub features the cliche of some book-lined walls but others bore an eclectic pictorial mix of sportsmen, birds, old adverts, cartoon, bygone actresses and buildings of interest. I had the Brunning and Price Bitter, which was perfectly serviceable and the Brimstone Rhode Island, which was not so much to my taste. The latter was not fault of the attentive barman who had offered me a sample of these and the four other real ales on offer. Didn't eat but the food looked interesting if, like the beer, pricey. Clearly part of a chain, but a superior chain - Brunning and Price is no JDW.
15 May 2015 15:37
Nice canal side pub, with a traditional feel.
Good selection of ales (see blackboards for beers and notes). Food here was good, with efficient pleasant service.
24 Jan 2015 03:36
The Magnet, Stockport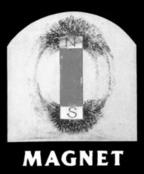 Address: Wellington Road North, Stockport, Cheshire, SK4 1HJ
Phone: 01614803098
See full pub details

Nearest train stations: Stockport (0.5 miles), Heaton Chapel (1.2 miles), Reddish North (1.6 miles)
Reviews by BITE users:
More classic 'public' and 'lounge' style than on last visit. Plenty of ales on in good nic'.
30 Aug 2015 13:18
Absolutely fantastic with passionate staff who care about the ales excellent.
16 Aug 2015 11:54
Another pub on the Manchester road, but only halfway up the hill. Fairly long and thin, but with hardly any windows facing the main road. Like many Stockport pubs, on entering you are presented with a choice of "bar" and "vaults". The vaults is done in red and white, and features wooden beams, some arches to separate little enclaves, and mixture of seating types. [ It was fairly full, so I had to settle for a high stool and a small round table ] The bar is lighter with more communal seating, though I was only there briefly.
The pub advertises it serves 14 beers, and I see no reason to doubt their claim. However, not all pumps can be seen at once. I chose Fyne Ales Lowlander, which was OK, but disappointingly didn't have a picture of a South Notts bus on the pump clip !
8/10 – would be the best pub in town in many places, but not this one !
8 Feb 2015 19:03
The Vine Inn, Nantwich
Address: 42 Hospital Street, Nantwich, Cheshire, CW5 5RP
Phone: 01270 624172
See full pub details

Nearest train stations: Nantwich (0.2 miles), Crewe (4.2 miles)
Reviews by BITE users:
THIS PUB HAS GONE SERIOUSLY DOWNHILL !! No more popping in for a quiet pint, there are now no less that four large screen TVs blaring out Football, totally dominating all corners of the pub. Whats more it is watched by the type of clientele that , when you point out the match is destined for a nil-nil draw, urge you to "keep the faith" ! I could have won £10 in a bet, but instead downed my half of Hydes Manchesters Finest in one, and walked out.
I will not be going back to this place, and I'm not the only one. After leaving I saw another ex-regular coming out of another pub !
23 Aug 2015 23:02
I popped into The Vine one Friday lunchtime on way to rail station. I have to say first impression it was one of the best pubs I've ever been in. The staff were friendly and welcoming as were the locals, and I had 2 lovely pints of Manchester bitter.. There was a lovely ambience about the place and I was just sorry I couldn't stay longer. I will next time!
14 Jan 2015 19:52
Visited on Xmas Eve and the place was rammed full of happy punters sporting naff yuletide jumpers! Ales sampled were good and strong. One of Natwich's better pubs.
7 Jan 2015 17:28
The Beer Emporium, Sandbach
Address: 8 Welles Street, Sandbach, Cheshire, CW11 1GT
Phone: 01270760113
See full pub details

Nearest train stations: Sandbach (1.3 miles), Holmes Chapel (4.1 miles)
Reviews by BITE users:
RE rating. Yes, before I posted my review there was one rating giving it 4/10. It's MUCH better than that !
However, my maths reckons "quadrantfour" gave it 10/10 - which is almost as inexplicable. Is it really the best pub in the country ?
3 Mar 2015 12:02
Three of us called in The Beer Emporium on 2nd March, 2015. An excellent and varied collection of bottled beers, as well as four hand-pulled beers on the short front-end of the bar as you enter.
Owner Steve himself was behind the bar, he is a very friendly and knowledgeable chap, exactly the sort of person you'd want to be in any bar or pub which you visit. He will also pour bottle-conditioned beers for you if you're a bit out of practice. A few locals called in as well, just as friendly and made for a relaxed atmosphere.
An excellent and varied selection of beers, we took turns to select three bottles, and then pass them around between us to maximise our beer-sampling experience.
We enjoyed the three hours or so we spent there, will definitely go back again, it's too good to miss.
Very highly recommended.
Just one thing about the page for this pub - it's rated at 5.5 out of 10 by two reviewers before me - could only find one review giving 7 out of 10.
3 Mar 2015 10:47
This place is in a bit of a flux. When I first visited 3 or 4 years ago it was a (very good) bottle shop. Then they pub some seating in, and a couple of beers on handpump. Now they have installed a large bar, and have 4 beers available on tap. Unfortunately, this has been at the expense of the range of bottles, which now only take up about half of the space they originally did. [ I kept looking to see if there were more hidden somewhere !]
I didn't fancy any of the beers on tap (which were very similar), so I had a bottle of Watermill Dog'th Vader and sat at the bar. Both clientele and barstaff were very sociable.
7/10 – certainly worth a visit.
1 Mar 2015 23:59
More information