b.i.t.e goes to Oktoberfest
by dsf
17-10-2002
Noise.
Darkness.
Noise. Beeping, buzzing, noise.
Darkness. What's happening? Noise. Darkness.
Hand shoots out to the right. Hits something. Phone. Beeping. Make it stop; press "stop". Squint. Focus. Time on the display — 5am. Harsh. Early. Dark. Cold. Saturday. Saturday? Saturday! Too early. Too dark. Too cold.
Wait — Saturday. Alarm. 5am. Think. Think. THINK, dammit.
Reason.
Must be one. Must. Reason. Reason!
Flight!
Check-in!
Munich!
Oktoberfest, in Munich, is a world famous beer festival. Unlike beer festivals in the UK, populated primarily by people who wouldn't be out of place in Viz's "Real Ale Twats" column, Oktoberfest is a period of 3 weeks each year where the good people of Munich mix with the beer tourists for a veritable carnival of lager drinking. There are 14 tents, each of which seat between two- and nine-thousand people, inside and outside. There are fairground rides, merchandise stalls, silly hats, people selling every kind of tobacco imaginable, but first and foremost there is a truly vast amount of lager being drunk.
And so it was that we came to rise at the ungodly hour of 5am on October 5th 2002. Heathrow is easy to get to from Surbiton because there is a 24-hr bus service from Kingston, so that's what we did. Checked in suitably early and headed to the Wetherspoons in terminal 2; they wouldn't serve us anything alcoholic but the breakfasts were passable, if expensive, and there was an arcade room opposite which had not only a pool table and a pinball machine, but a Konami Fighting Mania beat-the-fuck-out-of-it-with-your-fists machine too. What fun.
One uneventful journey later and we were in Munich airport; Ed was waiting for us (and Jay, who was flying with a different airline) and once we were all together, we drove to Ed's place near Munich uni and dropped our stuff off. Got some cash out, and then it all began. Before we even left, Alick (who had been in Germany some 2 days already) had already, at around 1330, SMSd me with just the word "lager" — the sign of a man clearly already in the swing of things.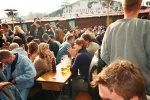 We weren't wrong. We got to the fest and, after overcoming our initial OH-MY-GOD shock (which had replaced our "oh my god" shock caused by the number of Bayern Munich fans on the metro) found Alick & co at a table outside the Braeurosl tent. The bad news was that there were no spare seats for us, though. Anywhere, that is — all the tents had been full inside since the 11am opening and people didn't look like they were about to relinquish their outdoor seats either. This is bad, since at Oktoberfest you don't go to the bar to get your drinks, you get them brought to you by the waitresses, and they only do this if you have a seat. So we waited, and waited, and waited, until after around half an hour the people on the same table as Alick left. We were in like a shot! I'm led to believe that the German lady who vacated her seat said to me "Make me proud that you are taking my seat, young one", or something like that anyway.
I tried.
With the sheer quantity of people, and beer, there was no chance we were going to move, to explore, or to do anything but drink and eat. So, drink and eat we did, for the next few hours. Each tent is owned by a particular brewery and as such you're limited to just the one beer in each one. That said it doesn't really matter, because the Bavarians know how to make their lager and it's lovely.
Their food isn't bad either, as we discovered when Ed ordered one or two plates of everything on the menu for us all to devour, Anne & I taking on some beef and dumplings, and some gorgeous chicken. Frequent trips to the loo were of course necessary, but surprisingly quick and easy in practice. We constantly thought, and spoke, about just how such an event would be absolute violent carnage in the UK. But then, who cares? We weren't in the UK!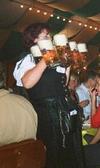 After a few more hours, at some indeterminate point in the evening, we all moved inside. I forget what time, as I don't remember doing it. I do remember being inside though, and oh my god it's even madder. The tent is just a massive hall with lots and lots of 8-person benches and tables. Most benches are used more for standing on than sitting, and the litre mugs of beer are waved around in accompaniment with the sound of 8000 voices singing along with the band, who entertain everyone with traditional drinking songs. It is completely insane and a whole world of fun. Unfortunately a mixture of way too much to drink, too little to eat, and having been up since 5am brought out the worst in me. I went and tried to get served (a big no-no), then got pissed off, upset, and wanted to leave. So Anne & I left.
The less said about the rest of the night the better; suffice it to say that Ed, who had left us with a way to get into his flat, was not best pleased the following morning when he and Jay arrived at about 1130 — having been unable to get in when they originally came back. Yes, I'd double locked Ed out of his own flat. He and Jay had tried for ages to wake us, to no avail, and ended up calling up a friend of Ed's at 4am and sleeping on their floor.
Ooops.
So, before Jay and Ed crashed for some quality sleep, Anne & I made them some toast followed by a cheese & onion omelette. And a good job we made of it too, even if I do say so myself. Then we left the flat to go explore Oktoberfest proper, prior to the Yahoo! party taking place that night.
Oktoberfest is more than just an excuse for 100,000 people to get drunk at the same time, it is a celebration of Bavaria and a massive fairground too. Being a rideaphobic I didn't partake of the rides, but I must admit to being hugely impressed by most of them. In particular I felt nauseous staring at the Olympic Rings rollercoaster, which does 5 loops. Quite astounding.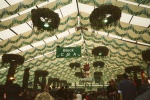 So we wandered around the tents, poking our heads in, or even walking around, most of them. The exception was the hippodrome tent, apparently one of the best but firstly they wouldn't let me in with a stupid hat on, and then wouldn't let us stand still and soak in any atmosphere; it was a case of get in, find a seat, start drinking, or fuck off. So we fucked off. All the other tents were fun though — broadly similar, brewery affiliations aside, but nevertheless all with their own character. The most impressive sight is when you go onto a balcony and look across the whole hall, drinking and singing and shouting and just generally having a fantastic time.
At Oktoberfest there are no groups of lads or lasses out on the pull; there's no dancefloors, no bars, no games rooms, no big screen TVs. Just bench after bench of people, sitting wherever they can and having a good time.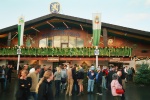 After exploring the tents, having a beer, and taking a few photos, we went back to Ed's flat to get him and Jay, and return for the Yahoo! party. Most of Oktoberfest is just as I described, free tables, but companies can reserve sections of tables for a bash. Along with guaranteed entry and a seat, this also meant we were provided with tokens good for 3 free litres of beer (excluding tips, which you always pay) and half a chicken. So Anne & I settled down with Jay and the desperately ill-looking, -feeling and -sounding Alick, along with a good 30 or so people from Yahoo! Germany and started the evenings festivities.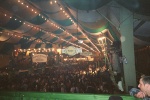 There isn't much to write about stuff that happened, since it's just one long period of merriment and drinking. A few of us (ie the English contingent) wore silly hats, everyone got louder as the night went on, TV Munich were filming from just above us and kept wandering around interviewing people (as well as showering us all in champagne when they signed off — it was their last show from the 'fest, as it was the last day). And after a couple of hours or so, we all moved downstairs where everyone, and again I mean EVERYONE, got on the benches, waved their litres about and sang loudly and drunkenly along with the oompah-cabaret-drinking-songs band. Lots and lots and lots of lager, lots of jumping and dancing and singing, lots of "Prost!"ing, just generally a fantastic night.
Not that it ended when the tent shut at 2300, of course. While the 'fest tents close at English licensing hours, the rest of Munich doesn't, so after a relatively fraught 20 minutes or so waiting for a cab 4 of us went to the Ksar Bar somewhere in the town. It only opens from 2100 to 0300 and you have to knock on the door to be allowed in; it looked like we weren't going to be let in thanks to my hat, but I took it off and Andrew persuaded the doorman that we were OK sorts, really. So in we went, I legged it to the loo and on my return was presented with a Long Island Ice Tea. Uh-oh.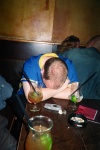 There is photographic evidence of me passed out after drinking it.
Needless to say the rest of the night is a bit blurred, but I'm led to believe we left not long after (although not before about another 8 people had joined us) and went back to Ed's flat by cab, where we drank miscellaneous alcohol before finally retiring to bed.
Monday morning, woke up around 10 minutes before we were due to check-in at Munich airport, over 30 miles away. Thankfully Ed gave us a lift there and we made it in good time. Another uneventful plane journey, but once we touched down we made the stupid decision to crawl back from Heathrow to Surbiton. Oh dear. Stupid stupid stupid, and I felt like death the next day back at work. That said we added a good few more pubs to the database (the Moon on the Square in Feltham, the Fulwell Arms in, strangely enough, Fulwell, the Royal Oak and the Kings Head in Teddington, the Swan and the Foresters Arms in Hampton Wick, and the Gazebo in Kingston), including at least 2 I'd never wanted to go in before and 1 I never want to go in again, so all's well that ends well.
Next year we're going midweek. :-)