Oxford pub and bar guide
Here's a guide to the pubs and bars of Oxford - good or bad, we bring you the most talked about venues and the places you have to visit at least once. We've included a few user reviews, to give you an idea of what to expect when you get there. Or you can follow the links to see full details and all reviews for each pub.
The Lamb and Flag, Oxford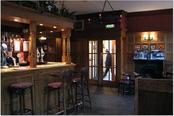 Address: 12 St Giles, Oxford, Oxfordshire, OX1 3JS
Phone: 01865 515787
See full pub details

Nearest train station: Oxford (0.6 miles)
Reviews by BITE users:
Busy pub on a Thursday night. sat at the bar as the only seat available. I don't like doing this as it stops people getting served. Turn right as you go in is the best advice, as there is more room. Only had 1 pint as i wanted food and they only serve it at lunchtimes. Palmers Best Bitter, £3.00 and was very good.
10 Oct 2014 16:31
Packed out - partly because there's nowhere to drink outside - but deservedly so. The pub's in good condition, even (especially) the loos, and there are plenty of ales to choose from - some at each end of the bar.
6 Sep 2014 16:22
The Old Peculier was in tip-top form in here the other day and I had to have another just to be sure!! The front bar is a bit nondescript, but then you go through to the back areas and it feels like a whole different pub, sadly with the furthest area being the best place to sit marred by a massive waft of the loos. Between us we tried quite a few of the offerings and found them all to be in good condition. The food was over-priced for what it was. Having said that, the ploughman's lunches were good and for once I feel I actually made the best choice.
20 Aug 2014 13:20
The Bear, Oxford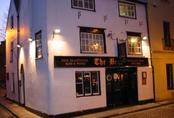 Address: 6 Alfred Street, Oxford, Oxfordshire, OX1 4EH
Phone: 01865 728164
See full pub details

Nearest train station: Oxford (0.7 miles)
Reviews by BITE users:
Tried this puib again (early this time) and had a pint of HSB. It was outstanding. Very nice little pub with lots of character. It would have been perfect if it wasn't for the rather annoying idiot talking to his wife about flying a plane at the weekend for his daughter and his 'days at Oxford'!!! 8/10 from me.
6 Oct 2014 10:24
This place claims to be the oldest pub in Oxford (est. 1242) – it is also one of the most expensive ! [ £4 a pint ] Sells a range of Fullers beers, plus a "guest" or two. However, on the two occasions I've been there, 12 months apart, the guest has been the same ! [ Shotover Oxford Prospect ] Food is available, but not sampled.
The actual pub is tiny, but it has expanded with an outdoor drinking area going a long way down the side of an adjacent street. I'm not sure why anyone would choose to sit there, as the whole point of the pub is it's antiquity. Also, the "tie room" of course. This has to be seen to be believed, and is a real eye-opener the first time you visit, but the novelty soon wears off.
6/10 – pretty much a tourist ripoff.
2 Sep 2014 23:11
Not the biggest pub in the world but has some character. Hidden down a side street near to Christ Church college. Was going to try a local real ale but the pub was so bury with American tourists I decided to move on. Will visit again though!!
4 Aug 2014 10:06
Far From the Madding Crowd, Oxford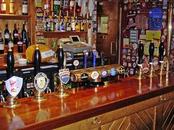 Address: 10-12 Friars Entry, Oxford, Oxfordshire, OX1 2BY
Phone: 01865 240900
See full pub details

Nearest train station: Oxford (0.5 miles)
Reviews by BITE users:
Still a great pub. Shame it isn't one of the Oxford pubs of the year. Super beer and food.
31 Oct 2014 20:50
Tucked away in an alley by Tesco local, we circled this pub before we found it. It was worth the effort.
A varied clientele and relaxed atmosphere was a promising feel when we entered. The friendly barstaff were fantastic.
We stayed for at least 4 pints.
Highly recommended.
9 Oct 2014 01:08
Surprisingly quiet on a Friday lunchtime, but then there are a lot of other pubs close by. Very attentive and friendly staff and a good range of beers.
6 Sep 2014 16:08
The Eagle and Child, Oxford
Address: 49 St Giles, Oxford, Oxfordshire, OX1 3LU
Phone: 01865 302925
See full pub details

Nearest train station: Oxford (0.5 miles)
Reviews by BITE users:
The front and middle patrs of this pub are the best. the rear is an add on.
Friendly and helpful staff. Good food served in the evening till about 9 i think.
Brakspear bitter £2.90 was very good and Caledonian Autumn Red was not quite my taste, £3.35. Overall a good pub.
10 Oct 2014 16:26
Have seen the pub a few times on TV (Inspector Morse. Lewis) si I decided to seek it out. It's not as I imagined it at all. On TV it looks to be a 'big fronted' pub, nothing could be further from the truth!! It is a very narrow/long pub with 3 distinct areas (as commented below), a very nice pub all the same. I tried the Porter and it was spot on. The pub is owned by St John's College. My only negitive comment would be to say in needs a good clean, there are a lot of cob webs!!!
6 Oct 2014 10:20
Love the front and middle areas of this pub. Reminds me a bit of the Jerusalem Tavern in London. The back bit ruins it all for me, sadly. Beers are well-kept, but expensive - I paid more for a 4.1% stout here than I did for an Old Peculier (5.6%) over the road at the Lamb and Flag. Friendly staff, who know their onions when it comes to beer. Thought there'd be more stuff up about Lewis, Tolkien and the rest of the Inklings too. A bit of a mixed experience for me, as it's a place I've been meaning to visit for a while.
20 Aug 2014 13:09
The Chequers Inn, Oxford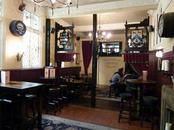 Address: 131, High St, Oxford, Oxfordshire, OX1 4DH
Phone: 01865 727463
See full pub details

Nearest train station: Oxford (0.6 miles)
Reviews by BITE users:
Nice old inn located down narrow medieval passage.
5 ale on sale, including a decent pint of Brakspear.
Worth a visit.
16 Oct 2014 19:54
Nicholson's pub, very clean and tidy. Good selection of real ales. Worth a visit.
6 Oct 2014 10:25
Quiet on a Friday lunchtime, so we ate here. God range of meals, served quickly and efficiently, and a good slection of ales too.
6 Sep 2014 16:11
The Trout Inn, Wolvercote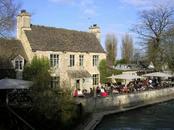 Address: 195 Godstow Road, Wolvercote, Oxford, Oxfordshire, OX2 8PN
Phone: 01865 510930
See full pub details

Nearest train station: Oxford (2.4 miles)
Reviews by BITE users:
Good points? The location is gorgeous as are the buildings while a peacock was sounding off on the roof. Minuses? Terrible upholstering by fans of eighties' dramas, awful music and the fact it's too busy. Still, they do have the decency of leaving a lot of seats outside open for just drinkers thus preserving the place's status as a pub rather than a restaurant. A chain pub by stealth as I have seen the same menu in Cookham, Golders Green and Warwick.
4 May 2014 19:34
Awesome location. Beer choice is limited: Brakspear Bitter and Doom Bar, but the setting is simply wonderful - just on the edge of Oxford's water meadows, with the dreaming spires in the distance. There's been a sympathetic modern extension which recreates the feel of the original 17th c. building so you are not jolted when you transfer from one to the other.
Spacious and over-staffed so even when busy (which appears to be most of the time) it has a relaxed feel. You would, however, need to book in advance or arrive early if you wanted a meal.
There are minor flaws regarding the beer selection, and the inconsistency of staff attentiveness, but this is a damn fine pub, and a must visit place.
18 Apr 2014 16:08
4 out of 10???? To say that rating astonishes me would be an extreme understatement.
Very nice location to sit in the garden whilst quaffing a few pints of Aspel cider, we found it a lovely way to spend some time. Sure the beer selection was not the widest but I have a very soft spot for Aspel.
Okay it is food orientated but to slag off an establishment for that in the current day and age when pubs are closing at an alarming rate is in my view totally out of order.
I sincerely hope people are not put of visiting by the stupidly low rating (the packed car park did indicate this was not the case). Very nice pub that I will certainly visit again when in the area, regardless of whether I am having food or not.
8/10 from me.
24 Sep 2013 18:12
More information