Kent pub and bar guide
Here's a guide to the pubs and bars of Kent - good or bad, we bring you the most talked about venues and the places you have to visit at least once. We've included a few user reviews, to give you an idea of what to expect when you get there. Or you can follow the links to see full details and all reviews for each pub.
The Bedford, Tunbridge Wells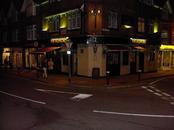 Address: 2 High Street, Tunbridge Wells, Kent, TN1 1UX
Phone: 01892 544662
See full pub details

Nearest train stations: Tunbridge Wells (0.1 miles), High Brooms (1.6 miles), Frant (2.4 miles)
Reviews by BITE users:
Pleased to see the standard of the place has not dropped as a few years ago this place was one to be avoided in my view. A sports bar full of lager louts!
Nowadays the place has friendly knowledgeable bar staff, TVs with the sound down and a wider mix of clientele.
It's hard to think of a better "closest to the railway station" pub around.
There are plenty of real ales available: Bedfordshire Zingiber, Gadds #5, Bedford Steam Best, Turners Gold Spice, Pilgrim Gold Spice, Old Dairy Snow Top and some Greene King beers on my visit.
Definitely worth going to if you're in the area!
31 Dec 2015 03:16
Decent enough alehouse with well kept selection of beers. As mentioned handy for the station - can be a bit pricey.
20 Sep 2015 07:42
Pub number 1 of a day of pub ticking & football in Tunbridge Wells.
Smallish corner plot pub right by the station that is very focused on ales. I wasn't aware of this having never been here before so I was pleased and surprised to see such a cracking selection of ales that are charged as per their abv. 11 hand pumps with a different ale on each pump.
Due to it's location I ended up visiting twice in 1 day. Visit number 1 @ lunchtime I went for Hardy and Hanson's Bedford Steam @ 3.9%, on my evening visit I had Old Diary Brewery Summer Top @ 3.6%, both very good pints & kept well.
6 punters in who were chatting to the landlord and chef when I first visited then in the evening @ 10pm it was pretty packed with music playing and a mixed crowd.
Friendly little pub that I will be returning to on my next visit to TW not just because of it's convenient location by the station.
17 Aug 2015 16:55
The Thirty-Nine Steps Alehouse, Broadstairs
Address: 5 Charlotte Street, Broadstairs, Kent, CT10 1LR
See full pub details

Nearest train stations: Broadstairs (0.4 miles), Dumpton Park (1.1 miles), Ramsgate (2 miles)
Reviews by BITE users:
I stand corrected - the Chapel is on here. But the postcode is incorrect. So it appears amongst the Margate pubs. I'll add a review.
6 Mar 2016 17:26
Our proposed tour of Broadstairs micropubs started here, but was running a little behind schedule due to train problems. The Thirty-Nine Steps is fairly large for a micropub and is located just down the hill from the station. Wold Top Wold's Way, Portobello Triple Choc Stout, Charington IPA & Yates' Dark Side of the Wight were the ales. Ciders were all from Westons - Elderflower Old Rosie, Raspberry Twist, Country Perry, Family Reserve & Old Rosie. Locals seemed to find us quite amusing! We moved on from here to the Chapel (not listed on here), which was my favourite pub of the day. Sadly the amount of cider in there precluded our plans to move on to the Four Candles and the Yard of Ale. Maybe next time......!
6 Mar 2016 17:24
A great micropub in the centre of Broadstairs, good beers on and a tidy little barmaid also!
30 Oct 2015 17:43
The Lanes, Dover
Address: 15 Worthington Street, Dover, Kent, CT17 9AQ
See full pub details

Nearest train stations: Dover Priory (0.3 miles), Kearsney (2.5 miles), Martin Mill (3.7 miles)
Reviews by BITE users:
Last entry should have read a wide selection of CIDERS available!
24 Nov 2015 05:59
One of the new micro pubs which are becoming popular in this neck of the woods.
Very friendly and welcoming (as many micros are) it's run by a pleasent couple. Very smart and tidy with decent toilets. Something that can't be said about some other micros I've visited!
The day I visited the real ales were Gadds Just the Ticket, Canterbury Ales Friars, Grindstone Triple B and Rockin Robin Really Rockin. Both the Gadds and the Canterbury Ales were excellent snd well kept.
There was a wide selection of ales available too though I didn't touch any of them.
The pub's not too far from the station and I will definitely visit agin. A welcome addition to what is a pretty average collection of pubs in Dover.
24 Nov 2015 05:58
This is one of at least 2 self-styled micro-pubs in Dover (Oct 2015). The Lanes is a great little boozer with a nice selection of beer.
The lady who runs it was very welcoming and was delighted to help. There is no bar as such, she'll just come up to you and guide you through the list of beers, ciders and wine etc.
Part of the shop is set out like someone's front room with sofas around a table. You can just sit down and chat to the locals. Alternatively there are tables near the window where you can sit and please yourself. Highly recommended and I hope it does well.
6 Oct 2015 21:43
The Hobgoblin, Canterbury
Address: 40 St Peters Street, Canterbury, Kent, CT1 2BG
Phone: 01227 455563
See full pub details

Nearest train stations: Canterbury West (0.2 miles), Canterbury East (0.5 miles), Sturry (2.3 miles)
Reviews by BITE users:
As the previous review states, this is now the Black Griffin. It is on one of Canterbury's main shopping streets. But it was surprisingly quiet. 4 ales were on - Exmoor Antler, Goddards Fuddle-Dee-Dum, Moorhouses Pride of Pendle & Upper Punter. Cider was Old Rosie. We tried just about all the ales between us and were less than impressed with the quality. We stayed in the front bar. But there appeared to be further space behind.
6 Mar 2016 17:10
Now the Black Griffin again. Wider selection of ales than there used to be. Everard Tiger, Moorhouse Pride of Pendle, Incuubus and Bombardier Gold the other day when I visited.
The clientele were young, pretty much the same as before with a few tourists thrown in.
The pub is in two parts. The front has a few chairs aound the edge whereas the back half has more tables and chairs laid out. There is also a small outside area beyond that. The whole pub is bare floorboards.
An ok pub but in a town which has a lot of good real ale outlets I don't visit here often.
24 Nov 2015 05:48
Popped in briefly yesterday to escape a downpour. 3 beers and a cider on offer on the handpumps. The beers were ther bog standard Doombar and Hobgoblin and an acceptable Fuggles. Not at all busy though. Not really a place that I'd race back to.
19 Aug 2015 09:59
The Swan and Mitre, Bromley
Address: 260-262 High Street, Bromley, Kent, BR1 1PG
Phone: 020 84605617
See full pub details

Nearest train stations: Bromley North (0.3 miles), Bromley South (0.4 miles), Shortlands (0.5 miles)
Reviews by BITE users:
Decent enough pub with an impressive range on tap beyond the ubiquitous usual suspects. You can waste the bar staffs time but asking them to talk through the full range and then go "I'll just have a Fosters" but that is reprehensible behaviour.
6 Jun 2016 09:57
Been in here twice in the last month, both times for midweek footy. Has had a recent revamp. Not a massive fan of the new decor, but the staff were friendly enough and a decent point of Timothy Taylor and Theakson's old Peculiar.
One major gripe though, the main TV is located in such a place that the only place you can watch it properly from is from behind the bar. Still its nearer to home than the Partridge which doesn't have Sky and I don't fancy ever chancing the Hop & Grape which is even nearer.
20 Jan 2016 16:10
Agree with previous comment about The Swan needing a good clean as it is a little grimy but would say that when I have been in here recently the beer has been fine and the food not bad at all - found the staff to be attentive as well. A little bit of love is needed
19 Aug 2015 10:13
The Four Lymes, Hawley
Address: Hawley Road, Hawley, Dartford, Kent, DA1 1PX
Phone: 01322 223920
See full pub details

Nearest train stations: Dartford (1.5 miles), Farningham Road (2 miles), Stone Crossing (2.4 miles)
Reviews by BITE users:
This former pub will be opening as an Indian restaurant in Apr 2016. So please mark as permenantly closed
19 Mar 2016 13:04
A dive. Depending on which chef you get, either excellent food or half cooked MSG covered Cr**!
Only got 2 points because it sells Adnams beer.
10 Aug 2009 19:45
More information