Kent pub and bar guide
Here's a guide to the pubs and bars of Kent - good or bad, we bring you the most talked about venues and the places you have to visit at least once. We've included a few user reviews, to give you an idea of what to expect when you get there. Or you can follow the links to see full details and all reviews for each pub.
The Old Neptune, Whitstable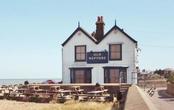 Address: Marine Terrace, Whitstable, Kent, CT5 1EJ
Phone: 01227 272262
See full pub details

Nearest train station: Chestfield & Swalecliffe (2.2 miles)
Reviews by BITE users:
An old fashioned feel to the pub with bare floorboards, uneven in places and lots of nautical artifacts spread around. The artwork is more modern and added to the charm. The pub is practically on the beach and there are planty of picnic tables on the shingle which are very popular in the Summer.
Not a wide selection of real ales but with Harveys on that doesn't matter!
The clientele is mixed and the staff are friendly.
Bands play on Sunday aftenoons. The day I was there We Ghosts were on and I can recommend anyone to catch them if they are in the area.
All told a very enjoyable time wa had!
24 Nov 2015 04:46
An interesting pub, like going back in time, I would certainly pop in again next time I am in Whitstable.
Whitstable brewery , and Harveys were on draught although not a great selection.
8/10
13 Nov 2015 17:26
No longer SHepherd Neame but Whitstable brewery I think given my Columbo like observation of what was on the side of the pub.
Oyster stout was decent. The wind was strong on the beach and it blew empty crisp packets away and I don;t think that should be allowed in this modern age.
Great location and decent pub.
23 Jul 2015 16:19
The Bedford, Tunbridge Wells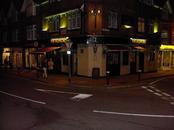 Address: 2 High Street, Tunbridge Wells, Kent, TN1 1UX
Phone: 01892 544662
See full pub details

Nearest train stations: Tunbridge Wells (0.1 miles), High Brooms (1.6 miles), Frant (2.4 miles)
Reviews by BITE users:
Pleased to see the standard of the place has not dropped as a few years ago this place was one to be avoided in my view. A sports bar full of lager louts!
Nowadays the place has friendly knowledgeable bar staff, TVs with the sound down and a wider mix of clientele.
It's hard to think of a better "closest to the railway station" pub around.
There are plenty of real ales available: Bedfordshire Zingiber, Gadds #5, Bedford Steam Best, Turners Gold Spice, Pilgrim Gold Spice, Old Dairy Snow Top and some Greene King beers on my visit.
Definitely worth going to if you're in the area!
31 Dec 2015 03:16
Decent enough alehouse with well kept selection of beers. As mentioned handy for the station - can be a bit pricey.
20 Sep 2015 07:42
Pub number 1 of a day of pub ticking & football in Tunbridge Wells.
Smallish corner plot pub right by the station that is very focused on ales. I wasn't aware of this having never been here before so I was pleased and surprised to see such a cracking selection of ales that are charged as per their abv. 11 hand pumps with a different ale on each pump.
Due to it's location I ended up visiting twice in 1 day. Visit number 1 @ lunchtime I went for Hardy and Hanson's Bedford Steam @ 3.9%, on my evening visit I had Old Diary Brewery Summer Top @ 3.6%, both very good pints & kept well.
6 punters in who were chatting to the landlord and chef when I first visited then in the evening @ 10pm it was pretty packed with music playing and a mixed crowd.
Friendly little pub that I will be returning to on my next visit to TW not just because of it's convenient location by the station.
17 Aug 2015 16:55
The Chapel, Broadstairs
Address: 44-46 Albion Street, Broadstairs, Kent, CT9 1EU
See full pub details

Nearest train stations: Margate (0.5 miles), Westgate-on-sea (2.1 miles), Broadstairs (3.3 miles)
Reviews by BITE users:
A wonderful little place with excellent beers, very well kept.
Very pleasant, welcoming staff and a superb atmosphere among books and a small stage.
24 Jul 2015 10:04
Wow. What a find. Friends had been here and wanted us to see it. Next minute we are inside and wow again. Beer excellent. Old dairy Kentish and Goachers. Not a World War Two plane in site !
Excellent.
4 Jul 2015 12:48
Sunday night in Broadstairs and with live music advertised the Chapel looked very inviting. The music was provided by a 3 piece band that were playing a mix of old and new country music, they went down a storm.
6 barrels on behind the counter that were offering 4 ales with all of these being local Kent ales. Goachers Real Mild, Wantsum Ravening Wolf, Gadds Dragons Blood and my choice which was Tonbridge Blonde Ambition @ 4.2%. As well as the ales there was a decent selection of boxed ciders also available.
if you are unaware this is no ordinary bar it's a bookshop aswell ! They also do small plates of food.
A cracking little bookshop, bar and music venue that needs to be seen to be enjoyed, but be your own judge and make a visit I personally don't think you'll be disappointed.
1 Jul 2015 16:06
The Lanes, Dover
Address: 15 Worthington Street, Dover, Kent, CT17 9AQ
See full pub details

Nearest train stations: Dover Priory (0.3 miles), Kearsney (2.5 miles), Martin Mill (3.7 miles)
Reviews by BITE users:
Last entry should have read a wide selection of CIDERS available!
24 Nov 2015 05:59
One of the new micro pubs which are becoming popular in this neck of the woods.
Very friendly and welcoming (as many micros are) it's run by a pleasent couple. Very smart and tidy with decent toilets. Something that can't be said about some other micros I've visited!
The day I visited the real ales were Gadds Just the Ticket, Canterbury Ales Friars, Grindstone Triple B and Rockin Robin Really Rockin. Both the Gadds and the Canterbury Ales were excellent snd well kept.
There was a wide selection of ales available too though I didn't touch any of them.
The pub's not too far from the station and I will definitely visit agin. A welcome addition to what is a pretty average collection of pubs in Dover.
24 Nov 2015 05:58
This is one of at least 2 self-styled micro-pubs in Dover (Oct 2015). The Lanes is a great little boozer with a nice selection of beer.
The lady who runs it was very welcoming and was delighted to help. There is no bar as such, she'll just come up to you and guide you through the list of beers, ciders and wine etc.
Part of the shop is set out like someone's front room with sofas around a table. You can just sit down and chat to the locals. Alternatively there are tables near the window where you can sit and please yourself. Highly recommended and I hope it does well.
6 Oct 2015 21:43
The Harrow, Stockbury
Address: The Street, Stockbury, Sittingbourne, Kent, ME9 7UH
Phone: 01795 842546
See full pub details

Nearest train stations: Newington (2.4 miles), Rainham - Kent (3.3 miles)
Reviews by BITE users:
I have just read a comment from the landlord which I would like to correct. I am the gentlemen referred to in his comment. I am not partnered and never have been with his ex Di she is just a friend. This delusion of his lead to him barring me from the pub and assaulting me which he has been cautioned by the police for. He is an unstable, lazy and devious person who will serve you cheap wine bottled into Shepherd Neame labled bottles. You will know if you have been conned as he will pocket your money or not ring it through the till. Do not run up a tab. The food is not fresh it is prepacked or frozen, My recommendation is for you to go the The Rose and Crown in Hartlip where you will get treated with respect as a customer and their drinks and food are first rate. I stand by everything I have written as true.
12 Aug 2015 11:10
The last comment by dolly 66 is the ex landlady Di NIcholls trying to discredit The Harrow .please come and judge for yourself and don't be put off by a bitter and twisted landlady or her new partner Peter Allen
Hope to see you soon
Roy
9 Jul 2015 13:24
I would just like to let you know that Di is no longer at the pub.....which is a huge shame because it has gone down hill since she was thrown out! The beer is not nice and the food is not the same! I was in the pub a while ago and a poor customer left with dog mess on his shoe....having just eaten a meal in there! I will be avoiding this pub at all costs from now on!!
2 Jul 2015 23:40
The Charles Dickens, Broadstairs
Address: 5-6 Victoria Parade, Broadstairs, Kent, CT10 1QS
Phone: 01843 869865
See full pub details

Nearest train stations: Broadstairs (0.4 miles), Dumpton Park (1.1 miles), Ramsgate (2 miles)
Reviews by BITE users:
My last entry about the price of Heineken was wrong...should've read £4.30!! Utterly outrageous.
13 Nov 2015 16:49
Seafront bar/restaurant. Quite smart, so probably justifies high prices.
13 Aug 2015 13:21
This pub has ceased operating, apparently due to an administration order. The Prince Albert in Broadstairs High Street has also closed for the same reason. They could be administratively connected.
21 Oct 2011 18:42
More information