Ipswich pub and bar guide
Here's a guide to the pubs and bars of Ipswich - good or bad, we bring you the most talked about venues and the places you have to visit at least once. We've included a few user reviews, to give you an idea of what to expect when you get there. Or you can follow the links to see full details and all reviews for each pub.
The Beer House, Ipswich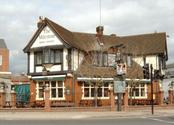 Address: 5, Woodbridge Road, Ipswich, Suffolk, IP4 2EA
Phone: 01473 252425
See full pub details

Nearest train stations: Ipswich (0.9 miles), Derby Road - Ipswich (1.3 miles), Westerfield (1.7 miles)
Reviews by BITE users:
Suprising events as Punch Pubs only sold the pub a few months ago.....
10 Jan 2011 18:29
A holding company has taken a T.A.W and is opening it on 21st Jan until a buyer is found, probably to knock it down
7 Jan 2011 05:58
Rumour has it that the tenants were forced out by sky-high rents and the pubco which owns it plan to sell it off as part of a development into flats which also encompasses the property next door. Obviously these rumours can't be true or the local CAMRA would be making an awful lot of noise about losing one of their flagship real ale pubs in such a tawdry way, and there's been nothing but silence from CAMRA.
4 Jan 2011 21:38
The County Of Suffolk, Ipswich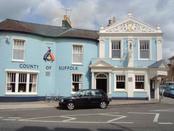 Address: 29 St Helens Street, Ipswich, Suffolk, IP4 1HH
Phone: 01473255153
See full pub details

Nearest train stations: Ipswich (0.9 miles), Derby Road - Ipswich (1.1 miles), Westerfield (1.8 miles)
Reviews by BITE users:
On recent investigation, the County is offering an increasing range of decent beers. On sale at moment are Woodefordes Norfolk Wherry, St Judes Brewery, and Crouch Vale Brewers Gold, as well as Kronenbourg, Carlsberg and Fosters. They also sell a selection of Bottled ciders. My tip... ask what they have on tap. It's sometimes rather hidden!
7 Aug 2010 18:02
Just re-opened after being shut for several months. One of the nicest pubs in Ipswich but needs a confidence boost of some new drinkers to get it going again, after a less than friendly landlord. New people are friendly and accommodating and sell some decent beers. Would recommend a visit.
4 Jul 2010 18:56
Has just reopened as a freehouse after many months of closure (quite why Scottish and Newcastle bought this pub from Adnams only to leave it closed and then sell it off again is one of life's mysteries). Several real ales on offer as well a big TVs showing the world cup, but at present the interior smells of fresh paint and there's no food as yet.The new owners will have to deal with the fact that Adnams inflicted a very unwise refurbishment on this pub before offloading it- as the picture shows it looks like an enormous wedding cake.
13 Jun 2010 21:14
The Dove, Ipswich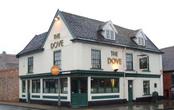 Address: 76, St. Helens St, Ipswich, Suffolk, IP4 2LA
Phone: 01473 211270
See full pub details

Nearest train stations: Ipswich (1 mile), Derby Road - Ipswich (1 mile), Westerfield (1.8 miles)
Reviews by BITE users:
A very fine pub. Beautiful ales with around 10 to choose from and a selection of ciders. Two very able staff were welcoming and very efficient. The Landlord has put money in to this pub and it shows. A very sympathetic extension means that there is plenty of seating; a lot more than at first glance. It was a pity that we weren't able to try the food... that will have to wait until next time.
23 Jan 2011 09:30
One of the best pubs in the world. Lovely beers and a cosy atmosphere. It could easily be my second home. Be wary of spending too much time here, though; you'll drink far more than is good for you!!
21 Jan 2011 16:13
Certainly one of the best pubs that i've ever visited, always with a great selection of well kept ales. Unfortunately one or two of the staff need some education in pub etiquette. The landlady in particular, works very hard and so i would say, a visit to this pub is a visit and i'd be surprised if you're disappointed.
30 Oct 2010 17:58
The Swan Inn, Ipswich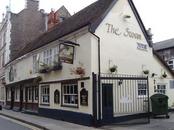 Address: King St, Ipswich, Suffolk, IP1 1EG
Phone: 01473 252485
See full pub details

Nearest train stations: Ipswich (0.6 miles), Derby Road - Ipswich (1.5 miles), Westerfield (1.9 miles)
Reviews by BITE users:
....this is a cool cool pub and the change of management has brought a much needed breath of fresh air - much improved, keep up the good work.
14 Jan 2011 11:42
Ok but not great, went in despite the massive "home fans only" signs and the attempts of the bouncers to engage conversation (a nod covered that one).
3 Oct 2010 10:58
I come here alot. Veryy good place to drink.. Taps are always clean, food is GREAT!! the staff are the reason I come here so much.. they are always very welcoming to people, I have never witnessed any problems here. the music is great!! always a variation! something that this town really needs! go here and try it for yourself...
31 Aug 2010 16:06
The Man on The Moon, Ipswich
Address: 86 Palmcroft Road, Ipswich, Suffolk, IP1 6QX
Phone: 01473 464182
See full pub details

Nearest train stations: Westerfield (1 mile), Ipswich (2.4 miles), Derby Road - Ipswich (3.1 miles)
Reviews by BITE users:
Fantastic food and great value. Well run by Sue and Jamie and an excellent outside area for you smokers.
The real ale IPA is always excellent. Plenty odf screens for footie / sports addicts/
18 Nov 2010 20:15
Just a note to say the ale selection is now back to Greene King IPA or Greene King IPA. Staff said they couldn't shift any of the other ales. To be expected in what is mainly a lager pub. Food is still good though, and cheap.
22 Sep 2010 20:49
Very pleasant and comfortable estate pub. On previous visits I've been put off by the fact that the only real ale available has been Greene King IPA. However on today's visit 4 real ales were on the bar- all from the Greene King portfolio but a great improvement nevertheless. Food is served all day and is typical pub grub but very good value- 2 main courses for £8. Our children were made welcome. There were big tellys for sporting events. Probably the best all-round pub on this side of Ipswich.
12 Jun 2010 21:44
Isaac's Free House, Ipswich
Address: 1 Wherry Quay, Ipswich, Suffolk, IP4 1AS
Phone: 01473 259 952
See full pub details

Nearest train stations: Ipswich (0.8 miles), Derby Road - Ipswich (1 mile), Westerfield (2.1 miles)
Reviews by BITE users:
Not a bad place, seems to be the 'in place' for the locals, everyone seemed friendly enough, though the layout can be a bit confusing - especially if a bit drunk!
Friday night was surprisingly quiet (credit crunch maybe), went back on Sunday and found it full of sailors in uniform pissed out of their skulls and singing sea shanties, the women probably loved it but could be a bit off putting for some......seeing as they do a grand job i'll let them off though! ;)
13 Feb 2011 14:01
Found the pub on my first visit to Ipswich before a football match (Saturday 1pm). Proved an excellent choice. Good ale, good fizzy lager, well presented, reasonable priced food. Staff were very friendly (even called me 'babe' and 'darling'!) and efficient. Would recommend highly.
26 Nov 2010 11:59
Avoid, beer in thick plastic glasses, confused lay out, young persons paradise. Go round the corner to the Lord Nelson instead!
3 Oct 2010 10:51
More information