Bath pub and bar guide
Here's a guide to the pubs and bars of Bath - good or bad, we bring you the most talked about venues and the places you have to visit at least once. We've included a few user reviews, to give you an idea of what to expect when you get there. Or you can follow the links to see full details and all reviews for each pub.
The Volunteer Riflemans Arms, Bath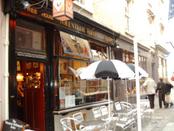 Address: 3 New Bond Street, Bath, Somerset, BA1 1BA
Phone: 01225 425210
See full pub details

Nearest train stations: Bath Spa (0.4 miles), Oldfield Park (1 mile), Freshford (4.2 miles)
Reviews by BITE users:
Gann nail on head me thinks,do they thing people on here are all stupid?
23 Feb 2013 12:02
There's a lot of obvious silliness on this thread which does the pub no favours.
I called in today. it's one of a type to be found in Bath: period, single-room, real ale micro-house. That is, intrinsically lovely, so why the hyperbole and BS?
It seems to have a (possibly ex-military) small bunch of regulars, who are a bit proprietorial, though a hoot if viewed appropriately. You won't go short of an opinion on whatever comes up.
Good beer, better entertainment.
6 Feb 2013 23:12
Sadly, for reasons better known to themselves, the owners or bar staff constantly try to big this place up and get its score up as the last 15 odd posts from someone who clearly has Multi Personality Syndrome proves.
And even more sadly, the admin of this site is inept and useless at sorting out problems like this and removing false reviews.
So you are better off looking at better pub review sites than this one to get a fair review of the Volunteer.
Ironically they don't need to do it because this traditional small single room pub tucked away in a side street in the centre of town is actually a decent pub.
It will never rank as a great pub (despite the trolls efforts to achieve that status on here ), but as a friendly enough pub to grab a pint it is perfectly acceptable.
Usually four ales from regional breweries on an the Exmoor Gold was fine on my last visit.
21 Dec 2012 15:04
The Salamander, Bath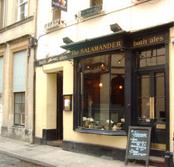 Address: 2 John Street, Bath, Somerset, BA1 2JL
Phone: 01225 428889
See full pub details

Nearest train stations: Bath Spa (0.5 miles), Oldfield Park (0.9 miles), Freshford (4.2 miles)
Reviews by BITE users:
Pub number 3 and this most certainly is a Bath Ales stronghold. I had the Spa which was good and then on my 2nd visit the following day I had 3 pints of Dark Side which was excellent.
As well as Bath Ales on tap they had their cider and a some good quality European lager.
It was a Saturday afternoon and Rugby was just finishing over at Bath Rugby club so it was nice and busy with a fairly mixed crowd of tourist, rugby fans and locals.
Wooden floorboards throughout and a decent range of seating.
Really decent pub.
Gift packs are for sale to take home.
18 Feb 2013 13:41
Dinky little place, always one I like to pop into when in Bath along with the Green Tree and the Star. A bit like a shop conversion but well done, the Bath Ales are as you'd expect always on pretty good form. A solid eight from me...
11 Jan 2013 20:03
Didn't feel quite as home here as I hoped. It's all a bit Done. Never seen so many Bath Ales in one place. The boss has the Spa which she says was delicious and I had the porter. Now that was a heavy drink. Gets a 7 cause I love a pub where there are beers to suit all tastes even when it's a tied pub.
3 Dec 2012 17:33
The Old Green Tree, Bath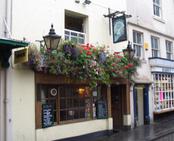 Address: 12 Green Street, Bath, Somerset, BA1 2JZ
Phone: 01225 448259
See full pub details

Nearest train stations: Bath Spa (0.4 miles), Oldfield Park (1 mile), Freshford (4.2 miles)
Reviews by BITE users:
Smashing little pub that is claimed it could be one of the oldest in Bath (barman was quite insistent about this)
2 room pub with only a bar on 1 side which I loved. Again a good mix of locals and rugby fans made this place a fun place for a pint.
4 beers on tap, I had the Old Green Tree Ale @ 3.9% brewed for the pub by Blindmans Brewery.
Met a very interesting chap sat at the bar that 2 of us instantly decided he could be a mass murderer, he was a pleasant chap but one or 2 of he's stories were a bit iffy...made for a cracking laugh though.
A point of note are the men's toilets, there's a door in the bar that opens onto a long straight staircase and at the bottom are the urinals...I wonder if anyone has ever fallen down and ended up in the urinal!
Excellent pub, defiantly worth a visit.
18 Feb 2013 13:56
One to enjoy for its intimate atmosphere, as other reviewers have noted doesn't seem so busy as it used to, easier to get a seat the last couple of times I have been in. Ales in good condition as usual, a bit of a Bath institution :-)
11 Jan 2013 20:05
Our favourite of the 3 visited today. Had a geat atmosphere and excellent range of independents and micros beers on offer. Olde worldy inside with parlours and snugs. Just a great place. Would like to give 7.5 but as there isn't one it goes in as a 7.
3 Dec 2012 17:38
The Alehouse, Bath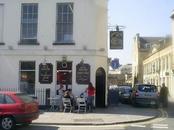 Address: 1 York Street, Bath, Somerset, BA1 1NG
Phone: 01225 400088
See full pub details

Nearest train stations: Bath Spa (0.3 miles), Oldfield Park (1 mile), Freshford (4 miles)
Reviews by BITE users:
since my last review pub has taken a turn for the worst. Gone very quiet again and stopped selling Holsten Pills one of very few pubs in Bath that sold it. Heard last night that the landlord is getting out only been there for just over a year said it wasnt paying.Oh well back to the drawing board.
28 Apr 2013 15:03
Starting to become a decent little boozer much cleaner now than two years ago and getting a decent crowd in on a Saturday night. Cellar bar seems to be getting more popular also. Good pub hope it gets even better.
17 Mar 2013 15:31
Excellent pint of Gem in here Sunday, actually finished of the barrel whilst there. then onto the london pride. Small quaint and traditional the one room I sat in and soon became full with a few regulars and foreigners alike. All drinking the real ale from what I could see. Small selection admited but, then again a small place..I liked it and, the barman seemed very efficeint indeed.
24 Sep 2012 08:37
The Boater, Bath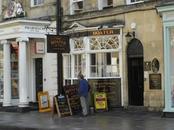 Address: 9 Argyle Street, Bath, Somerset, BA2 4BQ
Phone: 01225 464211
See full pub details

Nearest train stations: Bath Spa (0.4 miles), Oldfield Park (1.1 miles), Freshford (4.1 miles)
Reviews by BITE users:
Agree with the last post stopped going in there 6 mounths ago got verbal abuse from the bar maid ( i would call her something else ). left drink on the bar and walked out without paying. This pub is TOXIC. Should be boarded up and left to rot.YOU HAVE BEEN WARNED DO NOT ENTER .Horible place.
17 Jan 2013 21:04
The place is a total dump and inexplicably expensive. Beer garden may be big but that's all it's got going for it. It's almost completely enclosed by buildings, filty and and is actually a concrete creche for the legions of underage drikers. Upstairs is dirty, smelly and unwelcoming. Not sure if he's still there but the landlord Carl (small, dark/balding fella who's chewing a wasp) is one of the most unfriendly in Bath. Needs to be overhauled. Fast.
16 Jan 2013 11:53
Iwill be glad when the pub is decorated as its turning into a right dump at present come on fullers pull your finger out
6 Aug 2012 17:51
The Huntsman Inn, Bath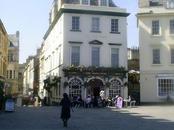 Address: 1, Terrace Walk, Bath, Somerset, BA1 1LJ
Phone: 01225 482900
See full pub details

Nearest train stations: Bath Spa (0.2 miles), Oldfield Park (1 mile), Freshford (4 miles)
Reviews by BITE users:
Still closed at 1200 noon when I went and at quarter pastthe hour on my return, tried all doors..So went elsewhere...Not asking much to open on time especially as the bulk of tourists buses/coaches drop off outside...
24 Sep 2012 08:42
A very good pub never had a bad night there and some very nice looking ladies behind the bar.
19 Aug 2012 15:27
Typical Marstons pub. First pub of the visit nice pint off Bellringer.
24 Jun 2011 21:18
More information