The Star Inn, Tickenham - pub details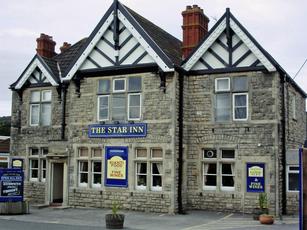 Address: Stone Edge Batch, Tickenham, Clevedon, Somerset, BS21 6SE [map] [gmap]
Tel: 0871 951 1000 (ref 19506) - calls cost 10p per minute plus network extras
Nailsea & Backwell (2.1 miles), Yatton (4.5 miles)
Are you the Licensee? Click here. ** SPECIAL Royal Summer Sizzler offer! **
> Current user rating: 3.6/10 (rated by 14 users)
other pubs nearby:
White Lion, Nailsea (0.7 miles), Moorend Spout, Nailsea (0.8 miles), Glass House, Nailsea (1.0 miles), Courtyard Wine Bar, Nailsea (1.0 miles), Queens Head, Nailsea (1.0 miles) - see more nearby pubs
please note - reviews on this site are purely the opinion of site visitors, so don't take them too seriously.
5 most recent reviews of 14 shown - see all reviews
Spotted this place on the way to Tyntesfield country house advertising an 'exciting new menu', so decided to stop on the way back as we'd be hungry for some lunch after doing some walking.

From the outside the pub looks like a typical cosy country pub and we were hopeful for some decent country pub nosh. The inside looks like it had been recently refurbished, although it certainly didn't have any rustic charm. It's difficult to describe, but the tables, chairs and bar area looked like they'd better belong in a working man's club, or village hall hosting a WI coffee meeting.

There were no menus at the table, instead the food was posted on a chalk-board attached to the wall adjoining the bar so we stood gawping for some-time in order to decide on what to have. Although it appeared to be slightly overpriced, the food looked enticing and we were both hungry after our morning exploits. We decided to get a drink, have a seat and decide what we were going to have to eat.

I went to the bar and ordered two Coca-Colas (as I was driving and my wife doesn't drink) and a packet of dry roasted peanuts. The cheerful barmaid poured the Cokes, plonked them in front of me and said
"that'll be £4.80 please".
"sorry, what?" I replied.
"Four eighty".
So I paid over the £4.80 and duly noticed that I hadn't been provided with my peanuts.
"Sorry, forgot. That'll be 65p"
"Extra?"
"Yes, they're 65p".

So, for two Coca-Colas and a packet of peanuts the Star Inn robbed me of £5.45. Let me reiterate -- that's Five pounds and forty five pence for two Cokes and peanuts. The Cokes were £2.40 EACH! Just to put this into some perspective -- as I realise that the ravages of inflation may cause someone to swing by this review in several years time and think "blimey, that's cheap" -- at the time of writing a two litre bottle of Coca Cola is for sale in ASDA at £1.78. For the price I paid for 2 Cokes in this pub I could have bought 5.4 litres of Coca Cola from the supermarket.

I sat down and decided that the Star Inn wasn't going to garner any more of my money ever again and we decided to leave (the fact that the only other people in the pub -- a family who were having dinner -- were allowing their child to loudly and repeatedly bash the table football table also added into our decision, but it wasn't that I was particularly annoyed with).

So, I don't even know whether the food is any good as, for the want of massively overcharging for Coca Cola, the Star Inn lost out on the £20.00 we were going to spend on lunch. C'est la vie. A nearby indian restaurant with excellent food and excellent service was more than happy to take the money that had been set aside for the Star, and I was happy to give it.



Gypsiewoo has said it all,sadly



my partner and i and his mother went to this pub for sunday lunch
21-11-2010. we found the menue very poor but settled for roast dinner
and if you had a sweet when you order you get it for £10. When the meal was brought to our table i was quite shocked with what was on the plate, there was this little mountain of meat which was hard and dried up all round the edges and not much better in the middle, then i was curiouse as to what was under the meat that made this little mountain,it was 3 little roast potatoes, except they were not roasted they had been deep fat fried,and on top of that it was cold. I was going to hand the meal back and ask for my money back, but my partner and his mother said lets just eat it and we now not to come here again, so we tucked in as it happens one of the staff came over to ask if everything was o.k. so we told him no and what we thought of the meal, he went and told chef, then one of the bar staff came over and said the chef has got another beef out and it wont happen again so just to let you no your complaint has not been ignored and something is being done about it.Chef did not even come out of the kitchen to apologize,there was no offer of refunding any of our money or a coffee or tea on the house we were not the only ones to complain i over heard anothr table saying pretty much the same thing, also the place was freezing when i commented about it they said the heating had been put on but it takes along time to heat up.this was about 12.30 mid day. surely it makes sense to put the heating on to warm the place up before they open the doors to the public, who wants to on a cold day go into a pub for lunch and have to sit ther freezing cold with ther coat on while there eating. would definitely not recomend this place to anyone.

I think itís perhaps a little unfair to call this place a hole. It might be lacking a bit of character and not be to everyoneís taste, but itís tidy and up together, so I donít think a hole is an accurate description. It must be a difficult pub to make a success of. Although notionally in the village of Tickenham, itís a very long village and some of the residents are two miles away. In any case, itís actually out past the end of the village, and anyone walking there is going to have to go about half a mile along a busy, unlit road with no pavements. As such, they need to really concentrate on something thatís going to attract driving punters in, and that I guess means food. I know that BITE regulars, including myself, despise pubs turning in to restaurants, but I am just trying to be realistic as to what yet another set of relatively new owners can do to make a success of the place. The only time Iíve seen it really busy is on sunny afternoonís when the large garden gets packed, but you canít really base your business proposition around the weather.

So, that aside, whatís it actually like? As I said in my previous post, itís lost some of itís character since itís refurbishment and is now perhaps more wine-bar like than pub like, but itís nonetheless pleasant enough. Thereís been some publicity in the local press about the new owners Craig and Francesca, and I really hope they can make a go of it. Since theyíve taken over there have been a few minor alterations, like the fireplace that bobbiepetta has mentioned and a pool table, but on the whole itís pretty much unchanged. Thereís a plasma in the corner opposite the bar, along with a fruit machine and quiz machine, and a couple of comfy leather sofaís in the corner.

It was fairly quiet on a recent Tuesday evening with seven or eight punters in, but they were all part of one group. The only other customer seemed to know the barmaid as they spent the whole time chatting. It was difficult to tell what drinks were available, as for some reason both sets of font rails had towels over them. Iím not sure if this indicated many of them were off or not. The food menu looked to be traditional ďpub grubĒ at reasonable prices, although we didnít try it on this occasion. The laminated menu doesnít obviously suggest all home-made food as has been suggested, but I may of course be wrong.

There were four beers advertised on the board, namely Doom Bar, Gem, Tribute and Butcombe Gold but only the first two were available. Ciders were a very pleasant Thatcherís Gold and Stowford Press. Mrs. Blackthorn was none too impressed with the lager selection being only Stella and Fosterís, so I had to fork out for a bottle of Corona.

this place is a hole poor beer poor service avoid

see more reviews