York pub and bar guide
Here's a guide to the pubs and bars of York - good or bad, we bring you the most talked about venues and the places you have to visit at least once. We've included a few user reviews, to give you an idea of what to expect when you get there. Or you can follow the links to see full details and all reviews for each pub.
The Maltings, York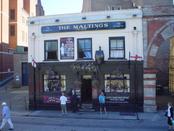 Address: Tanners Moat, York, North Yorkshire, YO1 6HU
Phone: 01904 655387
See full pub details

Nearest train stations: York (0.2 miles), Poppleton (2.9 miles)
Reviews by BITE users:
Recent return for me. Good to see that it's going from strength to strength with a variety of great beer s to choose from. Good to see the bad language signs , better to see them being enforced! Great pub!
11 Dec 2014 19:26
A revisit for me to this cracking pub.
I first came here in April for my 1st ever visit and have been wanting to come back ever since.
Always a good and varied range of beers and a couple of real ciders on.
I went for a pint of Bad Seeds' South Pacific IPA @ 5.8% while the wife had a bottle of Belgium fruit beer.
I love the interior and all the old signs on the walls, too many to read them all.
Again this pub gets a high score from me.
26 Sep 2014 10:29
This could well be the best pub in York. Whilst I did like the Rook & Gaskill the last time I visited, the Maltings is another consistently good York pub. We wondered in as a bouncer was opening up. It felt strange to see a bouncer here. But within minutes, the place was heaving. So I could see why. The Maltings appears to have been extended since my last review in 2009 and since the photo above. There is now an extra room to the left as you enter and doors open onto an additional outdoor space. The ale and cider selection is still excellent - Roosters Stars & Stripes, York Guzzler, Black Sheep Velo, First Chop SYL, Tearoom Maillot Blanc, Wentworth Short & Stout & Kent Beyond the Pale. Ciders were Naish, Lilleys Darksider, Biddendens Dry & The Bottle Kicking Cider Company Scarmbler. Still a great York pub and very convenient for the station.
13 Jul 2014 13:49
Pivo Cafe Bar, York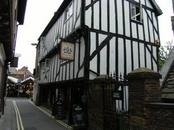 Address: Patrick Pool, York, North Yorkshire, YO1 8BB
Phone: 01904635464
See full pub details

Nearest train stations: York (0.5 miles), Poppleton (3.2 miles)
Reviews by BITE users:
Beer choice as interesting as ever. However the upstairs gents toilets were in a terrible state on Sunday afternoon. Nearly needed stilts. Such a shame in a lovely old building.
1 Dec 2014 16:33
Contemporary bar in a historic building. Has the same owners as the York Tap and therefore has an excellent selection of beers and ciders. The downstairs bar was busy. But there is more seating upstairs. Toilets are on the top floor and have a vaguely Scandinavian feel. Cask ales were Bad Seed Espresso Stout, Buxton Moor Top, Hardknott Continuum, Red Willow Feckless Best Bitter. There were also several interesting keg options, a good range of bottled beers and Thornborough Dry Cider. Well worth a visit.
13 Jul 2014 14:11
One of the greats. A pub in an English city with the atmosphere of a continental bar and the beer range to match. Savvy and friendly staff keep a steady stream of varied customers happy. Crazy house style upper floors but that's york. 10/10
6 Jul 2014 21:28
Brigantes Bar and Brasserie, York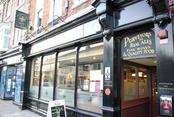 Address: 114 Micklegate, York, North Yorkshire, YO1 6JX
Phone: 01904 675355
See full pub details

Nearest train stations: York (0.2 miles), Poppleton (2.9 miles)
Reviews by BITE users:
Café bar serving decent ales. Seems popular with large groups which can mean a bit of a wait to get served at times.
16 Feb 2015 21:05
3rd pub of the day and for me this was by far the best.
I tried to get in here 3 months back on my last visit to York but ran out of time, I was not going to miss out this time around.
8 ales on the pumps and with a great choice in front of me I opted for a pint of Great Heck Brewery's Navigator @ 3.9%
Again it was very busy in here and an orderly queue formed for the bar, the staff were extremely quick and getting served was no problem at all.
Massive range of bottled beers also on offer along with a few decent looking ciders. Breweriania all over the walls, church style bench seats, great beer and service what more does any ale drinker want ?
For me what more do I want in a bar / pub, nothing! Brigantes does it for me, this is an place and has to be on people tour map when drinking around York.
***Superb***
18 Jul 2014 17:35
Pleasant bar that ten years ago would have been a world beater! Beer i had was absolutely fine and staff were fine and other customers were fine and food looked fine. Fine.
6 Jul 2014 21:35
The Three Legged Mare, York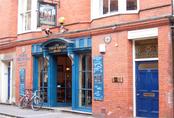 Address: 15 High Petergate, York, North Yorkshire, YO1 7EN
Phone: 01904 638246
See full pub details

Nearest train stations: York (0.5 miles), Poppleton (3 miles)
Reviews by BITE users:
Popped in on Saturday after watching Plymouth Argyle's dismal 0-0 draw at Bootham Crescent. 3 ales from the York Brewery on plus several guests. Had a pint of Centurion's Ghost as well as one from the Tiny Rebel brewery. Sadly the Purple Moose beer went off just as I ordered a pint. Probably the best pub nearest to the football ground if you're going to a match, if you exclude the supporters' bar at the ground.
5 Jan 2015 09:45
A York Brewery pub with a range of their own beers, plus guests. The pub is one big room with a conservatory at the rear. York Ales were Yorkshire Terrier, Guzzler, Velo City Off The Wall & Centurion Ghost Ale. Guests were Tring Wild Boar, Downton Route 66 & Amber Ales Delicious Chocolate Orange, which was just as the name suggested!
13 Jul 2014 14:03
This is a York Brewery Tap pub. Good range of their beers available and a couple of guests.
I'm not the biggest fan of York's ales as I find them all a bit creamy....the pint of Yorkshire Terrier was no exception, decent but creamy.
This pub appeared in the 2013 GBG but hasn't made the 2014 edition, unsure why but it's not up to the standard of the others I've visited this weekend, decent but not outstanding.
Worth a look if you like York Brewery ales and its in a good circuit location but personally I've been in much better pubs in York today.
Service houwever was excellent.
16 Apr 2014 14:16
The Waggon and Horses, York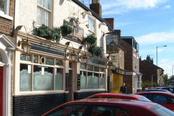 Address: 19, Lawrence St, York, North Yorkshire, YO10 3BP
Phone: 01904 637478
See full pub details

Nearest train stations: York (1.1 miles), Poppleton (3.8 miles)
Reviews by BITE users:
A surprising pub inside as it don't look much from the outside.
My first opinion was this is a little gem.
We visited around 7.30 on a Monday evening and it was pretty busy, a group of fellas getting ready for a poker tournament.
6 ales across the pumps & 2 real ciders. With a varied choice of beers I was spoilt for choice so I went for a pint of Hales Brewery Fallen Heart @ 4.3%.
A good mix of locals and a rather drunk Geordie woman added to the atmosphere, landlord and bar maid very chatty and welcoming.
Bar Billards table in one room and sky sports on in the main bar.
A thoroughly decent pub that serves a varied selection of great beer.
25 Sep 2014 20:18
Well, I'd previously been to the Rook & Gaskill just opposite here. But I'd never ventured into the Waggon & Horses previously. Both are very good pubs. The Waggon & Horses was a little quiet though. But the ale selection was good - Castle Rock Harvest Pale, Roosters The Italian Job, Batemans XXXB & Black & White, Wold Top Hello Velo & Salem Bridge Salem Porter. Ciders were Westons Rosie's Pig & Wyld Wood & The Bootle Kicking Cider Co. Rambler. I must remember to come out here to visit these pubs again next time I'm in York. Sadly I had no time to do the Rook & Gaskill this year.
13 Jul 2014 14:36
Surprised to see so few reviews; as this pub served superb quality beer. A bit quieter tonight than last year but the Yella Belly, which I've never had a good pint of before, is majestic again. Friendly staff who asked if I wanted a top up. Great pub.
4 Mar 2014 21:45
York Tap, York
Address: Station Road, York, North Yorkshire, YO24 1AB
See full pub details

Nearest train stations: York (0 miles), Poppleton (2.7 miles)
Reviews by BITE users:
Can be a bit manic and feels a bit through other (a bit like a railway station) does have a good selection of ales in good nic.
16 Feb 2015 21:07
20 real ales! yippee! Awesome pub, terrific beers. Need more staff on though as the service was slow. That aside a dam fime hostelry!
11 Dec 2014 19:35
Always something different to try and the beers are well kept. One not to miss when visiting York.
1 Dec 2014 16:36
More information