Worcestershire pub and bar guide
Here's a guide to the pubs and bars of Worcestershire - good or bad, we bring you the most talked about venues and the places you have to visit at least once. We've included a few user reviews, to give you an idea of what to expect when you get there. Or you can follow the links to see full details and all reviews for each pub.
Plough, Worcester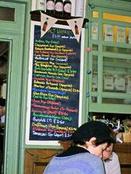 Address: 23 Fish Street, Worcester, Worcestershire, WR1 2HN
Phone: 01905 21381
See full pub details

Nearest train stations: Worcester Foregate St (0.3 miles), Worcester Shrub Hill (0.6 miles)
Reviews by BITE users:
This is one of the few pubs I rate as a 10 - though admittedly based on only 4 visits.
4 Jan 2014 21:06
James_Sebastian is that fat prick who manages a JDW pub ''The Back Of Beyond'' in Reading, Berkshire. Except James_Sebastian is not his real name, it is his alias on here. Real name Jason (Gay)Lord.
20 Dec 2013 13:10
Excellent! Great character, good ale, friendly. Worth finding and sampling.
9 Nov 2013 11:50
Old Swane Inn, Evesham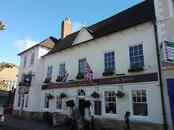 Address: 66 High Street, Evesham, Worcestershire, WR11 4HG
Phone: 01386442650
See full pub details

Nearest train station: Evesham (0.2 miles)
Reviews by BITE users:
In here last Saturday just before 11.00 and it quite busy with breakfast being served. As usual you have to wait for the coffee drinkers to get served.
Anyway nice selection of real Ales @ £2.15 a pint. Two were sampled and were fine.
2 Sep 2013 08:22
I remember when Evesham town centre was quite well off for pubs, but several have closed, and there's not much choice now.
As JDWs go we found this one quite OK.
9 Aug 2013 18:24
Fairly average wetherspoons pub - cheap food, cheap drink and the usual low lifes hanging around the bar. Don't expect quick service at the bar.
15 May 2013 17:05
The Crown, Worcester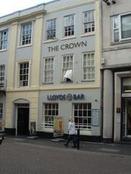 Address: Crown Passage, Broad Street, Worcester, Worcestershire, WR1 3LL
Phone: 01905721870
See full pub details

Nearest train stations: Worcester Foregate St (0.1 miles), Worcester Shrub Hill (0.6 miles)
Reviews by BITE users:
Tried the Crown for a lunchtime drink/bite to eat. We arrived to find the place moderately busy, but only one person behind the bar. Been ignored/overlooked 5 times whilst trying to get served was frustrating. Had a half decent pint of Abbots, but decided not to eat due to the poor service. Not a place to go if your in a hurry.
9 Nov 2013 12:06
Worst service I've experienced for a while. The beer was OK, but food and service poor. If you want serving don't expect it to be quickly!
3 Oct 2013 09:24
This is the pub where the staff never give you back your lost and handed wallet!
2 Oct 2013 12:12
The Cardinals Hat, Worcester
Address: 31, Friar St, Worcester, Worcestershire, WR1 2NA
Phone: 01905 22066
See full pub details

Nearest train stations: Worcester Foregate St (0.4 miles), Worcester Shrub Hill (0.6 miles)
Reviews by BITE users:
It was in it's Austrian phase when I visited a few years back, but even then it was the best pub we visited in Worcester. Will try to re-visit next time i'm in the area
15 Oct 2013 13:50
New ownership has made a huge difference. Really good selection of cider, nice atmosphere, friendly staff. Vying with the Plough as the best pub in the city.
24 Sep 2013 23:20
as already pointed out no longer an Austrian bar, it now serves real ales, craft lagers thats sort of thing. nice cosy place bit pricey but you get a good beer for your money
22 Aug 2013 15:06
The Nags Head, Great Malvern
Address: 21, Bank Street, Great Malvern, Worcestershire, WR14 2JG
Phone: 01684 574373
See full pub details

Nearest train stations: Malvern Link (0.5 miles), Great Malvern (0.9 miles), Colwall (3.2 miles)
Reviews by BITE users:
Still as good as ever. Supern choice of ales and the Bathams was a good as I have ever had. Fast becoming my favourite pub ever.
We walked from the front door, out over the hills, to get a decent thirst on. Our walk is at http://mappiman.blogspot.co.uk/2014/03/300314-bst.html
30 Mar 2014 15:42
Another fine session last night, great welcome, efficient staff and as always superb choice of seasonal and local ales.
24 Dec 2013 12:11
This is a nice pub. Full of charm and character. It has the feel of a nice country pub and being on the edge of Malvern Link common helps that atmosphere. Good selection of beer, nice people and quite often busy so they must be doing something right.
13 Dec 2013 18:46
The Kings Arms Hotel, Cleobury Mortimer
Address: 6 Church Street, Cleobury Mortimer, Kidderminster, Worcestershire, DY14 8BS
Phone: 01299 270252
See full pub details
Reviews by BITE users:
Was very busy - bar staff couldn't really cope. Also didn't get a full pint.
28 Dec 2013 19:20
Decent pub split into two separate areas (not rooms) at the front of the building by a large fireplace. Leather furniture in the "lounge" with more traditional bar furniture in the other side, both with wide dark floorboards and painted walls. TV screen in each half, one showing silent rugby with Michael Bublé as a musical accompaniment. Further room at rear of pub. 5 handpulls from Hobsons (the Old Prickly was very good), cider was Westons Mortimers Orchard. Aspiring to be middle class as were some of the clientele with their overly loud conversation, rosés with ice (in November?) and dogs on chairs for the purposes of Facebooking.... but that wouldn't put us off from visiting again and I can understand why previous reviewers have thought this to be the best pub in Cleobury (which may have a Kidderminster postcode but is in Shropshire).
24 Nov 2013 19:54
Welcoming Hobsons pub with good choice of well-kept ales. Clean expansive interior although the garden feels a bit cramped. Worth a visit.
11 Aug 2013 13:07
More information