Winchester pub and bar guide
Here's a guide to the pubs and bars of Winchester - good or bad, we bring you the most talked about venues and the places you have to visit at least once. We've included a few user reviews, to give you an idea of what to expect when you get there. Or you can follow the links to see full details and all reviews for each pub.
The Eclipse Inn, Winchester
Address: 25 The Square, Winchester, Hampshire, SO23 9EX
Phone: 01962 865676
See full pub details

Nearest train stations: Winchester (0.4 miles), Shawford (2.9 miles)
Reviews by BITE users:
Not a bad little boozer, recently cleaned up and back on the list of pubs for a Winchester crawl...the Ringwood Porter was on fine form during the Christmas break.
Small and cosyish inside, in better weather the outside seating is a pleasant place to sit and watch the hustle from the cathedral and city centre passing by.
It always was worth visiting but had become properly grubby a couple of years ago with a lot of neglect going on, and was the favoured haunt for the "off duty" Buttercross beggars for a while, though they thankfully seem to have vanished from the area in recent times?
An interesting comparison with The Vine just across the road, both are now worth a look though.
4 Jan 2013 00:08
try the food!!!!!!!!!
our first visit i had the short rib of beef,very tasty and so much on my plate that our dogs benefited,and yes they allow dogs in which is great.i challenge you to eat it all yourself!
now yesterday we went for sunday lunch,
roast sirloin of beef,roast spuds,homemade yorky pud,gorgeous gravy and,count these.....
cauliflower,celeriac,leek,cabbage,carrot,swede,parsnip,sweet potatoe,and broccoli.yes....9 vegetables,10 if you count the roast spuds!
all served on a red hot plate,by lovely staff.
by far the best sunday lunch to be found in winchester,and believe me,ive tried them all.....just a shame i never tried the eclipse first!
well kept ciders,nice atmosphere,lovely wood burner.
i can only rate this pub at 11 out of 10.
24 Sep 2012 09:43
Good little proper pub, with real customers. Far preferable to the poncey Old Vine.
11 Sep 2012 21:54
The Black Boy, Winchester
Address: 1 Wharf Hill, Winchester, Hampshire, SO23 9NQ
Phone: 01962 861754
See full pub details

Nearest train stations: Winchester (0.9 miles), Shawford (2.7 miles)
Reviews by BITE users:
Visited here with the boyfriend and it was alright. Quirky theme (which I can only describe as "random but fun") and nice staff/service. I had a pint of Flower Pots Bitter which was nice and my other half the Punter, which I personally was not fond of. Both well kept though. Food choice was limited to 5-6 pub grub dishes and sandwiches - we both had the burger which was nothing to write home about. Chips weren't great.
Overall, OK.
7/10
9 Mar 2013 22:24
Get a life nivramkram. First tme here and loved it; including the service.8/10.
15 Jul 2012 19:25
Lovely pub a short walk over the river from the town centre, old building with stone floor and a central bar and lots of nooks and crannies.
Has I think four real ale on tap from local breweries and they were well priced at £3.20 a pint and also very well served.
Good bar staff on my visit and a pleasant atmosphere.
Has a large outside drinking area with plenty of seating.
Worth the effort in finding it.
8 Jun 2012 12:40
The Old Vine, Winchester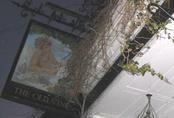 Address: 8, Great Minster Street, Winchester, Hampshire, SO23 9HA
Phone: 01962 854616
See full pub details

Nearest train stations: Winchester (0.4 miles), Shawford (2.9 miles)
Reviews by BITE users:
They serve a decent pint in here, though it sometimes has the atmosphere of a slightly poncey restaurant with foodies much in evidence.
Clean & tidy with pleasant staff, an interesting alternative to the Eclipse across the road...
11 Nov 2012 12:32
Good service in this 'trendy' pub/restaurant. Didn't eat here but the food looked excellent. T.T Landlord ok; nice location.7/10.
8 Sep 2012 21:29
Have walked past this place on many occasions thinking it was a restaurant.
Went in with some friends and found that they had four real ales on with one from the Isle of Wight (unusual for this area) the beer was well kept and not too bad a price.
Small outside drinking area.
Seems to concentrate on the food side of things but the beer was good and so was the service.
Close to the eclipse and Wykeham arms pubs and worth a visit.
8 Jun 2012 12:45
The Willow Tree, Winchester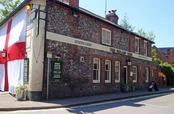 Address: Wales Street, Winchester, Hampshire, SO23 8QX
Phone: 01962877255
See full pub details

Nearest train stations: Winchester (0.6 miles), Shawford (3.1 miles)
Reviews by BITE users:
Firstly I think JOPI on this comments list must be the pubs owner - too much detail and self promotion??
In any case I support the other recent reviews, ale is well kept but boring (GK + derived pseudo brands), the style and interior is very nice indeed, very much a pub that does food than the other way round, despite the attempts to brand it a restaurant. Garden is very sweet - surrounded by water, child friendly - no complaints. Didnt eat but it looked good on paper - standard aspirational pub £10-£18 charges for mains.
26 Jan 2013 16:54
Clean & tidy pub just a short walk from the city centre.
On the plus side the garden looks good for a summer drink, being bounded by the River Itchen on two sides...the food menu looked good to at a glance.
Sadly the beer choice was fairly uninspiring (GK) and the most expensive round of the day was purchased here for some average session bitter, albeit well kept.
Could have huge potential as a free house, though sadly it'll never happen of course!
11 Nov 2012 12:07
The brand new team are keen and skilled. They have given the bar and restaurant a makeover and tidied up the fantastic riverside garden. The food is all prepared freshly by the owner/chefs from succulent pate and perfect squid, juicy steaks whole Sea Bass to Lemon Posit or Eaton mess. They have excellent suppliers of local Venison, Guinea fowl and Rare Breed Beef. I have already eaten most of the menu and it has all been superb. I think it's just what Winch needed.
23 Apr 2012 13:08
The Bishop On The Bridge, Winchester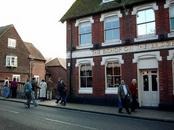 Address: 1 High Street, Winchester, Hampshire, SO23 9JX
Phone: 01962 855111
See full pub details

Nearest train stations: Winchester (0.6 miles), Shawford (2.9 miles)
Reviews by BITE users:
The whole place was closed for a private function this afternoon...
A beautiful summer Saturday afternoon when the place would normally be heaving with happy punters.
Obviously Fullers must be properly minted to be able to afford to do this, not really in the spirit of the "public house" though, is it?
ESB aside, Fullers are increasingly poor anyway...I'll give this place a miss in future and spend my beer tokens in the ever decent Black Boy just up the road.
19 May 2012 19:37
A very attractive pub. Excellent friendly staff. Music too loud and inappropriate for conversation - we shouted for half an hour, left half the food on our plates and went to find a quieter pub for the rest of the evening.
A great shame as the food and beer were fine.
Many "outlets" don't comprehend that their background music is irritating as no one listens to it and it doesn't mask conversation because everyone shouts.
Luckily there are still pubs where a quiet hubbub of conversation and perhaps a very quiet soft music creating a gentle atmosphere are all the noise one can hear.
Even a raucous pub where the conversation is loud and laughter permeates the ambience has an attraction way beyond loud music of any sort.
4 May 2012 08:08
Visited here on Tuesday as Part of a Pub Crawl of Winchester. Larger Modernised interior with large eating area that seems to cater for failies. Several Real Alse available including Sprinter, Fullers ESB, London Pride and Fullers Discovery. I plumped for London Pride which was very good. Maybe worth a return visit
26 Apr 2012 16:27
Old Gaol House, Winchester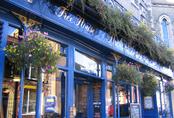 Address: 11 Jewry Street, Winchester, Hampshire, SO23 8RZ
Phone: 01962850095
See full pub details

Nearest train stations: Winchester (0.3 miles), Shawford (3 miles)
Reviews by BITE users:
An alright place in the evenings, usually heaving with a young crowd and there is normally a half decent selection of ales on.
Staff do a good job and service is usually quite fast considering the bar is a fair old size.
A recent daytime visit was a tad different, a couple of tables of rough looking types arguing amongst themselves while one of their friends were fast asleep at 4pm.
Most amusing of all though was the bloke who had his half empty glass cleared while in the toilet, and was so far gone he couldn't remember what he had been drinking when offered a replacement...quality!
Basically alright, does not come into its own when half empty though.
11 Nov 2012 17:59
A fairly standard Wetherspoon. Quite large, with little nooks and crannies. Decently kept - clean and with most things in place. Food OK. Visited during the Autumn Beer Festival and the bar staff hadn't been advised on what to do so there was an attempt to charge me for three pints when I had the three thirds for a pint deal, but it was eventually resolved. Very busy at lunch time, and we struggled to find a table, but pleased to see that everything was cleaned away very quickly at the end of the rush period.
1 Nov 2012 19:56
Adnams Broardside was on offer for St Georges week @ £1.99, when I visited on Tuesday which was very good as vwas the GK IPA at £2.49. A typical Wetherspoos but mad very welcome by the Bar Staff. Very well patronised for a Lunchtime/Early afternoon. The pub had SEVEN Fruit Machines and one Quiz machine of which NONE were played during my stay. Flat Screen TV on the wall and several smaller areas of the main Bar for people that wanted to be Quiet. Good value for money and will definately be going back next time i am in Winchester for a Pub Crawl. Well worth a visit.
26 Apr 2012 15:46
More information