Cumbria pub and bar guide
Here's a guide to the pubs and bars of Cumbria - good or bad, we bring you the most talked about venues and the places you have to visit at least once. We've included a few user reviews, to give you an idea of what to expect when you get there. Or you can follow the links to see full details and all reviews for each pub.
Tweedies Bar at Dale Lodge Hotel, Grasmere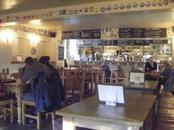 Address: Red Bank Road, Grasmere, Ambleside, Cumbria, LA22 9SW
Phone: 01539435300
See full pub details
Reviews by BITE users:
went in on Saturday evening. probably the best range of ale in the lakes. up to 7 pumps for cask and 1 was a perry.
highly recommended!
15 Jan 2013 10:58
If seeking shelter from the inevitable downpours in the beautiful village of Grasmere, this is the place to seek shelter. Here is to be found a simply unbeatable range of well kept real ales, cheerful and good humoured staff and decent food. They've introduced London prices to make us londoners feel at home and the interior is a little spartan. Nevertheless, a winner!
The Strange Torpor
9 Jan 2013 19:58
paid a couple of visits last week,had a beer bat of coniston oatmeal stout,hardknott ginger beer and langdale,all excellent.busy bar with people coing in off the fells,lot of dogs in there exhausted after their exerts on the hills.a group of people next to me had ordered meals,fish chips & peas and steak pie & chips.food looked great so i had a look at the menu.fish meal £12.95,steak meal £11.95.as steep as the local hills!i look forward to sampling the great atmosphere and beer here on future visits to the area but i`ll look somewhere else for my dinner
5 Oct 2012 08:01
Dog and Gun, Keswick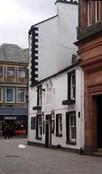 Address: 2 Lake Road, Keswick, Cumbria, CA12 5BT
Phone: 01768 773463
See full pub details
Reviews by BITE users:
Great pub with history, a traditional feel and very drinkable ales.
It's a very dog friendly place (in fact at one point the dogs seemed to outnumber people) and the relaxing ambience may become a tad undermined by the incessant barking and yelping etc. Super pub though. Would also recommend the George Hotel across the way.
9 Jan 2013 20:02
Still the best pub in Keswick. A good range of LOCALES, free wi-fi & 20p per pint discount on cask beers on production of your CAMRA card.
23 Dec 2012 19:01
Visited two or three times over our long weekend, The beer range is all local, varied, very well kept and not over-expensive. The food, particularly, the famous goulash, is excellent, although this time not over-cheap. The ambience is warm and friendly with all manner of dog owners, walkers etc...but....ah, but...the barstaff, mostly young women, were less than impressive. On our first visit, tearing themselves away from a threeway close-headed discussion about whoknowswhat took an irksomely long time, followed not by a "hello, what can we get you" type of opening, but a "you all right there?" in the style of a bored shop assistant. This has taken a point or two off a very decent pub for me.
25 Jun 2012 23:53
The Watermill Inn, Ings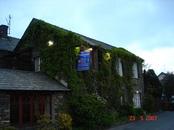 Address: A591, Ings, Kendal, Cumbria, LA8 9PY
Phone: 01539 821309
See full pub details

Nearest train stations: Staveley (1.5 miles), Windermere (2.2 miles)
Reviews by BITE users:
Great cosy traditional real ale pub on the main route to Windermere. Many people call in here en route to the Lakes and I would recommend you do too.
Had a pint of Dogth Vadar from their micro brewery and was so impressed I purchased a few that were available in bottles for the road.
9 Mar 2013 17:07
Visited the Watermill for the 1st time on Friday & was more the impressed by everything. As I was driving I only had a half of Collie Wobbles, a lovely light, "moreish" pint & I look forward to sampling the full range of beers when I don't have a car! In addition, there was an excellent range of malts, including one of my favourites, Caol Ila, a rare event in a pub.
The food was fine - nothing fancy, but proper pub food grub, quickly served & a lot of it. The pub is a also very dog friendly, serving up biscuits & water for our 2.
I can't think of a single bad thing to say about the Watermill & look forward to returning soon.
6 Oct 2012 17:48
Excellent pub- good food, dogs and children very welcome and a great range of real ales from their own brewery. We enjoyed an excellent evening meal in the suntrap beer garden. And they must have read one of the previous reviews as the chips are now home made, and very nice too. My favourite ale was the Isle of Dogs, as reccommended to me by a local.
18 Aug 2012 21:33
The Strands Hotel, Nether Wasdale
Address: Wasdale, Seascale, Cumbria, CA20 1ET
Phone: 019467 26237
See full pub details
Reviews by BITE users:
brilliant. best pub in Wasdale. great home brewed ale. just £2.30 a pint for Ermmm....!! Great food as well. I would recommend the Duck!
22 Oct 2012 18:00
Extremely pleasant pub with excellent range of beers. Very pleasant surroundings and staff.
6 Sep 2012 09:42
Little bit disappointed in my visit. The beer range is impressive and I can't fault any individual beer but the brewer is maybe trying too hard. It wouldn't hurt to have a core of two or three traditional beers and save all the experimentation for one or two rotating extras. Perhaps I'm being over-critical here.
Place was a bit crowded with a yahoo-ish bunch of office worker types when I was there, which seemed out of place in a country pub so far from civilisation. Where do they work that they end up drinking/staying in Nether Wasdale?!
My food was disappointing too. My pate and toast came with the blandest "Mothers Pride" white bread toast and the salad was way past its best. Gammon steak wasn't bad though.
Good friendly service.
4 Jun 2012 14:39
Hawkshead Brewery Beer Hall, Staveley
Address: Mill Yard, Staveley, Kendal, Cumbria, LA8 9LR
Phone: 01539 822644
See full pub details

Nearest train stations: Staveley (0.2 miles), Burneside (2.9 miles), Windermere (3.8 miles)
Reviews by BITE users:
Very welcoming bar with full choice of Hawkshead ales. Modern building designed well presenting a comfortable environment. Bar snacks compliment the Hawkshead ales on offer. Well worth a minor de tour from the main route to the Lakes, set in the lovely village of Staveley.
9 Mar 2013 17:11
Full choice of Hawkshead ales, as you'd expect. For a modern building, done in a tasteful way. Worth a visit if you're in the area.
7 Nov 2012 21:42
Very nice beers and our family were made welcome in comfortable surroundings. The 'beer tapas' to accompany our beers were very nice indeed. On the beer front, try the Brodies Prime- great stuff.
18 Aug 2012 21:21
The Golden Rule, Ambleside
Address: Smithy Brow, Ambleside, Cumbria, LA22 9AS
Phone: 015394 32257
See full pub details
Reviews by BITE users:
same old `rule` i found last week.robinsons XB & blonde etc can lose their appeal after a couple of pints or 4 but you cannot but say this is the best pub in ambleside as the number of locals you meet in there testify to.by god that fire gets hot
1 Oct 2012 22:13
Still same great pub, well kept Robinsons' beers (yes I know), however, I feel that I must gurn about the cost of crisps, ordinary fried potato crisps, not gold plated or served on a silver platter, just crisps. 95p is beyond extortionate. At least Dick Turpin wore a mask.
16 Sep 2012 16:18
Wonderful, characterful pub, pretty much unchanged since my previous visit 10 years ago. Very good beer and a fantastic interior, not to be missed by the discerning drinker. Plus my children were made welcome.
18 Aug 2012 21:36
More information